Traeger Carne Asada is a delicious and flavorful dish made by marinating beef in a mixture of spices and herbs that infuse it with incredibly flavor. The beef is then smoked on a Traeger grill to add smoke to the mix.
» You might also like this Bacon, Jalapeno, and Corn Salad.
🥳🍗New customers to ButcherBox can save $100 on their first 5 boxes ($20 off for 5 months) from 5/26 to 5/30. Hurry! Offer ends 5/30 SIGN UP HERE
The process of making carne asada is relatively simple and can be done by anyone with a smoker or grill. The key is to marinate the beef for at least 30 minutes – preferably much longer, like 2 hours – to allow the flavors to penetrate the meat.
Once the meat has been marinated, it can be smoked on a grill or smoker for about an hour until it reaches the desired temperature. The meat stays super juicy in the smoker and becomes infused with all that wonderful smoky flavor and aroma.
What is Carne Asada?
Carne Asada is a delicious and flavorful Mexican dish that consists of thinly sliced beef that has been marinated in a mix of traditional Mexican spices and then cooked on a smoker or grill. The result is a wonderfully tender and juicy cut of meat that is perfect for tacos, burritos, or just eaten on its own.
Carne asada is a versatile dish that can be served in a variety of ways. It is often used as a filling for tacos or burritos, but it can also be served on a bed of rice or with a side of beans. It is a great dish for entertaining, since it can be prepared ahead of time and then grilled or smoked to perfection just before serving.
We love making Carne Asada on the smoker, though it's not necessary to make it that way. The most authentic method is to grill it. But we love smoking things, so why not!
Ingredients You'll Need
Carne Asada Rub – Made from typical Mexican seasonings like chili powder, ground cumin, ground celery seed, ground Mexican oregano, etc. You can adjust the seasonings to suit your preferences. Try this homemade seasoning blend.
Flank Steak – The cut of meat used for Smoker Carne Asada is typically skirt steak or flank steak. These cuts are thin and have a lot of surface area, which makes them perfect for absorbing the flavors of the marinade. It's important to trim any excess fat from the meat before marinating and cooking.
Olive Oil – It's best to use olive oil in the marinade as it provides the meat with more flavor than a neutral oil would.
Salt & Black Pepper – These are necessary seasonings that will bring out the flavor of the carne asada.
Equipment Needed
Read also » 5 Best Traeger Grill Reviews 2023: Top Picks for Smoke Lovers.
Why is Carne Asada Great Smoked?
Smoking carne asada is a game-changer. It takes an already delicious dish and elevates it to a whole new level of flavor. Here are a few reasons why:
Smoky flavor: Smoking the meat imparts a rich smoky flavor that is irresistible. The smoke penetrates the meat and infuses it with a depth of flavor that cannot be achieved through other cooking methods.
Tender meat: Smoking the meat low and slow results in a tender and juicy final product. The meat is cooked slowly over a low heat, which allows the connective tissue to break down and results in a tender and flavorful cut of meat.
Enhanced texture: When you smoke carne asada, you get a crispy exterior and a juicy interior. The high heat of the smoker creates a crust on the outside of the meat that adds texture and flavor to each bite.
Overall, smoking carne asada is a fantastic way to add depth and complexity to the dish. It's perfect for when you want to take your taco night to the next level.
How To Make Traeger Carne Asada
Marinating the Meat
The key to making delicious carne asada is marinating the meat. Here's how:
In a large shallow bowl, add the flank steak and cover in olive oil.
Sprinkle with the dry rub seasoning over the entire things and ensure everything is well-covered.
Cover and marinate the beef in the refrigerator for at least 2-4 hours. The longer the better, as it allows the meat to absorb more of the flavors.
Preparing the Smoker
Once the meat is marinated, it's time to prepare the smoker.
Remove the meat from the refrigerator and let it sit at room temperature for 15 minutes before cooking. Preheat the smoker to 225°F.
Pro Tip: If you prefer a smokier flavor try using Hickory or Mesquite pellets.
Cooking the Meat
Remove the meat from the bowl and place the meat on the smoker and smoke for 45 minutes. Remove the meat from the smoker and preheat a grill to 450°F.
Grill the meat for 3-5 minutes per side, or until it reaches 130°-135° F for medium-rare or your desired level of doneness.
Allow the meat to rest for 10 minutes before slicing and serving.
Internal Temperatures for Cooking Steak
To ensure that your food is both safe to eat and delicious, it is important to know the internal temperatures you should cook your meat too. For all types of steak, the recommended temps are:
Rare: 115-120° F
Medium rare: 125-130° F
Medium: 135-140° F
Medium well: 145-150° F
Well done: 150-155° F
» Reading in one second or less
» Accuracy of ± 0.5°
» 5-year warranty
» Auto-rotate display; motion-sensing
» Insanely long battery life (2000 hrs)
Serving Suggestions
Serve with warm tortillas and your favorite toppings, such as salsa, chopped red onion, guacamole, salt, and lime wedges.
Make a carne asada bowl by serving the smoked meat with rice, black beans, avocado, and pico de gallo.
Pair with grilled vegetables, such as bell peppers, onions, and zucchini, for a healthy and flavorful meal.
Make a sandwich by layering the smoked carne asada with cheese, avocado, and tomato on a crusty roll.
Experiment with different combinations and find your favorite way to enjoy carne asada.
What Smokers We Use
We use the 7002C2E, which has dual temperature probes, a huge pellet hopper and pellet viewing window, with a large grill space and streamlined design. See this grill and more on the Z Grills site.
Did you know that Traeger created the original wood-pellet grill? The Pro Series 22 is the one most people choose because it's compact, yet has plenty of space for cooking. You can use any type of wood pellets you like. See the Traeger Series 22 Grill on Amazon.
Some Tips for Smoking Carne Asada
Choose the right cut of meat: For the best results, choose a cut of meat that is thin and has a good amount of marbling. Flank steak or skirt steak are great options.
Preheat the smoker: Make sure your smoker is preheated to the right temperature before adding the meat. A temperature of around 225°F to 250°F is ideal for smoking carne asada.
Use the right wood: Choose a wood that will complement the flavors of the meat. Mesquite, hickory, apple wood, and oak are popular choices for smoking carne asada.
Smoke for the right amount of time: Depending on the thickness of the meat, smoking time can vary. Generally, smoking for 45 minutes to 1 hour is enough to infuse the meat with smoky flavor without overcooking it.
Finish on the grill: Once the meat has been smoked, finish it off on a hot grill to get a nice sear and char on the outside.
How to Store Carne Asada
It's important to store carne asada properly to maintain its quality and prevent foodborne illness.
Refrigerate: Store your cooked carne asada in an airtight container in the refrigerator for up to 3-4 days.
Freeze: If you want to store your carne asada for a longer period, you can freeze it. Wrap it up tightly in plastic wrap, then in aluminum foil, and place it in a freezer-safe bag. It can be stored in the freezer for up to 2-3 months.
Thawing: When you're ready to eat your frozen carne asada, thaw it in the refrigerator overnight. Do not thaw it at room temperature or in the microwave, as this can promote bacterial growth and lead to foodborne illness.
How to Reheat Carne Asada
It can be challenging to reheat it without drying it out or overcooking it. Here is a simple and effective way to reheat Carne Asada:
Preheat your oven to 400° F.
Take the carne asada and place it on a baking sheet.
Cover the carne asada with aluminum foil to prevent it from drying out.
Place the baking sheet in the preheated oven and bake for 10-15 minutes or until the internal temperature reaches 135°F.
Remove the carne asada from the oven and let it rest for 5 minutes before serving.
It is important to note that reheating it in the microwave can dry out the meat.
Like this recipe? We'd love for you to share it on your Pinterest board! Click to follow our Pinterest boards so you can find all our recipes! 
Instagram it! If you try this recipe please tag #legendsofthegrill on Instagram or Twitter. We love to see your photos of our recipes! Also follow us on Facebook to keep up on what we're cooking up.
Traeger Carne Asada
Traeger Carne Asada is a delicious and flavorful dish that is perfect for any occasion. The dish is made using beef that has been marinated in a mixture of spices and herbs before being smoked on a Traeger.
Print
Pin
Rate
Ingredients
2

tablespoons

carne asada rub

2

tablespoons

olive oil

2

pound

flank steak
Instructions
Place the flank steak in a shallow bowl. Sprinkle on the carne asada rub and pour on the olive oil. Make sure the steak is coated well. Cover and marinate in the refrigerator for 2-4 hours.

Remove the steak from the refrigerator 15 minutes before you cook.

Preheat the smoker to 225°F. Smoke for 45 minutes. Remove the steak from the smoker.

Preheat a grill to 450°F. Grill the meat until the internal temperature reaches 135°F for medium-rare.

Transfer the steak to a plate and let it rest for 10 minutes before serving.
Notes
You can also sear the meat on the stovetop over medium high heat, rather than using the grill, if preferred.
Nutrition
Calories:
373
kcal
|
Protein:
49
g
|
Fat:
18
g
|
Saturated Fat:
6
g
|
Polyunsaturated Fat:
1
g
|
Monounsaturated Fat:
10
g
|
Cholesterol:
136
mg
|
Sodium:
120
mg
|
Potassium:
773
mg
|
Calcium:
48
mg
|
Iron:
4
mg
🥧 If you're interested in more great recipes, I share all my favorite recipes at A Food Lover's Kitchen, Instant Pot recipes over at A Pressure Cooker Kitchen, air fryer recipes at Air Fry Anytime, and cocktails and drinks at Savored Sips. Check it out today!
Pin this recipe for later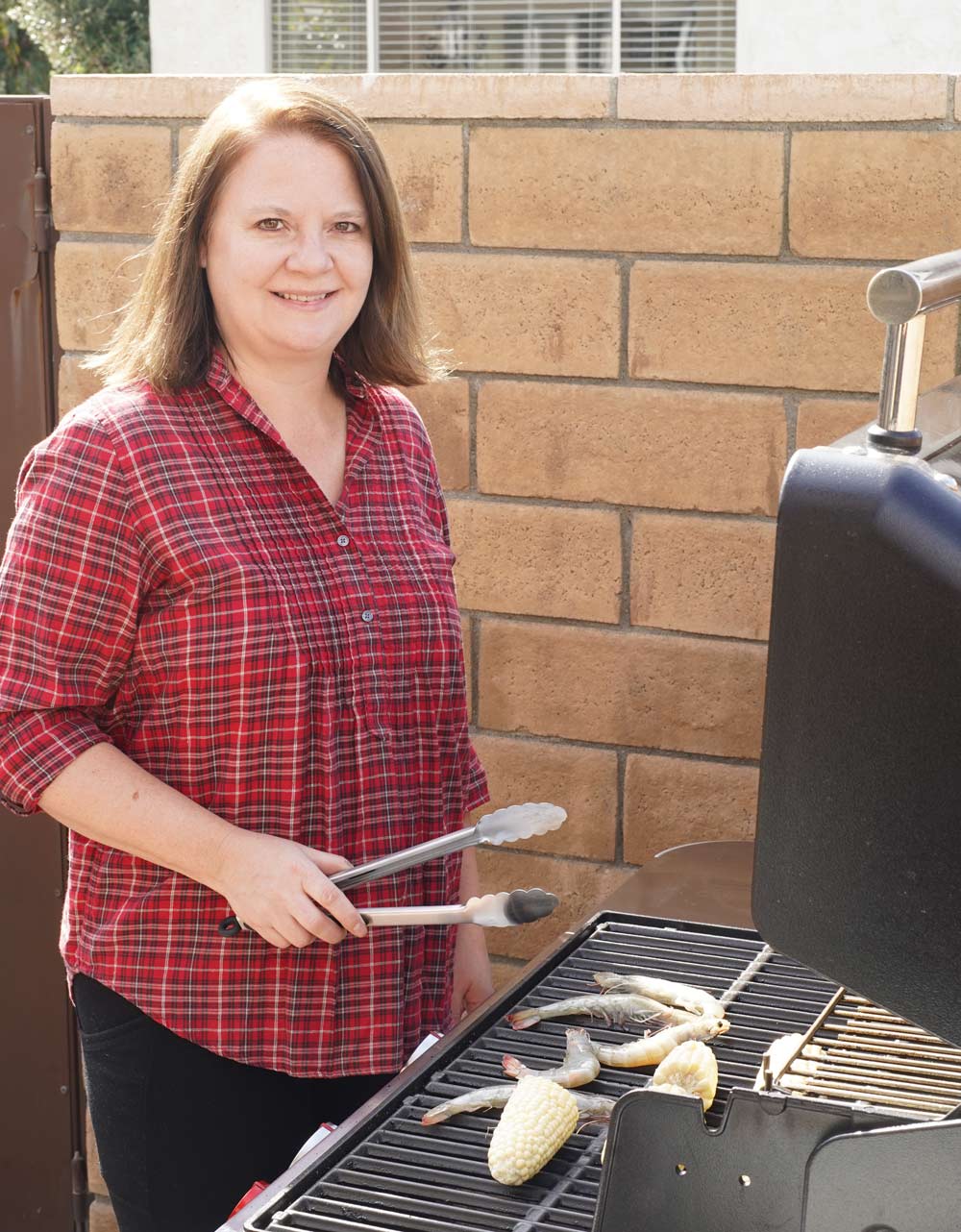 Laura is a passionate home cook and grill enthusiast who has spent years perfecting her culinary skills, with a particular focus on grilling techniques and flavor combinations. Her fascination with the grill, smoke, and the mouthwatering results they produce has led her on an exciting journey to discover the best methods for grilling delicious and unforgettable meals.