Do you ever find yourself staring at the many wood options for smoking, feeling unsure about what to choose for your turkey? You're not alone. Should you go with a fruit wood or a more robust hickory or maple wood? The options are overwhelming.
With so many options out there, choosing the best wood for smoking turkey can be frustratingly difficult. That's why we've decided to lay out all the options and help you choose the best wood for smoking turkey.
🥧 If you're interested in more great recipes, I share all my favorite recipes at A Food Lover's Kitchen, Instant Pot recipes over at A Pressure Cooker Kitchen, air fryer recipes at Air Fry Anytime, and cocktails and drinks at Savored Sips. Check it out today!
Pellets Vs Wood Chips
It doesn't matter what type of smoker you're using to cook your turkey, when it comes to the question of what wood to use. This is because a smoker that uses wood chips or a pellet smoker both impart the same flavor from the wood.
So when you're reading our guide below, you can rest assured that the same information applies to wood chips and wood pellets.
The Most Popular Types of Wood for Smoking Turkey
I think we can all agree that turkey doesn't have much natural flavor. It's a pretty bland poultry that needs to have flavor imparted by an outside element, like salt, a dry rub, a brine, or smoke flavoring. This is one of the reasons why we like to smoke our turkey for Thanksgiving rather than roasting it in the oven. The wood smoke can really give it a major flavor boost.
To elevate the naturally bland taste of turkey, it's important to choose a type of wood that infuses it with a deep, savory flavor or a hint of sweetness. With that in mind, we rounded up the five best types of wood for smoking turkey with their unique flavor profiles and other benefits.
1. Apple Wood
If you like your turkey a little sweet, then apple wood might be a good choice for you. It also gives the turkey a mild, smoky flavor that's not too overpowering, which is perfect for those who appreciate a more subtle taste.
Apart from flavor, apple wood is also a popular choice because it's easy to cook with. It burns at a consistent temperature, helping you cook your turkey evenly.
2. Cherry Wood
Like apple wood, cherry wood is also a great choice because it gives a sweet and fruity flavor to your turkey. However, cherry wood has a slightly stronger and bolder flavor than apple wood, making it ideal for those who like a pronounced flavor in their turkey.
On top of that, cherry wood can give your turkey a beautiful, reddish-brown color because of the natural tannins and sugars in the wood. It also burns slowly and evenly to cook your turkey perfectly.
3. Pecan Wood
Pecan is a popular choice because of its richness and unique nuttiness that complements the natural flavor of the turkey. Add that to its sweet and mildly smokiness, and you'll get a turkey with complex layers in its flavor profile.
Its high smoke density also gives the turkey a rich, golden-brown color when smoked, adding to its visual appeal. Additionally, pecan wood burns consistently to cook your turkey evenly.
4. Alder Wood
Alderwood is a popular wood used for smoking turkey due to its mild and slightly sweet flavor. It is a hardwood that burns slowly and produces a dense smoke, which is perfect for imparting flavor to the turkey.
Additionally, alderwood is a versatile wood that can complement a variety of different seasonings and spices, making it an excellent choice for smoking turkey. It also produces a nice golden-brown color on the turkey's skin, adding to its visual appeal.
Overall, using alderwood to smoke a turkey can add a delicious and subtle smoky flavor that enhances the natural taste of the meat.
5. Maple Wood
Maple wood is popular because of its subtle sweetness that enhances the turkey's mild natural flavor. It burns slowly and steadily, producing a consistent smoke to cook your turkey evenly.
It gives the turkey a nice, golden brown color. Moreover, maple is a versatile choice that can be used in combination with other woods, such as hickory.
What Smokers We Use
We use the 7002C2E, which has dual temperature probes, a huge pellet hopper and pellet viewing window, with a large grill space and streamlined design. See this grill and more on the Z Grills site.
Did you know that Traeger created the original wood-pellet grill? The Pro Series 22 is the one most people choose because it's compact, yet has plenty of space for cooking. You can use any type of wood pellets you like. See the Traeger Series 22 Grill on Amazon.
What Woods to Avoid for Turkey
Just as there are some ideal woods for smoking a turkey, there are always some not-so-ideal woods. Since the turkey has such a mild flavor you really don't want to use a wood that will overpower the meat.
For this reason, I recommend staying away from the following types of wood for smoking turkey:
Mesquite – You don't want to overwhelm the flavor of the turkey with a strong, robust flavor of mesquite. Save this wood for smoking beef.
Hickory – The deep earthy flavor of the hickory wood is too much for the turkey and can really drag it down in flavor, rather than helping it.
Oak – Oak is more appropriate for heavier meats like ribs, beef, and brisket.
Other Factors to Consider When Choosing the Best Wood for Smoking Turkey
The type of wood you use doesn't only affect your turkey's flavor and visual appeal. Other factors you should consider when choosing the kind of wood are smoking technique, compatibility, and quality.
Smoking Technique
When choosing your wood, you should consider the smoking technique. Some woods are better suited for low and slow cooking, while others are better for hot and fast smoking.
For example, mesquite is a good choice if you want to cook your turkey for a short amount of time, while apple and cherry should be used for slow cooking because they produce milder smoke that can penetrate the meat for a longer period.
Compatibility
It's also important to consider the wood's compatibility with the other ingredients and flavors in the turkey recipe.
If you're using a fruity glaze, woods like apple or cherry may complement those flavors well. On the other hand, if you're using a savory seasoning, hickory or oak would suit it better.
Quality
You should also look at the wood's quality. Stay away from bad-quality wood that contains large amounts of bark and resin. These will create a bitter taste or other unpleasant flavors regardless of what wood type you choose.
Frequently Asked Questions
What kind of wood do you use to smoke turkey breast?
When smoking turkey breast, you can use any of the woods that are usually used to smoke a turkey, depending on your desired flavor. Some of the best woods for turkey breast include apple wood, cherry wood, and pecan wood.
What is the #1 best wood to use for smoking turkey?
For us, the #1 choice for wood to smoke a turkey with is apple wood. This is my choice because it imparts a mild fruity flavor that really complements the delicate mild turkey flavor without overpowering it like some woods (cherry and hickory) can.
Should I smoke my turkey at 200 or 225 degrees F?
The best temperature to smoke a turkey is 225° F. It will take a large turkey around 8-12 hours to smoke to an internal temperature of 180° F at this temperature. According to Butterball, your turkey must pass through a critical range of 40° F to 140° F in 4 hours or less to be safe. If you smoke it on too low of a heat, it can easily take longer than that to hit the safe range.
Before You Go
Since you made it to the end of this article, you might be interested in more turkey recipes and information. Here are a few more articles we think you might enjoy.
Like this recipe? We'd love for you to share it on your Pinterest board! Click to follow our Pinterest boards so you can find all our recipes! 
Instagram it! If you try this recipe please tag #legendsofthegrill on Instagram or Twitter. We love to see your photos of our recipes! Also follow us on Facebook to keep up on what we're cooking up.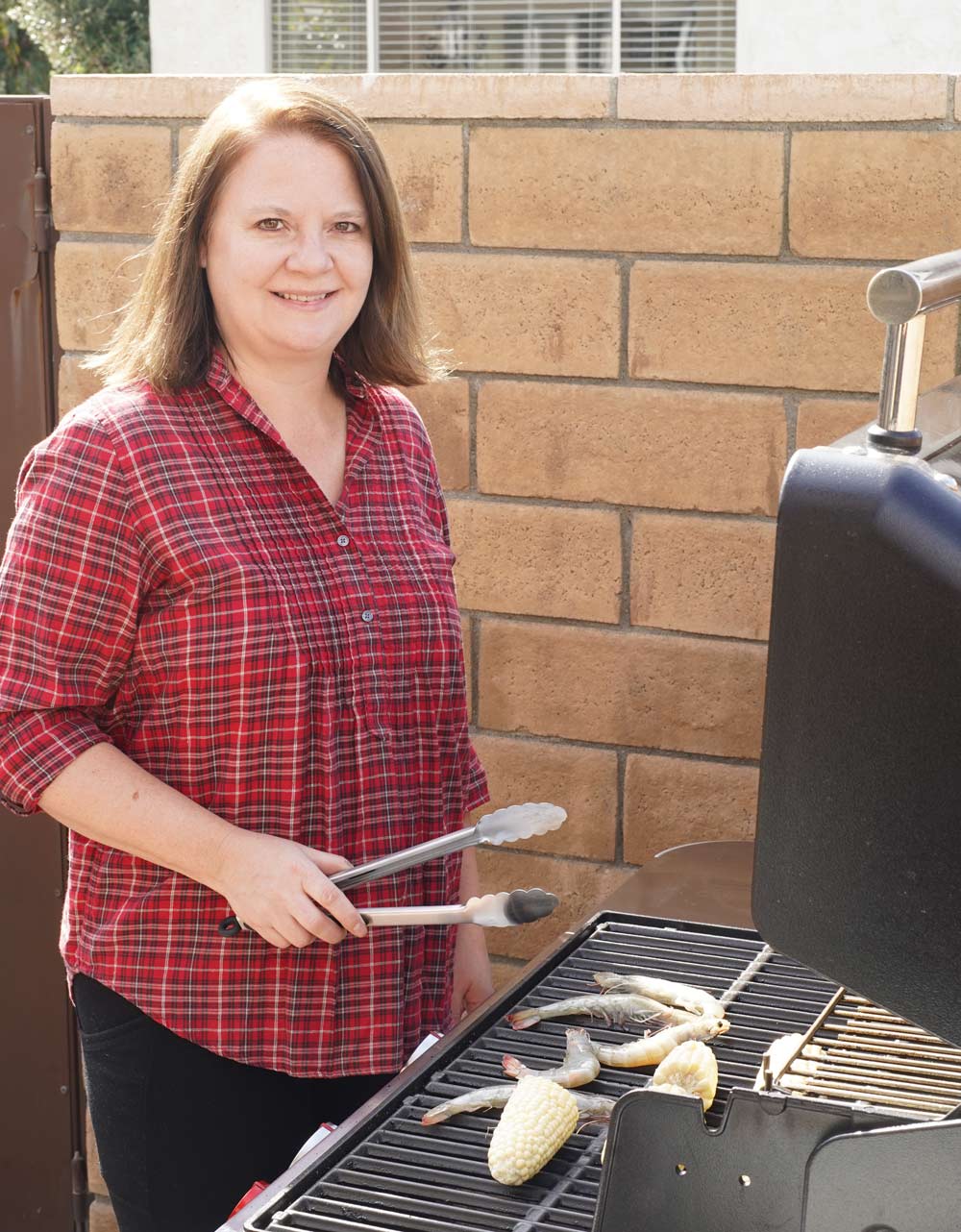 Laura is a passionate home cook and grill enthusiast who has spent years perfecting her culinary skills, with a particular focus on grilling techniques and flavor combinations. Her fascination with the grill, smoke, and the mouthwatering results they produce has led her on an exciting journey to discover the best methods for grilling delicious and unforgettable meals.