Pellet grills are all the rage in outdoor cooking, and with summer here, just about everyone wants to snag one for themselves. I wager a bet that's exactly why you're reading this article right now. We understand! We smoke all kinds of thing on our smoker and can't get enough!
Z Grills pellet smokers are like a breath of fresh air in the BBQ world. These bad boys put a modern spin on traditional outdoor cooking, making them way more versatile than your average grill.
» You might also like The Best Smoked Mac and Cheese.
You might've already spotted some of our Z Grills reviews in our recipes on this site. There's no hiding the fact that we love this smoker. But let's dive deeper into the Z Grills wood pellet grill lineup, so you can find the perfect one to rock your summer.
I've been using my new Z Grills smoker for over a year now and I've definitely put it to the test. We've smoked more briskets than I can even remember, as well as ribs, all kinds of veggies, chicken wings almost weekly, and even fun things like cream cheese. So in this review, I've included specs, pros, cons, and my general feeling about the grill.
Read also » Become a Grill Master: 50 Sizzling Tips & Tricks for Grill Enthusiasts.
About Z Grills
Grills popped up in 2017 and wasted no time in making a name for themselves in the world of top-notch outdoor cooking gear. Fun fact: they used to build pellet grills for other brands, like Traeger, for a solid 7 years. But in 2017, they figured it was time to rock their own brand, and Z Grills hit the US market with a bang, thanks to a crowdfunding campaign.
Sure, Z Grills may be a pretty fresh face, but the crew behind it has got some serious street cred with over 30 years of experience in the biz. People love this brand for their awesome products, fair prices, and cool, innovative designs.
What Is a Z Grills Pellet Grill?
Pellet grills are pretty new to the outdoor cooking scene. They run on a combo of wood pellets that get lit up and internal fans, sort of like outdoor convection ovens. This cool mix of cooking features lets pellet grills keep a steady heat, making them crazy versatile.
With a pellet grill, you can grill, bake, smoke, and even braise. Those internal fans don't just help keep the heat consistent – they also spread the smoke around the grill to give your food that deep, natural wood flavor we all love.
Wood pellets are stored in a handy little compartment called a pellet hopper, which makes topping up the pellets a breeze (and super safe). Every Z Grill wood pellet grill comes with a hopper window, so you can easily see when it's time for a refill.
A thing called an auger moves the wood pellets to the ignition chamber, where they catch fire and heat up the grill. It's a consistent flame that sends wood smoke up into the chamber where your food sits.
What sets Z Grills pellet smokers apart from most grills is that they use heat instead of direct flames. This means you get better temp control, low and slow cooking action, and some seriously tasty flavor infusion.
Construction
Z Grills pellet grills are built to last. These babies have a seriously strong structure and are made from heavy-duty steel. Plus, most of their parts are made from powder-coated steel for some extra staying power.
Thanks to their top-notch build, these pellet grills can handle all kinds of weather and still give you consistent results no matter the climate. The inside is made from high-quality steel that's a breeze to clean, and the grill racks are porcelain-coated, so they're non-stick and won't rust.
Z Grills do have wheels, and they roll around pretty easily on most surfaces, but the smaller wheels can have a tough time on rougher terrain like gravel or sand. No worries, though – Z Grills make up for it with extra storage in the built-in cabinet, which isn't something you usually find on pellet grills.
Z Grills Price
How much can you expect to pay for premium quality pellet grills? Because Z Grills practice honest pricing, they are far more affordable than their competitors.
Z Grills range from around $400 to $1100, which is a significant saving compared to the usual pellet grill price tag of up to $2000. This makes Z Grills pellet grills a good high-quality, entry-level appliance for outdoor cooking.
Cooker Space
The biggest grill in the lineup has a massive three-tiered cooking space that covers around 1,060 square inches. This bad boy is perfect for cookin' up a storm with all sorts of meats at once. Just to give you an idea, you could fit twelve rib racks, nine chickens, or forty-six burger patties on this beast.
If that sounds like overkill, no sweat – Z Grills has smaller options too. Their mid-size grills, like the Z Grills 700d, are great for families and chill summertime BBQs. They offer about 700 square inches of cooking space.
For the smallest option, check out Z Grills' Cruiser 200A. It's compact, easy to take with you, and has 202 square inches of cooking space. This little smoker is perfect for camping, road trips, or beach days.
When it comes to capacity, Z Grills pellet smokers are pretty similar to competitors, sometimes with slightly less room. But since they cost a fraction of the price, we think they're a pretty sweet deal.
Hopper Size
Like the cooking space, Z Grills hopper size depends on the grill. Smaller grills like the Cruiser have an 8lb wood pellet capacity. In comparison, larger grills such as the 10002B have a hopper that can hold 20lbs of pellets.
Z Grills pellets usually come in 20lb bags, eliminating the need to find storage for your extra pellets. Even the mid-size Z Grills are fitted with a 20lb hopper. So you can say goodbye to those pesky storage buckets.
Z Grills Warranty
Like many of its competitors, all Z Grills have a 3-year warranty. If anything goes wrong along the way, you can also contact their customer service for assistance.
One thing that separates Z Grills from its competition is that they offer a 30-day money-back guarantee. So if you've bought a grill from their website and you're hesitant about the brand or find that Z Grills doesn't work for you, you can get your money back.
Our Perspective: Z Grills Review
Now that I've given you all the specs, it's time to tell you what I actually think of it. I've had the Z Grills 700 series grill for almost a year. I've used it to smoke nearly 100 different things. I've gone through about a dozen bags of pellets. So I think I'm qualified to say that I really like this grill.
So far, it's been really easy to clean and keep clean. Only one time did I start it up and have it pour out smoke so that I had to stop it and give it a clean out. The neighbors might have called the fire department if I hadn't turned it off. That's a reminder to clean your grill out after every 3rd or 4th use, depending on what you're cooking.
I've never had a significant issue with the grill. It cooks consistently and evenly. It doesn't use an egregious amount of pellets. The food is also great when it comes out. I have very little to complain about.
As with any product, you will have issues and I haven't been without minor issues when using the Z Grill. There are three thing I've found that I don't really love on this smoker.
One is that, after having used a Traeger for years, I don't think the Z Grills imparts as much smoke flavor into the meat in the same amount of time. This can be adjusted by using different pellets and by cooking on the "smoke" setting for longer.
The second is that the auger sometimes gets stuck and the pellets don't move down into the hopper as quickly as they should. If the pellets are getting low, I have to check on it regularly to make sure the pellets are getting fed properly. I've had this burn out my fire a few times.
The final thing I'm not keen about on this grill is that some grease drips out the left side of the grill rather than sliding down into the bucket attached to the right side, like it should. This results in a little puddle of white grease building up just under the pellet storage on my patio. It's not a lot and I've now placed an additional bucket there, but it shouldn't do that.
Is Z Grills a Good Smoker Grill Combo?
If you're looking for the easiest option for smoking, a pellet grill is the way to go. You'll get a good wood smoke flavor with this easy-to-use option that doesn't require actual wood. It uses pellets and electricity. You can cook for about 20 hours per 20 lbs. of pellets.
The newly upgraded 700 series pellet grill includes a digital PID control board with advanced technology to make sure the grill stays at an even temperature, which will guarantee you get consistent results, whether you're slow cooking or grilling.
It has built-in dual temperature probes, a huge pellet hopper so you can cook longer without adding more pellets, a pellet cleanout system, and a pellet view window so you can see how much is left inside.
What it can do:
Bake
Grill
Smoke
Roast & braise
Char-grill
Top Features
It has 590 square inches total cooking area between the main cooking surface and the warming rack.
It's easy to use for beginners with an electronic auto-start ignition, an LED temperature gauge, and automatic pellet feeding.
Has a wide temperature range from 180 to 450 °F, so it's good for low and slow cooking as well as high-temperature grilling.
It's got a steel construction with a powder-coat finish so it should be durable, even in humid conditions.
It's good for set-it-and-forget-it cooking with a digital temperature control that automatically adds pellets as needed to regulate the temperature.
Advantages of Using a Z Grills Pellet Grill
At first, I wasn't sure if I'd use the Z Grills pellet grill enough to justify having one, since I already have a BBQ grill. But after using it, I discovered a few things that make it way better than my propane grill.
Amazing Flavor
There's hardly anything better than that deep, smoky flavor you get from natural wood. Z Grills nails it with the slow movement of wood pellets into the ignition chamber.
Z Grills offers a variety of low-ash wood pellets, each with its own unique flavor twist. If you're into baking or pulled pork, you'll love the sweet vibes of the fruitwood pellets. The Hickory and Oak Z Grills wood pellets bring a rich, smoky taste that's perfect for beef, chicken, pork, and even fish.
Piece of Cake to Clean
Z Grill smokers are a cinch to keep clean. They come with non-stick grill racks, making post-BBQ clean-up a walk in the park. And with the angled grease tray, you won't have to do any scraping either.
While grilling, just empty the grease bucket when it's full. Clean the grease tray and bucket with hot water and dish soap, and you're good to go. Pro tip: line your grease tray with foil to save even more clean-up time.
The grill racks are non-stick, but they can be a bit tricky to clean if they cool down. The best time to give them a quick scrub is while they're still warm. And that's about it! You'll only need to clean out your hopper and chimney every few months.
Cookin' Like a Pro
With this grill, you can do both quick grilling and low-and-slow smoking. It keeps a steady heat, so you can enjoy everything from a perfectly cooked steak to a 12-hour smoked brisket. Both turn out amazing, if I do say so myself, and I don't have to keep checking the BBQ every few minutes to make sure I'm not starting a fire.
Just set the temperature by turning the knob near the digital display. All Z Grills have a digital display that shows the actual internal temp, which is super useful.
No Flare-Ups
Anyone who's grilled with gas or charcoal knows how annoying and risky flare-ups can be. They happen when fat or oil from the meat drips onto the open flame, causing a sudden grease fire called a flare-up.
Z Grills pellet smokers say "nope" to flare-ups by ditching direct flames and using a convection-like heat system throughout the grill chamber. Plus, they come with a grease tray that drains into an external bucket you can easily swap out.
Z Grills vs. Traeger
When you're looking for the perfect grill, a lot of the talk is about how Z Grills stack up against Traeger. Traeger's one of the world's top outdoor cooking brands, so that's some serious competition. But remember, Z Grills used to build grills for Traeger, so they know what they're doing.
While Traeger has a lot going for it, Z Grills takes the win in a crucial category: affordability. Big-name brands can be pricey, but Z Grills doesn't have that same recognition yet, so they're easier on the wallet.
Z Grill vs Traeger Price
Z Grills sell for around half the price of Traeger, but they still offer the same quality and some cool advantages.
Traeger's priciest grill has a lot of bells and whistles, including 880 square inches of space. But Z Grills Multitasker 11002B comes pretty close in functionality, with 1,068 square inches of cooking space, WiFi control, a 28lb hopper capacity, and a bamboo cutting board – all for less than half the price of Traeger's Timberline XL.
Traeger vs. Z Grills Construction and Heat
When it comes to construction, both grills are made from premium gauge steel with porcelain-coated grill racks, but Traeger takes the lead. You're paying for that top-notch quality. However, Z Grills definitely holds its own in terms of functionality.
Neither grill is the best for grilling, since smokers usually don't reach the intense heat needed. But Z Grills wins the temp regulation battle, with only a tiny 10°F difference between the actual and target temps.
WiFi Functionality: Z Grills vs Traeger
Z Grills recently introduced WiFi-enabled grills, controllable through the Z Grills app. You can turn them on/off and monitor and control the temp. Z Grills beats Traeger's WiFi smokers by offering almost double the cooking space, a built-in bamboo cutting board, and an easy digital display, all for a few hundred bucks less.
Z Grills may have fewer extras than Traeger grills, like meat probes and pellet sensors, but grabbing a Z Grills thermal blanket can seriously level up your BBQ game.
Pellet Smoker Face-Off
The 7002C2E is a new model featuring a digital PID control board and advanced technology for even temperatures and consistent results. With the built-in dual temperature probes, a huge pellet hopper, pellet cleanout system, and pellet view window, your grilling experience will be enhanced like never before. See this grill and more on the Z Grills site.
Traeger created the original wood-pellet grill as the ultimate way to achieve wood-fired taste. The Pro Series 22 is the one most people choose because it's compact, yet has plenty of space for cooking.
You can use any type of wood pellets you like. I prefer Hickory, which is great for naturally enhancing beef, chicken, pork, and veggies with full-bodied, bold flavor.
Available Models
With so many products on offer, choosing the perfect grill can be a little tricky. Before investing in a pellet smoker, you'll have to consider all the essentials. So, we've narrowed down Z Grills products and features to make your decision easier.
Top of The Range Z Grill
If you're looking to splurge on a smoker with all the bells and whistles, here is one of Z Grills best products to consider.
Multitasker 11002B
Z Grills' Multitasker 11002B brings innovation to pellet smokers. This smoker is perfect for beginner and professional outdoor chefs. It offers effortless cooking, easy control, extra-large cooking space, and an improved temperature range that's more suitable for grilling.
The Multitasker's most impressive feature is its WiFi connectivity and Z Grills app compatibility. This technology makes using your pellet smoker a whole lot easier. You can control and monitor the temperature from the couch with the Z Grills app.
WiFi connectivity
1068 sq. in. of cooking space
28lbs capacity hopper
160°F to 500°F temperature range
---
High Capacity Standard Z Grills
These standard grills offer the perfect amount of cooking space for big barbeques. For great value and premium quality, check out these high-capacity grills.
BBQ Legend 1000D3E
Z Grills' 1000 range ranks with the market's standard pellet grills in terms of their capacity and functionality. The BBQ Legend is the 2022 upgrade of the brand's well-selling Powerhouse grill. This model features extra storage below the grill, three-tiered cooking, an easy-to-use ash clean-out system, and a stainless steel lid.
Currently, on offer as a bundle, your Multitasker will also come with a rain cover, thermal grill blanket, a smoke tube for extra flavor, a pair of tongs, and an apron.
Under-grill storage
1056 sq. in. of cooking space
Three-tiered grill racks
20lbs hopper capacity
Two built-in preparation surfaces
---
Powerhouse 10002B2E
The tried and trusted Powerhouse Grill is a sturdy and dependable pellet smoker. The Powerhouse is the perfect appliance for effortless outdoor cooking and has more than enough space to feed the family.
The Powerhouse grill is a fantastic option for anyone looking for their first pellet smoker. You're sure to love the grill's temperature control knob, which is sometimes easier to use than digital buttons.
Easy-to-use temperature control
1056 sq. in. of cooking space
Three-tiered grill racks
20lbs hopper capacity
Two built-in preparation surfaces
---
Mid-Size Z Grills
Not too big and not too small. These mid-size Z Grills are just right. They're ideal for pretty much any occasion and come with a few impressive features too. If high-capacity grills sound a little intimidating, consider these mid-size models from Z Grills.
Flagship 700D4E
The Z Grills 700 series has been a fan favorite in previous years. The Flagship 700D4E is 2022's upgraded model of the classic 700D grill. This mid-size grill offers plenty of under-grill storage, an LCD display, two meat probes for temperature monitoring, and a 20lb hopper.
The 700 series is the perfect size for small-scale barbeques and summer days under the sun. The main draws of the Flagship 700D4E are the PID temperature control, which allows for more stable temperatures, and its dual-walled construction for better insulation.
PID temperature control
Dual-walled construction
Under-grill storage
697 sq. in. of cooking space
20lb hopper capacity
---
Z Grills-700D
Z Grills-700D is one of the brand's most attractive pellet smokers, but that isn't the only reason why it's a bestseller. This smoker is built to last. It's made from heavy-duty steel and powder-coated to withstand high temperatures.
The 700D smoker has digital temperature control and offers eight cooking styles. This grill can handle it all, whether you're serving up a wood-fired pizza or slow-cooked ribs. This pellet smoker is available in a dark sand-like color that won't peel or fade as you use it.
For even better temperature regulation, consider getting a Z Grills thermal insulation blanket to go with your new smoker.
Unique color
Digital temperature control
697 sq. in. of cooking space
20lb hopper capacity
Under-grill storage
---
Backyard Warrior – Z Grills 2C2E
The newly upgraded 700 series pellet grill includes a digital PID control board with advanced technology to make sure the grill stays at an even temperature, which will guarantee you get consistent results, whether you're slow cooking or grilling.
It has built-in dual temperature probes, a huge pellet hopper so you can cook longer without adding more pellets, a pellet cleanout system, and a pellet view window so you can see how much is left inside.
It has 590 square inches total cooking area
Easy to use for beginners
Temperature range from 180 to 450 °F
Steel construction with a powder-coat finish
Digital temperature control
---
Z Grills-7002B
If you love the 700D but want more in terms of mobility, the Z Grills 7002B is the perfect alternative. Without the under-grill storage and with more terrain-flexible wheels, this grill is easy to lightweight and easy to move.
The 7002B offers the same two-tiered cooking space as the 700D, a digital control board, and heavy-duty steel construction. Like all Z Grills, the 700D is fitted with porcelain-coated grill racks to make cleaning up easy. This is especially great if you plan on taking your smoker camping or on road trips.
Lightweight design
Improved wheels
697 sq. in. of cooking space
20lb hopper capacity
Easy to clean
---
Smaller Z Grills
These appliances are ideal for couples, small families, or any pellet smoker enthusiast with limited storage space. With lightweight, compact designs, these Z Grills also make the perfect accompaniments for summer days outdoors.
Smoke Engine 550B2
The Smoke Engine 550B2 is the perfect pellet smoker for beginners, small families, or even the ideal vacation grill, offering the same trusted Z Grills performance and versatility. This Z Grills smoker does more than its size suggests.
With PID temperature control, the 550B2 excels at baking, braising, grilling, and smoking, of course. The small chamber allows for maximum smoke infusion and heat distribution. You might not expect it, but the 550B2 also accommodates two-tiered grilling.
All-terrain wheels
Lightweight construction
553 sq. in. of cooking space
10lb hopper capacity
PID temperature control
---
Z Grills-450A
It's easy to see why the Z Grills 450A pellet grill is a top-rated and best-selling smoker. This appliance is easy on the eyes and affordable, functional and durable. Made from heavy-duty steel and powder-coated, it's built to last and easily withstand high temperatures.
The 450A is fitted with advanced PID temperature control to handle cold climates better, and the smart digital control makes turning up the heat quick and easy. Although it has less than 500 square inches of cooking space, you can fit up to eighteen burgers, four rib racks, or three chickens in the 450A.
This is the perfect pellet smoker for couples or small families with limited storage space.
Compact size
Advanced PID temperature control
459 sq. in. of cooking space
Powder-coated for high temperatures
15lb hopper capacity
---
Z Grills Pellet Smoker Reviews: Shortcomings
To be honest, there isn't a whole lot to complain about when it comes to Z Grills. They really deliver value that goes beyond their price tag. But there are a couple of small things worth mentioning.
Temperature control can be a bit tricky because these pellet smokers aren't insulated. So, in colder climates, you might find it hard to keep a steady internal temp. But, no worries – just grab a Z Grills thermal blanket to keep the heat in. It's fireproof and won't break the bank.
Portability can be a bit of a pain with your Z Grill. Sure, they have small wheels and are easy to move on flat surfaces, but some models can be a bit tricky to handle on rough terrain, like we mentioned before.
It's worth noting that most smokers don't reach high enough heat for grilling. So, it's not really a Z Grills issue but more of a pellet smoker thing in general. Although they can hit up to 500°F, these smokers are better suited for slow-cooking.
🥧 If you're interested in more great recipes, I share all my favorite recipes at A Food Lover's Kitchen, Instant Pot recipes over at A Pressure Cooker Kitchen, air fryer recipes at Air Fry Anytime, and cocktails and drinks at Savored Sips. Check it out today!
Like it? Pin it!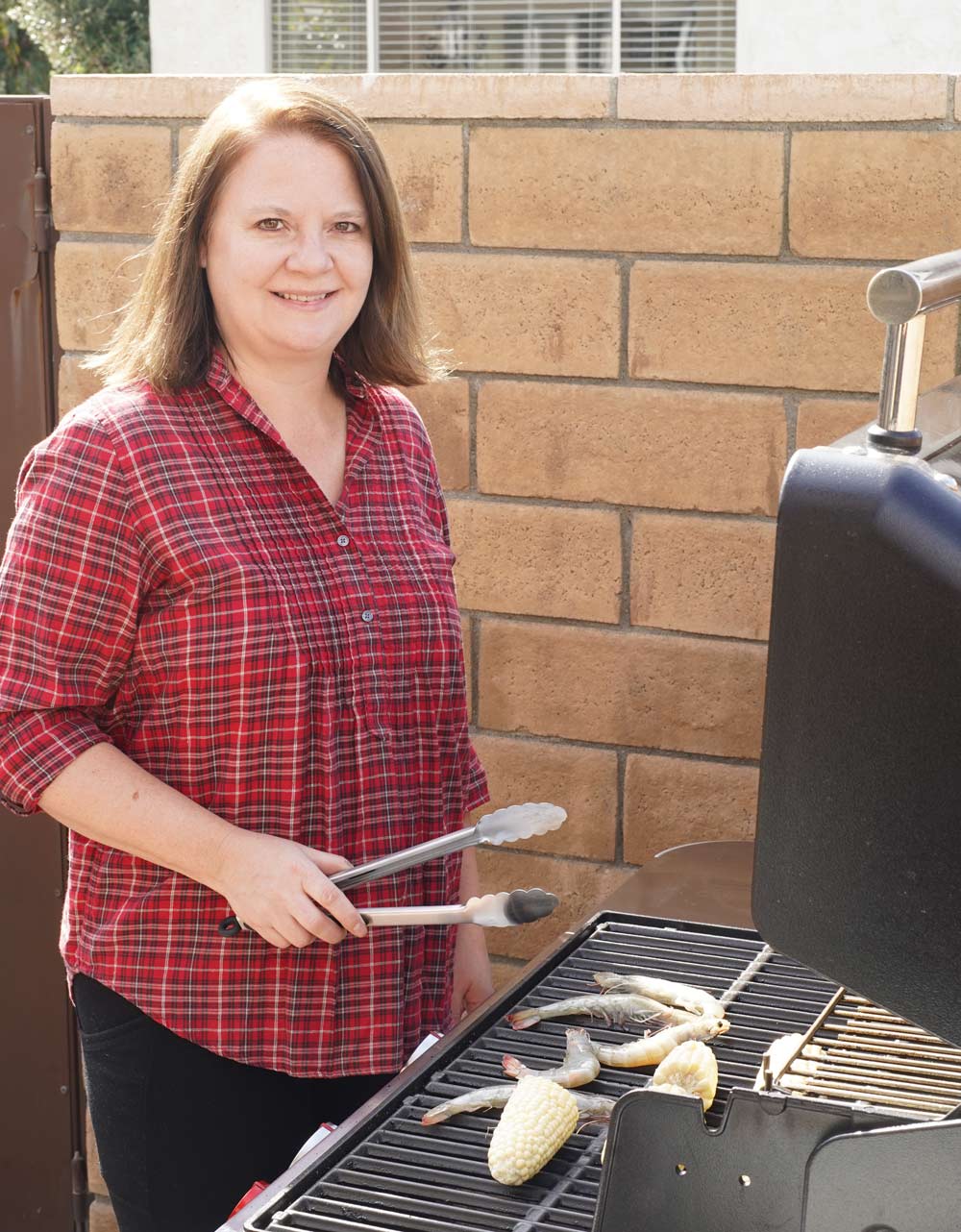 Laura is a passionate home cook and grill enthusiast who has spent years perfecting her culinary skills, with a particular focus on grilling techniques and flavor combinations. Her fascination with the grill, smoke, and the mouthwatering results they produce has led her on an exciting journey to discover the best methods for grilling delicious and unforgettable meals.