Pellet grills provide a distinct and flexible cooking experience that blends the ease of use of gas grills with the flavor of charcoal grills. There are many pros and only a few cons to using a pellet grill, so we think it's a fantastic addition to the backyard.
In this post, we will examine the pros and cons of a pellet grill, what to look for when purchasing one, what foods you can cook on them, and some pellet grilling tips. We've been cooking on our various pellet grills for years and hope to help you get started in the right direction with your own.
» For more information on pellets check out How Long do Pellets Last for Grilling and Smoking.
INTERESTED IN PELLET GRILLS? Check out these other articles:
What is a Pellet Grill?
A pellet grill, sometimes known as a pellet smoker, is an outdoor cooking appliance that smokes and grills food using wood pellets as fuel. The grill is made up of a hopper for the pellets, an auger for feeding the pellets into the fire pot, and a controller for controlling the temperature and cooking time. The grill works by heating the pellets until they emit smoke, which imparts a rich, smokey taste to the meal.
Benefits of a Pellet Grill
They are simple to operate and require little effort. All you have to do is load the hopper with pellets, program the controller to the proper temperature, and wait for the grill to heat up. After it's ready, you can start cooking without having to bother about adding charcoal or manually changing the temperature.
Pellet grills are versatile and may be used to cook a variety of items, including steaks and burgers, chicken thighs, fish, and even pizza. They may also be used for smoking, roasting, and baking, making them an excellent all-in-one outdoor cooking equipment. I've even smoked things like cream cheese and Brussels sprouts.
Another advantage of pellet grills is their ability to keep a steady temperature throughout the cooking process. The controller maintains the temperature by altering the pellet feed rate, which keeps the temperature within a few degrees of the predetermined temperature. Because of this consistency, you can cook your meal to perfection every time, without having to worry about hot or cold patches on the grill.
Pellet grills have a rich, smokey flavor that is difficult to reproduce with other types of barbecues. The pellets are available in a range of wood flavors, including hickory, mesquite, and apple, which impart a distinct and wonderful flavor to the cuisine. This is especially true when utilizing higher-quality pellets made entirely of genuine wood.
The Drawbacks of a Pellet Grill
Compared to other types of grills, pellet grills can be pricey. The initial cost of the grill can be prohibitively expensive, and the continuous expense of pellets can quickly add up. But, for some people, the ease and adaptability of the grill may worth the price.
Pellet grills require power to operate, therefore they must be plugged into an outlet or run on a generator. If you wish to use the grill in a distant place or during a power outage, this can be an issue.
While pellet grills are easy to clean, they do require some care to keep them functioning well. The auger and other elements of the grill might become blocked with ash or debris, reducing the grill's functionality. To ensure that the grill functions effectively, it must be cleaned and maintained on a regular basis.
Pellet grills have a limited temperature range when compared to other types of barbecues, such as gas or charcoal. They can reach temperatures of up to 500°F, although they may struggle to attain the high temperatures required for searing or charring. This may not be an issue for some, but for some who enjoy their meat well-done or scorched, it may be.
While pellet grills have grown in popularity in recent years, pellets may still be scarce in some places. This can make it difficult to acquire the exact type of pellet flavor you desire, or it can make shipping them to your location prohibitively expensive.
Things to Look for When Buying a Pellet Grill
There are various variables to consider when selecting a pellet grill to guarantee that you receive the greatest value for your money. These are some things to keep an eye out for:
Size: Pellet grills are available in a variety of sizes, ranging from small portable units to enormous commercial-grade barbecues. To select the proper size for you, consider how much cooking area you require and how many people you will be cooking for.
Quality construction: Look for a pellet grill built of high-quality materials, such as stainless steel or heavy-duty cast iron. This ensures that the grill will last for many years and can weather the environment.
Temperature range: Think about the grill's temperature range and if it can achieve the temperatures required for the foods you wish to cook.
Controller: Seek for a pellet grill with a dependable and accurate controller that can keep the temperature stable.
Pellet compatibility: To guarantee that you have plenty of alternatives, see if the grill is compatible with a number of pellet brands and tastes.
» You might like this Thermapen Review: This Things Rocks! 2023 and How to Make Grilled Corn on the Cob.
What Meals Can Be Prepared on a Pellet Grill?
Pellet grills are adaptable and may be used to cook a variety of dishes. Here are a couple such examples:
Because pellet grills can maintain a steady temperature and provide a delightful smokey flavor, they are ideal for cooking steak.
Pellet grills are also excellent for cooking chicken, whether whole or in bits. The smoky flavor contrasts beautifully with the mild flavor of the chicken.
Pellet grills are perfect for smoking fish because they create a mild and constant heat that imparts a lovely smokey taste to the fish.
Pellet grills can also be used to cook vegetables, such as asparagus, zucchini, and bell peppers. The smokey flavor can give the vegetables a new depth.
Because pellet grills can achieve high temperatures and produce a crispy crust, they can also be used to make pizza.
What Pellets to Use for the Smoker?
You'll also need pellets for your smoker, if you've got a pellet grill like we do. Pellets come in many different types that you can choose from. I like to use hickory wood, or cherry wood pellets for mine. They also have a bourbon wood pellet that's very good. My friend Todd swears by the Jack Daniel's Tennessee Whiskey pellets.
Pointers to Make the Most of Your Pellet Grill:
Preheat the grill: Before adding your food, allow the grill to reach the correct temperature. This will keep the grill at the proper temperature and prevent food from sticking to the grates.
Utilize high-quality pellets: Use high-quality pellets made entirely of natural wood. This will assure the optimum flavor and prevent the chance of the pellets producing too much ash.
Maintain the temperature: Maintain a steady temperature and prevent smoke from escaping by keeping the lid closed as much as possible.
Utilize a meat thermometer: To guarantee that your meat is cooked to the appropriate internal temperature, use a meat thermometer. This ensures that your food is safe to eat and perfectly cooked.
Try with different pellet flavors: Pellet grills are available in a number of flavors, including hickory, apple, and mesquite. Experiment with different flavors to find the one that works best with the cuisine you're preparing.
Don't forget about maintenance: A pellet grill, like any other barbecue, requires regular maintenance to guarantee optimal operation. Cleaning the grates, emptying the ash pan, and inspecting the auger for obstructions are all part of this process.
What Smokers We Use
We use the 7002C2E, which has dual temperature probes, a huge pellet hopper and pellet viewing window, with a large grill space and streamlined design. See this grill and more on the Z Grills site.
Did you know that Traeger created the original wood-pellet grill? The Pro Series 22 is the one most people choose because it's compact, yet has plenty of space for cooking. You can use any type of wood pellets you like. See the Traeger Series 22 Grill on Amazon.
For more options, see our full guide to the 8 top smoker/grill combos on the market today.
Why We Love Our Pellet Grill
We love our pellet grill for so many reasons! Whether it's BBQing or smoking, nothing beats the taste of food we made on our pellet grill.
I've found that it holds a pretty steady temperature (unless we're coming on the 'smoke' setting, which is meant to fluctuate), so the food turns out consistently good. Plus, with a variety of wood pellets to choose from, we can customize the flavor profile to suit what we're cooking. Our pellet grill has an easy release hatch so we can change out the pellets easily, even if the hopper is full.
The ease of operation is also something we appreciate about our pellet grill. Instead of constantly monitoring the temperature and stoking embers, all we have to do is fill up the hopper with wood pellets and set the smoke temperature.
There's no need to worry about flare-ups or uneven heat. We just try to keep the lid closed during the whole cook, so we don't introduce temperature fluctuations.
Overall, our pellet grill has been a great addition to our outdoor setup. Not only does it give us top-notch results every time, but it's easy to use and adds a touch of sophistication to our backyard space. No matter what we're cooking up on the menu, a pellet grill brings it all together!
Like this recipe? We'd love for you to share it on your Pinterest board! Click to follow our Pinterest boards so you can find all our recipes! 
Instagram it! If you try this recipe please tag #legendsofthegrill on Instagram or Twitter. We love to see your photos of our recipes! Also follow us on Facebook to keep up on what we're cooking up.
🥧 If you're interested in more great recipes, I share all my favorite recipes at A Food Lover's Kitchen, Instant Pot recipes over at A Pressure Cooker Kitchen, air fryer recipes at Air Fry Anytime, and cocktails and drinks at Savored Sips. Check it out today!
Like it? Pin it for later!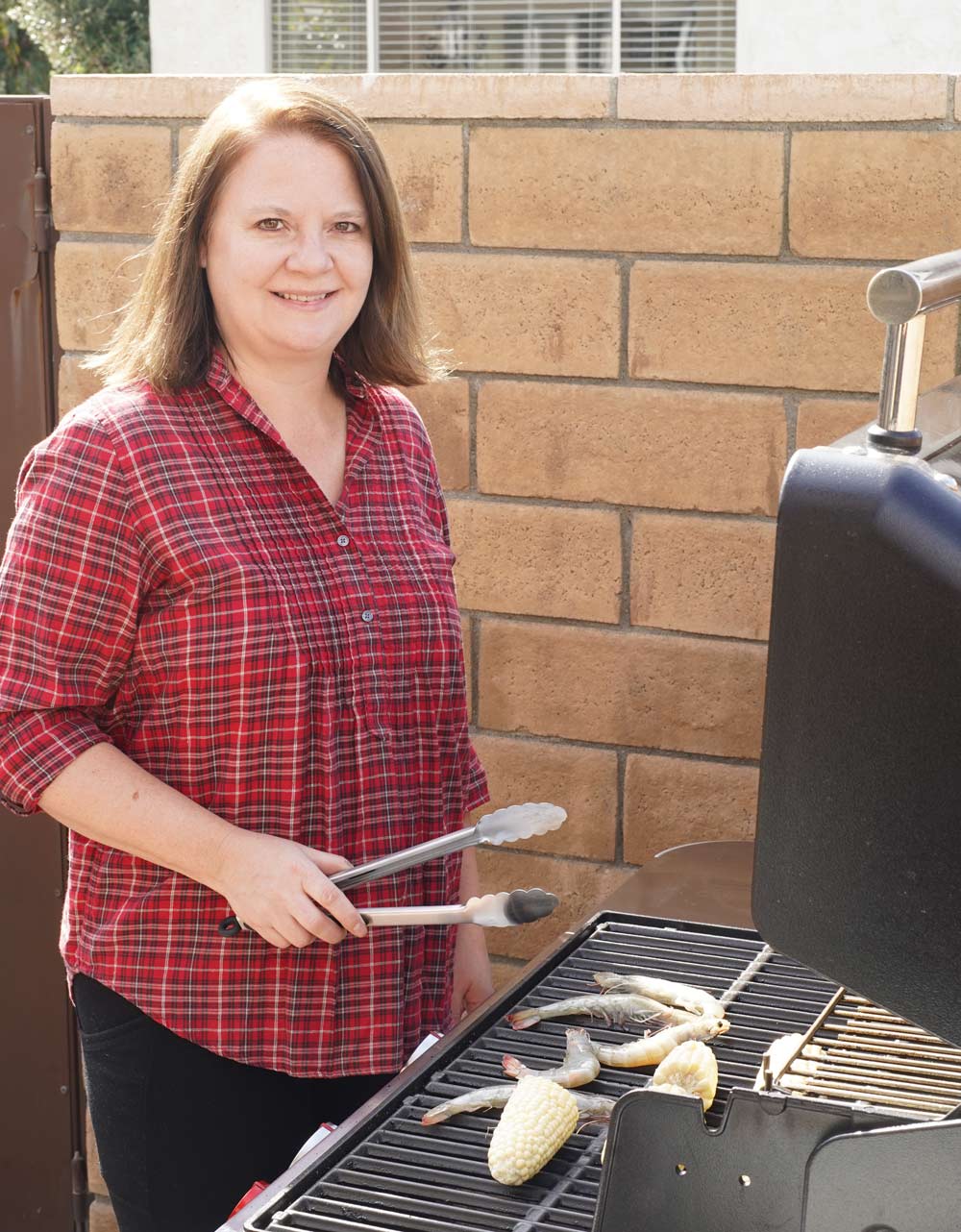 Laura is a passionate home cook and grill enthusiast who has spent years perfecting her culinary skills, with a particular focus on grilling techniques and flavor combinations. Her fascination with the grill, smoke, and the mouthwatering results they produce has led her on an exciting journey to discover the best methods for grilling delicious and unforgettable meals.