If you're a fan of outdoor cooking, then you know that having the right grill can make all the difference. One grill that has been gaining a lot of attention lately is the Weber GENESIS E-325 Gas Grill. This grill has been praised for its sleek design, powerful performance, and innovative features that make grilling easier and more enjoyable.
I wanted to see for myself if this is the ultimate grilling machine. Our friends have one and they rave about it. With three burners and a large cooking area, the Weber GENESIS E-325 seems like the right size for hosting a backyard barbecue. So let's give it a spin.
Here is a picture of our Weber GENESIS parked in our backyard, bathed in a nice sunset. By the way, we were not compensated for this review, we purchased this grill for our own personal use. However, we are affiliate partners with Weber because we like it so much. So if you click our link to buy it, we will be compensated a small amount.
» You also might be interested in The Perfect Grilled Steak Temps: Master the Art of Steaks.
Actually, before we even got to the purchasing stage, Nick pulled up and paid for a Consumer Reports review on the grill, just to be sure it was getting the high praise for a reason, not just based on hype. He was fully satisfied, so we went ahead with the purchase.
In this article, we'll take a closer look at the Weber GENESIS E-325 and see what all the fuss is about. We'll examine its features, performance, and tell you what we think based on our own experience with the grill to help you decide if this grill is the right choice for you.
So, whether you're a seasoned grilling pro or just getting started, read on to find out everything you need to know about the Weber GENESIS E-325 gas grill.
Design and Build Quality
The Weber GENESIS E-325 Gas Grill is a premium quality grill. The design and build quality of this grill are exceptional.
In this section, we will take a closer look at the exterior design, cooking grates, burners and ignition system, warming rack, side tables, and storage space of the Weber GENESIS E-325 Gas Grill.
Exterior Design
The Weber GENESIS E-432 has a sleek and modern design that looks great in our backyard. The grill is made from high-quality materials and has a black finish that looks stylish and durable. The grill also features a built-in thermometer, which makes it easy to monitor the temperature of the food while it cooks.
We have a ton of detachable probes and they all seem to meld together in the drawer, so I appreciate that the thermometer is built in on this. I have tested it against my trusty Thermoworks thermometer and it's been quite accurate so far.
Cooking Grates
The cooking grates of the Weber GENESIS are made from high-quality cast iron. They are sturdy, and don't bow under a lot of weight. They're large enough to hold quite a bit of food. And so far, I've found them pretty easy to clean.
They don't hold on to food as much as other grates I've cooked on, so I can even remove fish from them pretty easily, without much sticking.
The grates are also designed to provide even heat distribution. I've been pretty happy with the way food cooks evenly across the grates. We've cooked everything from baby back ribs, to tri tip, to corn on the cob.
Burners and Ignition System
This grill has four burners to provide even heat distribution across the grill. The burners are easy to ignite thanks to the grill's electronic ignition system, which makes starting the grill quick and easy. All you have to do is push the button and the grill ignites. We haven't had any issues with the ignitor or the burners.
I will say, they are very powerful burners. This grill preheats faster than any other grill I've used. It's up to 425 in a flash. If you aren't watching the heat pretty closely the heat can easily get away from you.
Warming Rack
The warming rack is perfect for keeping food warm while the rest finishes cooking. Like the grate, the warming rack is also made from high-quality stainless steel, which is both durable and easy to clean. I like that it folds out to create even more space. We use it often to keep food from overcooking on the grate.
Side Tables and Storage Space
This Weber has two side tables that provide plenty of space for preparing food and holding utensils. I've found them really easy to wash off when they've been under the cover for too long. Grease doesn't seem to cling to them, which is great.
The grill also has plenty of storage space underneath, which is perfect for storing propane tanks and other grilling accessories. We've hooked ours up with natural gas, so there's even more space. The only thing we have done there are a few grill tools and the grease tray.
Read also » Become a Grill Master: 50 Sizzling Tips & Tricks for Grill Enthusiasts.
Performance and Features
Now on to how it performs. This grill offers an impressive range of features, many of which was I pretty convinced we'd never use. Sometimes I think this is a ploy by the manufacturer to get you to buy an upgraded product that you don't actually need or use. But we have found a few key features that we love about this grill.
Cooking Performance
The Weber GENESIS E-325 is designed to provide even heat distribution across the entire cooking surface, which means it shouldn't have hot spots. The three cast iron burners are powerful and efficient, with 39,000 BTU-per-hour input.
The grill also comes with a sear station that provides an intense heat zone for searing meats and locking in flavor. That has a 13,000 BTU-per-hour input.
If you want to upgrade to four burners, you can leap up to the GENESIS E-435, which has 48,000 BTU-per-hour input and more room on the grill. Since there are just 2 of us most of the time (as you can see in the photos above – usually we aren't cooking that much food), the 3-burner grill was more than enough for us. And there's a $600 difference in the price.
Fuel Efficiency
The Weber is designed to be fuel-efficient, which means you can cook for longer periods of time without having to refill the propane tank. The grill also comes with a fuel gauge that lets you know when it's time to refill the tank, so you can avoid running out of propane in the middle of a cookout.
We have the natural gas version of the grill, so I can't comment on how well that feature works.
Additional Features
Now comes the part where you get to choose the extra features you want. There are a few extra things that are optional as add-ons. I like that you can choose, so you don't end up with a ton of features that you don't need.
Side Burner & Grill Locker
One of the extra features is a built-in side burner that allows you to cook side dishes or sauces while you grill. It's located on the left side table of the grill. To use it, you take the plate off the top and fire up the burner. This feature adds about $320 to the price of the grill. We did not go for this option, because I'd rather just cook anything else I need indoors.
Weber CONNECT Smart Technology
The addition of this feature is about $179. It allows you to connect the grill to your phone so you can watch the progress of your cooking and get alerts when the grill is preheated, and when the food is ready. For me, this is a very useful feature. We splurged for this feature and are very glad we did.
Grill Lighting
The grill also has a built-in light that makes it easy to see what you're cooking, even in low-light conditions. Their proprietary NIGHTVISION grill lighting illuminates the entire grilling surface when you open the lid. Includes knob lighting for night time visibility.
This feature is only available to add if you've added both of the other features. With everything included, the grill costs $1699.
Cost
This grill is an investment for sure, but it's worth it for the quality and features it offers. The price of this grill may be higher than other grills on the market, but I have found it to be worth the extra cost. However, I didn't spring for the side burners or the night lighting, which kept the price down considerably.
The price of the grill varies depending on where you purchase it from. If you buy direct from Weber, the base price of the 325 is $999. With the SMART feature added, it's $1179. With the side burner, it's $1319, and with all of the features it's $1699.
While the initial cost may be higher than other grills, the Weber is built to last. It's made with high-quality materials that are designed to withstand the elements and resist rust and corrosion. We live on the beach, so if anyone knows about rust and corrosion, it's us. So far, so good.
The grill also comes with a pretty great warranty, which provides peace of mind and ensures that your investment is protected. The warranty length depends on the part it's covering, but ranges from 12 years for the cookbox and lid assembly, to 10 years for the burner tubes, cooking grates, flavorizer bars, and cast iron cooking grates. Weber CONNECT parts are covered for 3 years. All other parts are covered for 5 years.
Ease of Use and Maintenance
Assembly and Setup
Our grill arrived on a huge pallet, in a rather large box that was not all that fun to move to the backyard. We started to tear into it the moment it arrived and found that it was really well packed. Every component had it's own box or cardboard, or styrofoam wrap around it.
It was pretty easy to assemble and set up, thanks to the clear and concise instructions provided in the manual. It took 2 of us about 1 hour to complete.
You might need assistance with lifting and positioning the heavy parts, but overall, assembly is a straightforward process. I wouldn't recommend doing it with one person. We set out all of the parts in order on the lawn, then systematically pulled them in to add to the base.
Cleaning and Maintenance
It's easy to clean and maintain, thanks to its high-quality construction and design. The grill grates are made of cast iron, which is durable and easy to clean.
The grease management system is also well-designed, making it easy to remove and dispose of grease without creating a mess. The exterior of the grill can be wiped down with a damp cloth, and the burners can be cleaned with a grill brush.
Regular maintenance is important to keep the grill in top condition. The manual provides clear instructions on how to clean and maintain the grill, including how to check the burners for clogs and how to replace parts if necessary.
Pros & Cons
The 325 is a top-of-the-line grill that offers a range of features and benefits. So far, we both agree that it's the best grill we've ever owned. It's probably also at least 50% faster in the cooking, because it's powerful. But there are always pros and cons of everything, so here's what we've decided:
Pros
The three burners provide ample cooking space and heat output. For us, there is no need for the 4th burner.
The grill heats way faster than we expect it to, so just minutes after starting it, it's ready to cook.
We actually use the sear station that allows you to sear at high temperatures. It gives a nice crust to the meats that need it, but it doesn't take up all the space, so you can easily move other foods off of the zone.
The built-in thermometer and SMART function that we splurged for makes it easy to monitor the temperature of the grill and the food we're cooking.
The grill is made with high-quality materials that are built to last.
The grill's "grease management system" makes it easy to clean and maintain, and helps prevent flare-ups.
Cons
It's one of the most expensive grills on the market, which may be a deterrent for some buyers.
It's pretty costly to add the extra features, but they are a little extraneous anyways.
The grill is heavy and may be difficult to move or store, especially if you have limited space.
The assembly process requires two people to complete.
The grill does not come with a propane tank, so you'll need to purchase one separately.
Our Conclusion
Overall, the Weber GENESIS E-325 has been a great choice for us. It's well-built, versatile, and packed with features that make it easy to use and maintain. We use it quite frequently and haven't noticed any breakdown of the surfaces, or grill sticking, or rust.
It's been really easy to maintain. I just give it a wipe down once a month and clean out the grease tray regularly. If there's any noticeable buildup of grease under the grates, I remove them and give it a wipe down. The grates themselves are really easy to clean in the sink. They still look like new.
I'm pretty happy with the purchase. It's definitely the best grill we've ever owned and I think we'll have it with us for a long time.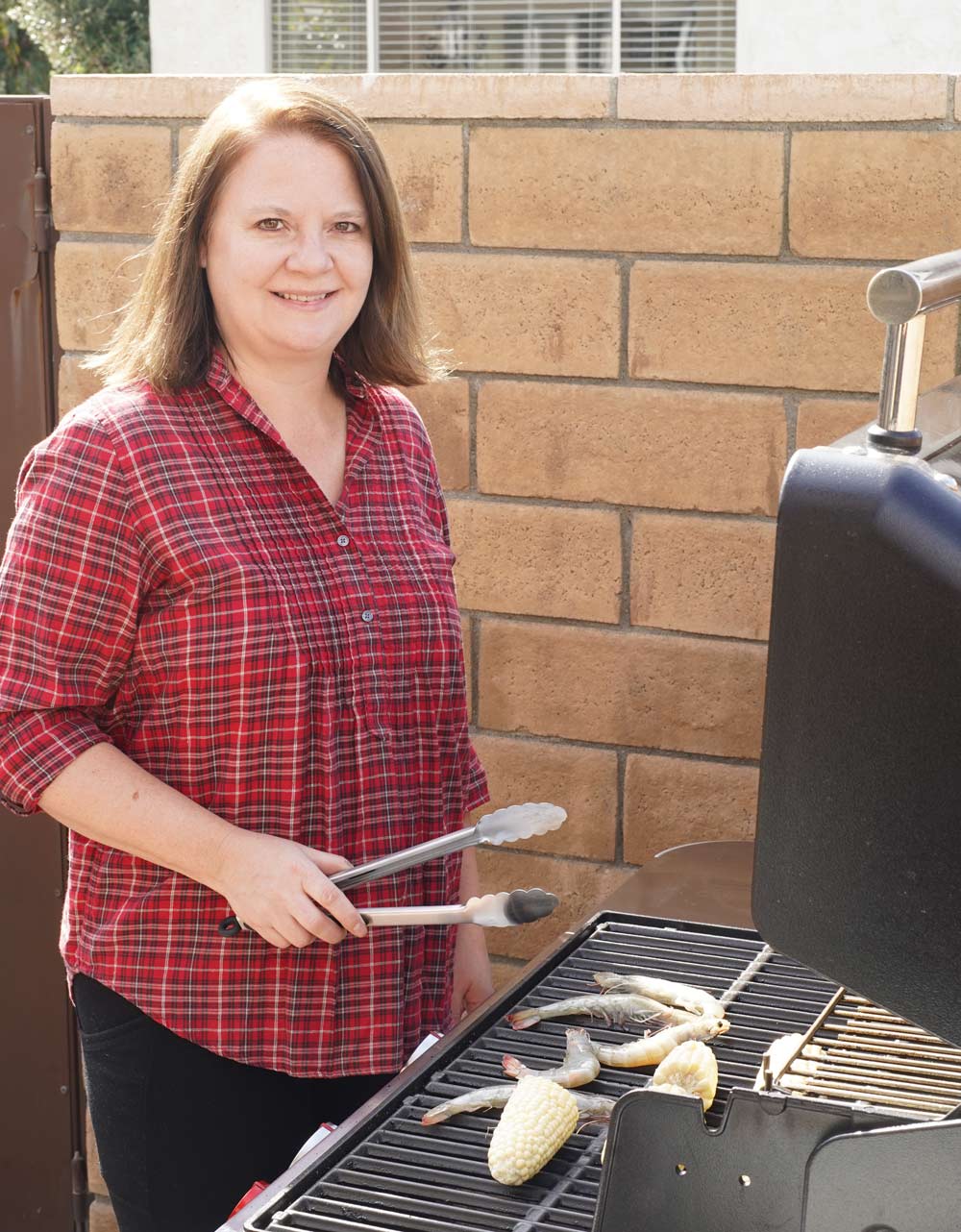 Laura is a passionate home cook and grill enthusiast who has spent years perfecting her culinary skills, with a particular focus on grilling techniques and flavor combinations. Her fascination with the grill, smoke, and the mouthwatering results they produce has led her on an exciting journey to discover the best methods for grilling delicious and unforgettable meals.