Whether it's a novelty or a new way of life, Pellet grills are definitely gaining an ever-increasing following among people who enjoy barbecuing. Wood pellets, as opposed to charcoal or gas, are used in pellet grills to produce heat and smoke, and they're capable of making really tasty meat and vegetables.
If you are new to the world of pellet grilling, you'll want to have an understanding of how pellet grills operate, the accessories they require, and the procedures you need to follow to use them efficiently.
» You might also like Traeger Grilled Chicken Thighs and 15 Pellet Grill Accessories You Need.
In this post, we will walk you through the fundamentals of pellet grilling, including how to use a pellet grill, what kinds of meats to cook on a pellet grill, and the most effective tips and methods for getting the most out of your pellet grill.
INTERESTED IN PELLET GRILLS? Check out these other articles:
What is a Pellet Grill?
A pellet grill is an outdoor grill that burns wood pellets as its primary fuel source. These barbecues include an automatic system that regulates the temperature and maintains a steady flow of smoke to cook the meat evenly.
Pellet grills are available in a wide range of sizes and designs, from compact, portable units to expansive, permanently installed outdoor kitchens. You can also get them as a stand-alone smoker or as a pellet/grill combo.
Read also » Become a Grill Master: 50 Sizzling Tips & Tricks for Grill Enthusiasts.
How Do Grills that Use Pellets Heat Food?
Pellet grills are electric grills that are first plugged in to a power source. They then function on an automatic system that regulates the temperature and the amount of smoke produced.
You will dump the wood pellets into a hopper, then the automated auger transfers the pellets to the combustion chamber at a rate that is determined by the heat settings you've chosen.
When the pellets reach the combustion chamber, they are lit on fire, and the heat that is produced is what is used to cook the meat. This also produces smoked that circulates inside the grill and permeates the meat as it cooks.
The electronic controller that also controls the rate at which pellets are dropped into the combustion chamber is responsible for maintaining a constant temperature. This makes it possible for the temperature of the grill to remain stable all the way through the cooking procedure.
Accessories for the Pellet Grill
There are various accessories that can help improve your cooking experience when using a pellet grill, including:
Pellets: The type of pellets you use can greatly influence the flavor of your meat. Various wood pellets, such as hickory, mesquite, or applewood, might have distinct flavors.
Grill grates: Grill grates can increase the sear marks on your meat while also providing more equal heat dispersion.
Meat Thermometer: When cooking meat on a pellet grill, a meat thermometer is required. It allows you to check the internal temperature of the meat to ensure it is cooked to your liking.
Grill Cover: A grill cover shields your pellet grill from the elements and helps it last longer.
How to Use a Pellet Grill
How to Start It for the First Time
Starting a pellet grill is a straightforward operation that anyone can perform. By following a few easy steps you will be on your way.
Load the hopper with the wood pellets of your choice.
Turn it on, easy right?
Feed the auger. The auger feeds pellets to the firepot inside.
Wait for the smoke to start. Pellets have ignited and are burning.
Set the temperature for cooking.
Begin cooking, your grill is preheated and ready to go!
Pellet Grill Seasoning
You must season your pellet grill before using it for the first time. This procedure entails heating the grill to a high temperature in order to burn out any manufacturing imperfections.
Follow these steps to season your pellet grill:
Load the hopper with pellets and heat the grill to the maximum setting.
Let the grill to heat up for at least 30 minutes, or until the pellets have entirely burned off.
Turn off the grill and set it aside to cool before cleaning it down with a moist cloth.
Warming Up Your Pellet Grill
After you've seasoned your pellet grill, it's time to warm it before cooking. Preheating the grill ensures that the temperature is reached before adding the meat.
Follow these steps to warm your pellet grill:
Load the hopper with pellets and heat the grill to your preferred temperature.
Let at least 10 to 15 minutes for the grill to heat up before adding the meat.
Using Your Pellet Grill to Cook
It is critical to follow a few simple measures while cooking on a pellet grill to ensure that your meat is cooked to perfection.
Set the Temperature: Adjust the temperature to the required level based on the type of meat and desired doneness level.
Put the meat on the grill: Once the grill has reached the desired temperature, place the meat on the grill grates.
Monitor the Temperature: Check the temperature of the meat with either a built-in thermometer on your smoker, a remove BBQ thermometer like the Smoke X, or an instant read thermometer like the Thermapen during cooking. This will guarantee that the meat is cooked to the desired level of doneness.
Flip the Meat: Depending on the meat, you may need to flip it over to achieve even grilling on both sides.
Add More Wood Pellets to the Hopper: Depending on how long you're cooking, you may need to add additional wood pellets to the hopper to keep the temperature and smoke levels stable. For more information check out How Long do Pellets Last for Grilling and Smoking.
Check for Doneness: Remove the meat from the grill and let it aside for a few minutes before serving.
Turning Off Your Pellet Grill
After you've finished cooking, it's critical to properly shut off your pellet grill to maintain its longevity and safety.
Follow these procedures to turn off your pellet grill:
Switch off the Temperature Controller: Turn off the temperature controller and let the grill to cool.
Empty the Hopper: Remove any unused pellets from the hopper and place them somewhere dry.
Clean the Grill Grates: Use a wire brush to remove any remaining debris from the grill grates.
Cover the Grill: To protect the grill from the elements, use a grill cover.
Keeping Your Pellet Grill Stored
In order to maintain your pellet grill for a long time, you need take a few extra precautions to protect its longevity.
If you don't know how to proceed from here, no worries. Here are some of the tips you can follow:
Empty the Hopper: Remove any unused pellets from the hopper and place them somewhere dry.
Clean the Grill: Remove any food debris or grease from the grill grates and any other elements of the grill.
Disconnect the Power: To avoid any electrical problems, disconnect the power source from the grill.
Cover the Grill: To protect the grill from the elements, use a grill cover.
What Smokers We Use
We use the 7002C2E, which has dual temperature probes, a huge pellet hopper and pellet viewing window, with a large grill space and streamlined design. See this grill and more on the Z Grills site.
Did you know that Traeger created the original wood-pellet grill? The Pro Series 22 is the one most people choose because it's compact, yet has plenty of space for cooking. You can use any type of wood pellets you like. See the Traeger Series 22 Grill on Amazon.
» You will love these Simple Grilled Brats.
Best Meats to Cook on a Pellet Grill
Pellet grills are extremely adaptable pieces of equipment that can be used to prepare a wide variety of meats as well as vegetables. The following are some of the top candidates for cooking on a pellet grill:
Pork: Pork chops, pork ribs, and pulled pork are all wonderful possibilities for using a pellet grill to prepare.
Fish: Salmon, trout, scallops, and other types of fish make for delicious grilled meals when prepared on a pellet grill.
Pellet Grill Tips and Tricks
Everyone who starts out with a pellet grill has very little idea what they're doing at first. It can be a bit intimidating for the first few cooks, until you get the hang of it, unless you're already a BBQ master. I wasn't. I had to learn a few things along the way.
Here are a few of the things I learned that I can share with you to in order to get the most out of your pellet grill:
Experiment with wood pellets: The different types of wood pellets provide a variety of flavors, so you should try out a few different kinds before deciding which one is your favorite. I initially bought five different types and tried them in succession, finding ones I really didn't care for along with ones I really liked.
Use a Meat Thermometer: While cooking meat on a pellet grill, it is absolutely necessary to use a meat thermometer. It enables you to determine the internal temperature of the meat to guarantee that it has been cooked to the level of doneness that you choose. My Z Grill has a built in probe, but it doesn't have a remote, so I still have to go outside to check it. Instead, I now use the Smoke X remote probe and I absolutely love that thing.
Maintain the grill: Keeping the grill clean will minimize flare-ups and an egregious amount of smoke pouring out of the grill when you first fire it up. I'd allowed a bit of grease to build up in there once and I thought the neighbors might call the fire department because of how much smoke poured out. This can be avoided by regularly cleaning the grill grates as well as the other components of the grill where grease builds up.
Prepare in Advance: Because pellet grills take longer to cook meat than regular grills, it is important to prepare in advance and give yourself plenty of time to cook the meat to perfection. Some things, like brisket, can take 14 hours to cook.
Final Thoughts
Cooking a wide variety of meats and vegetables on a grill using pellets is a tasty method that is also a lot of fun. You may effortlessly prepare scrumptious meals if you are familiar with the operation of a pellet grill, if you select the appropriate accessories, and if you adhere to best practices for seasoning, preheating, cooking, and closing down your grill.
Always make sure to use a meat thermometer to verify that your meat is cooked to the doneness level that you prefer, and don't forget to try out a variety of different types of wood pellets to get the flavor that you like most.
By putting these suggestions into practice and delving deeper into the realm of pellet grilling, you will be able to wow your loved ones and acquaintances for many years to come with scrumptious dishes that you have prepared. So, have a very happy grilling and let us know if any of these tips were helpful!
Like this recipe? We'd love for you to share it on your Pinterest board! Click to follow our Pinterest boards so you can find all our recipes! 
Instagram it! If you try this recipe please tag #legendsofthegrill on Instagram or Twitter. We love to see your photos of our recipes! Also follow us on Facebook to keep up on what we're cooking up.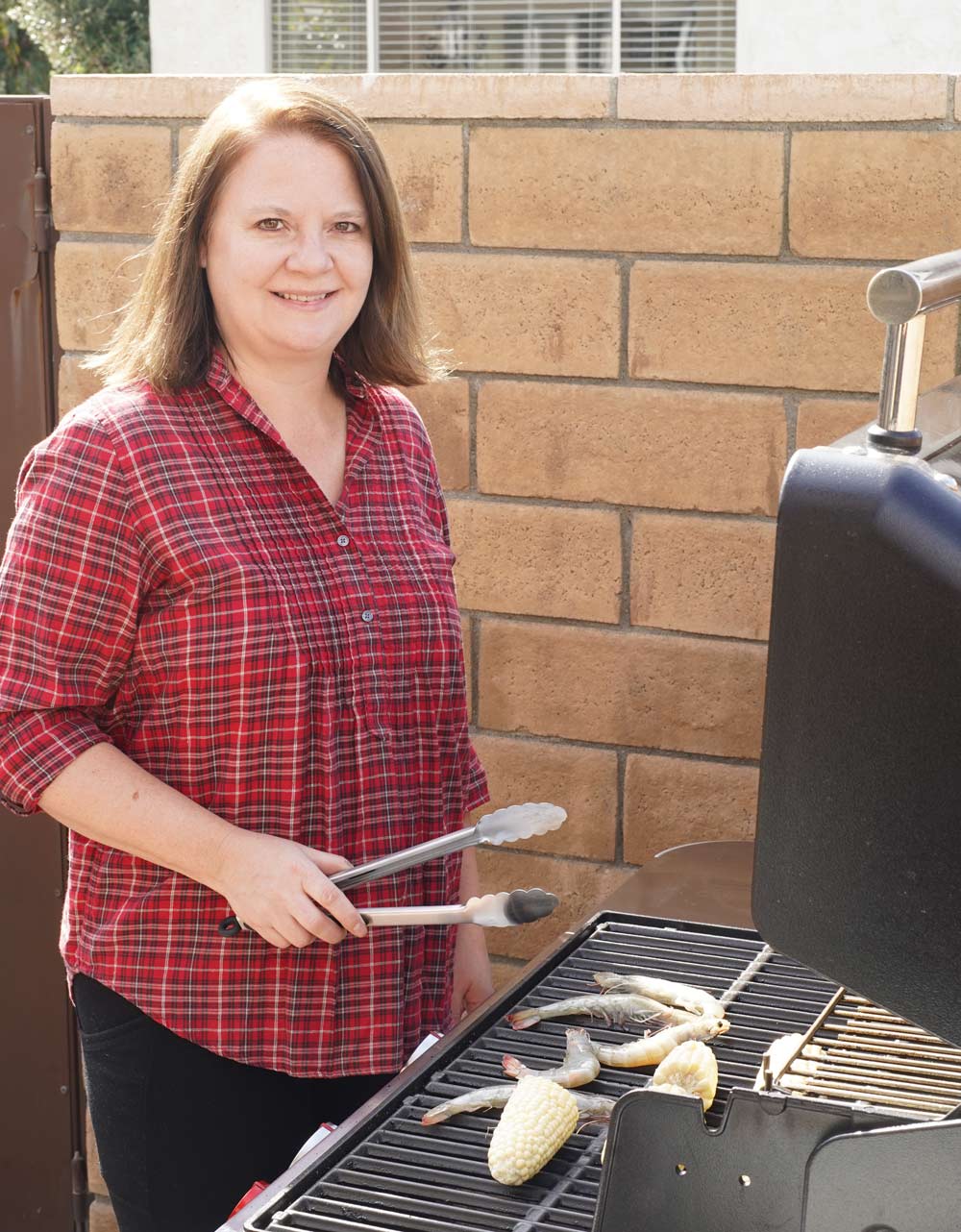 Laura is a passionate home cook and grill enthusiast who has spent years perfecting her culinary skills, with a particular focus on grilling techniques and flavor combinations. Her fascination with the grill, smoke, and the mouthwatering results they produce has led her on an exciting journey to discover the best methods for grilling delicious and unforgettable meals.