These delicious BBQ Brisket Buns are the perfect meal to make after you've spend hours smoking a brisket on the smoker. The intense smoked flavor of the tender, fatty meat makes the perfect sandwich.
See our recipe for perfectly smoked brisket on the pellet grill. And dress it up with these sides to serve with brisket.
🥳🍗New customers to ButcherBox can save $100 on their first 5 boxes ($20 off for 5 months) from 5/26 to 5/30. Hurry! Offer ends 5/30 SIGN UP HERE
There's nothing quite as satisfying as a perfectly tender, juicy, and flavorful brisket bun. These mouthwatering sandwiches showcase the best of what smoked brisket has to offer, piled high between two soft buns and paired with your favorite toppings.
If you've spent all that time smoking a brisket, you want to enjoy it to the fullest. My favorite way to use any leftover brisket is making brisket buns. You're going to love these things. They're the best.
What are Brisket Buns?
Brisket buns are sandwiches made from slow-smoked beef brisket, typically served on soft buns, such as brioche or potato rolls. We use brisket that has been perfectly seasoned for the smoker with a blend of spices and smoked low, then cooked slowly over wood or on a pellet smoker to achieve a tender, juicy, and smoky flavor.
Slice up that perfectly smoked brisket and slap it on a bun! Brisket buns can be served with a variety of toppings, including coleslaw, pickles, onions, and barbecue sauce. What you put on your buns is up to you, but we'll show you how to assemble a perfect brisket bun in the recipe below.
Ingredients You Need
Beef brisket – For this recipe, you brisket is already smoked. If you need a recipe, here's ours for brisket on the pellet grill.
Brioche buns – I really like brioche. It's the right amount of sweet and soft. But you can use any buns you like.
Butter
Cucumber very thinly sliced – you're going to make a quick pickle, so you'll also need the ingredients listed below.
Red chilis – I use little red Thai chilis. They are hot! But you can substitute them with red jalapeno peppers and remove all of the seeds and white ribs and they won't be hot.
Water
White vinegar
White sugar
BBQ Sauce – homemade or store bought brand that you like. For something a little different you might try this Alabama White BBQ Sauce.
How to Make Brisket Buns
This recipe assumes you're using pre-cooked brisket. If you need a recipe for smoking your brisket, here is our Brisket on the Pellet Grill recipe.
You can also buy brisket from your local BBQ restaurant, or they sometimes even have it at the grocery store. I, of course, prefer my own homemade smoked brisket.
Start by mixing up the ingredients for the pickle brine. You'll need to leave the pickles in the brine for about 30 minutes for a "quick pickle".
To do this, combine the water, vinegar and sugar in a sealable glass jar or container. Add the sliced cucumbers and red chilis. Refrigerator them until they're ready to use, or whenever you're ready to make your buns, but at least 30 minutes.
Reheat the brisket so it's warm. Don't overcook it or it will dry out. I usually will reheat the meat on the grill or in the air fryer. You can heat it in a pan on the stove as well. I don't recommend the microwave, because it zaps the life out of it.
Butter the buns and toast them until browned. I do this on the stove top or the griddle. If you're reheating the brisket on the grill, you can also brown your buns there at the same time.
Add a slice or two of the brisket on top of the toasted buns. Drizzle on the BBQ sauce. Top with the quick pickles and peppers. That's your leftover brisket sandwich recipe!
Toppings For Brisket Buns
Topping brisket buns can be a fun and delicious way to add extra flavor to the sandwich. I absolutely swear by the quick pickle and red chilis with some BBQ sauce. That's all a good brisket bun really needs. But if you want to get creative, there are many other things you could try.
Possible toppings include:
Coleslaw – Coleslaw adds an extra crunchy texture as well as a cool contrast to the heat of the brisket. Try this creamy & spicy chipotle coleslaw.
Pickles – Pickles provide additional acidity
Onions – Onions add a more savory flavor
Peppers – Spice it up with some extra heat
Barbecue sauce – BBQ sauce is perfect for a sweet tanginess.
Spicy mustard – If you don't like peppers, spicy mustard can give the right kick
Shredded cheese – Offers a melty ooey gooey texture that is guaranteed to delight any palate!
Suggestions & Tips
The brisket for this sandwich should be sliced very thin, about 1/4″ thick and stacked up on the sandwich. Any thicker and it can be difficult to cut through the meat with your teeth and then you'll just be pulling the meat out of the bun every time you take a bite.
Don't over do the toppings because it will overpower the flavor of the brisket, which is the star of the show here. Just a drizzle of BBQ sauce and a quick pickle.
Be sure to toast the bun before you dress it. This will give it a bit more sturdiness and crunch. The butter will help give it a rich and satisfying crunch.
Smoking Your Own Brisket
We fully embrace the process of smoking your own brisket for this recipe. It's just part of the process of making a delicious brisket bun for us. If you're going to take this one, here are some helpful tips to do it right.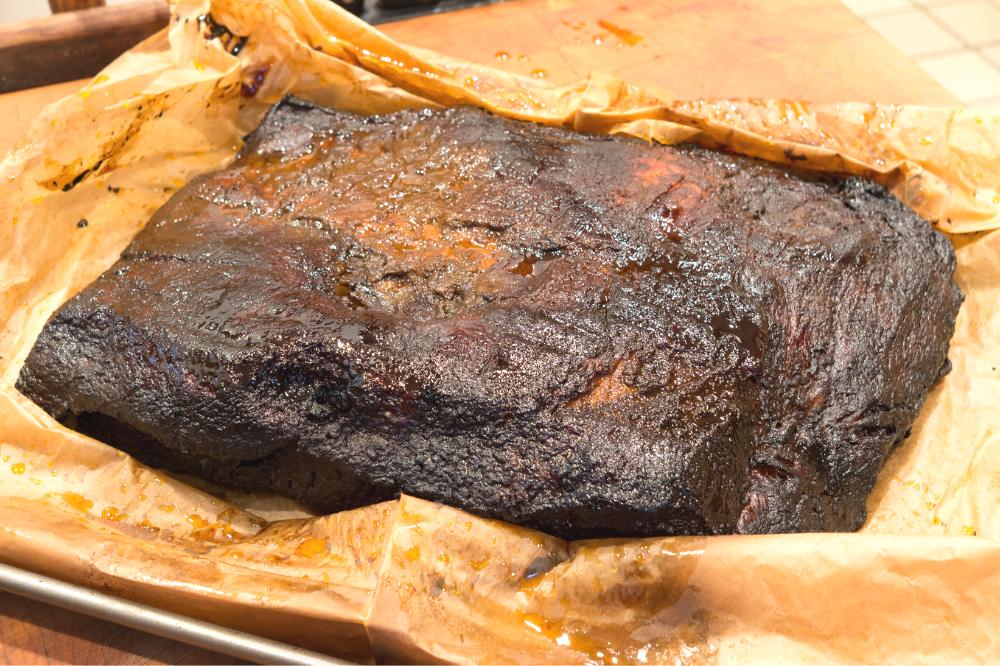 What Temperature Should Brisket Be Smoked At?
The key to perfectly smoked brisket is maintaining a consistent temperature throughout the cooking process. Generally, brisket should be smoked at a temperature between 225°F and 250°F (107°C and 121°C).
This low and slow approach allows the collagen and fat in the meat to break down, resulting in a tender, juicy, and flavorful brisket. If you don't have the time or inclination to smoke your own brisket for this sandwich, that's okay too. You can always buy it!
» Reading in one second or less
» Accuracy of ± 0.5°
» 5-year warranty
» Auto-rotate display; motion-sensing
» Insanely long battery life (2000 hrs)
How Long Does It Take to Smoke Brisket?
The length of time it takes to smoke a brisket will depend on the size of the cut, the temperature of your smoker, and the desired level of doneness. On average, it takes about 1 to 1.5 hours per pound of brisket at 225°F to 250°F.
A whole packer brisket weighing 12 to 15 pounds will generally take 12 to 18 hours to smoke. It's important to note that every piece of meat is different, so using a reliable meat thermometer to monitor the internal temperature is crucial.
Tips for Making Homemade Smoked Brisket
Select a high-quality, well-marbled brisket with a thick layer of fat. The marbling and fat will help keep the meat moist and tender during the long smoking process.
Use a simple but flavorful dry rub made from salt, pepper, garlic powder, onion powder, and paprika. Apply the rub generously to the brisket, allowing it to sit for at least an hour, or preferably overnight, to let the flavors penetrate the meat.
Use a mix of hardwoods, such as oak, hickory, or pecan, to impart a rich, smoky flavor to the brisket. Avoid using softwoods, like pine or spruce, as they can produce a bitter taste.
When the brisket reaches an internal temperature of around 150°F to 160°F (65°C to 71°C), consider wrapping it in aluminum foil or butcher paper to help retain moisture and speed up the cooking process.
Allow the smoked brisket to rest for at least an hour before slicing. This will help the juices redistribute, resulting in a more tender and flavorful final product.
Like this recipe? We'd love for you to share it on your Pinterest board! Click to follow our Pinterest boards so you can find all our recipes! 
Instagram it! If you try this recipe please tag #legendsofthegrill on Instagram or Twitter. We love to see your photos of our recipes! Also follow us on Facebook to keep up on what we're cooking up.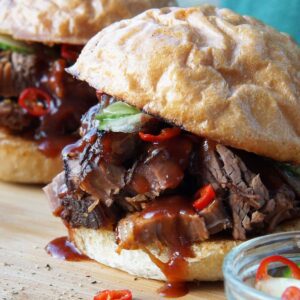 Best Brisket Buns
These incredibly tasty brisket buns are made with tender smoked brisket, brioche buns, and a quick pickle.
Print
Pin
Rate
Ingredients
1/4

cup

water

1/4

cup

white vinegar

1/2

teaspoon

white sugar

1

small

cucumber

very thinly sliced

3

small

red chilis

thinly sliced

4

slices

smoked brisket

thinly sliced

4

brioche buns

2

tablespoons

butter softened

2

tablespoons

BBQ Sauce
Instructions
Combine the water, vinegar and sugar in a sealable glass jar or container. Add the sliced cucumbers and red chilis. Refrigerator until ready to use, but at least 30 minutes.

Reheat the brisket on the stove or a grill until warm. Don't overcook it or it will dry out.

Butter the buns and toast them until browned. If you're reheating the brisket on the grill, you can also brown your buns there at the same time.

Add a slice or two of the brisket on top of the toasted buns. Drizzle on the BBQ sauce. Top with the quick pickles and peppers.
Notes
You can use pre-made brisket that you've smoked yourself or store-bought.
Nutrition
Calories:
450
kcal
|
Carbohydrates:
46
g
|
Protein:
11
g
|
Fat:
25
g
|
Saturated Fat:
14
g
|
Polyunsaturated Fat:
0.3
g
|
Monounsaturated Fat:
2
g
|
Trans Fat:
0.2
g
|
Cholesterol:
159
mg
|
Sodium:
525
mg
|
Potassium:
188
mg
|
Fiber:
1
g
|
Sugar:
6
g
|
Vitamin A:
1264
IU
|
Vitamin C:
50
mg
|
Calcium:
64
mg
|
Iron:
1
mg
🥧 If you're interested in more great recipes, I share all my favorite recipes at A Food Lover's Kitchen, Instant Pot recipes over at A Pressure Cooker Kitchen, air fryer recipes at Air Fry Anytime, and cocktails and drinks at Savored Sips. Check it out today!
Pin it for later!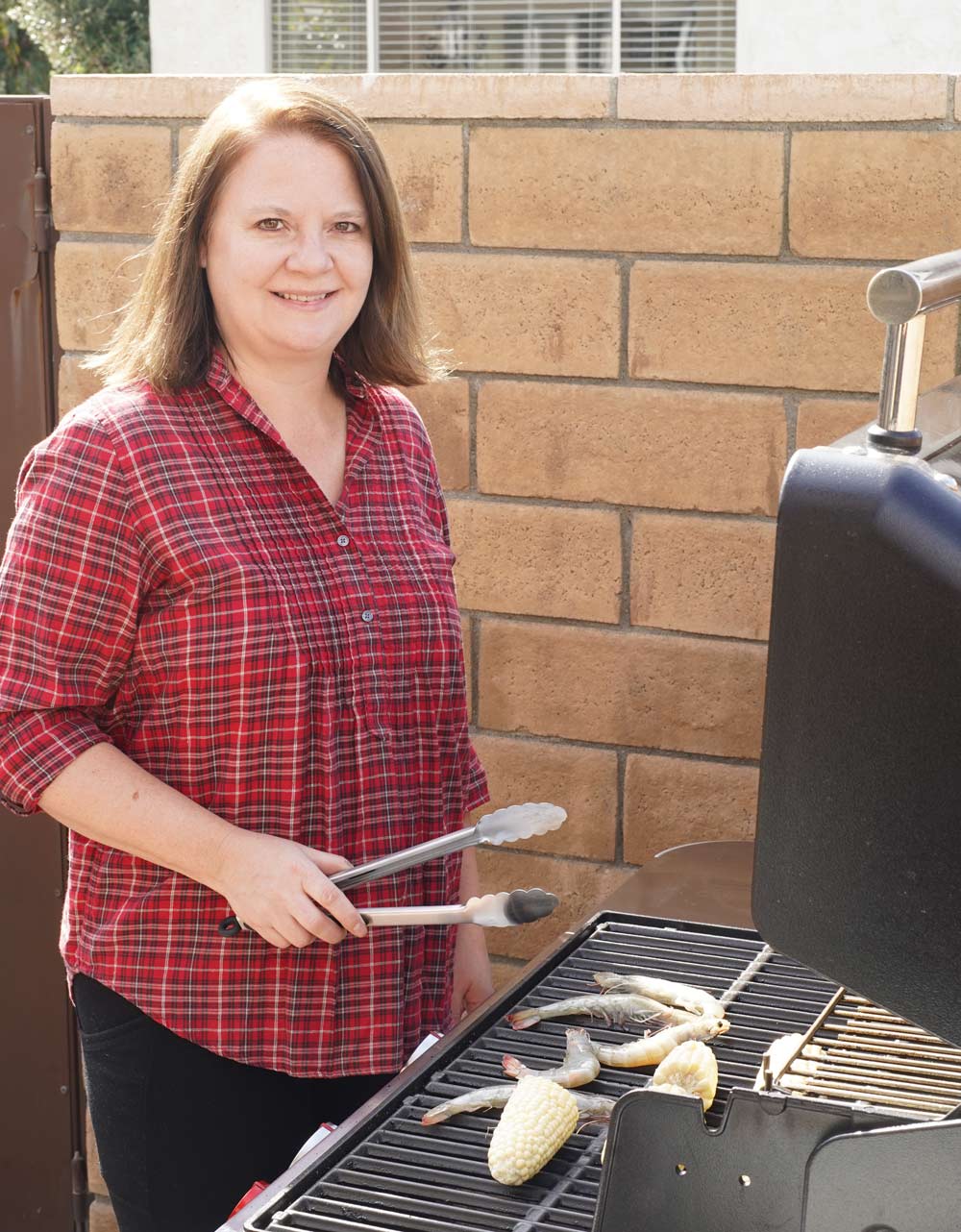 Laura is a passionate home cook and grill enthusiast who has spent years perfecting her culinary skills, with a particular focus on grilling techniques and flavor combinations. Her fascination with the grill, smoke, and the mouthwatering results they produce has led her on an exciting journey to discover the best methods for grilling delicious and unforgettable meals.