The Best Bacon Sriracha Jerky is the perfect combination of salty and savory with a spicy kick of sriracha sauce, for a snack that's hard to resist.
» You might also like these Smoked Jalapeno Poppers.
Bacon jerky has become a popular snack food in recent years. There are many brands of bacon sriracha jerky available on the market, but some are too spicy, others too sweet.
After being introduced to Sriracha bacon from a friend we started experimenting to find just the right combinations of flavors. Don't worry about the Sriracha being too hot. The marinade has the perfect balance of sweetness and heat.
What is Bacon Sriracha Jerky?
Bacon Sriracha Jerky is a delicious snack that combines the savory taste of bacon with the spicy kick of Sriracha sauce. This jerky is made by marinating thick-cut bacon in a mixture of Sriracha sauce, soy sauce, Worcestershire sauce, brown sugar, and black pepper. The bacon is then cooked in a jerky oven until it becomes crispy and chewy.
The result is a sweet and savory treat that's sure to please jerky and bacon lovers alike. The combination of flavors is perfect for those who enjoy a little heat in their snacks. Bacon Sriracha Jerky is a great snack to take on the go, whether you're hiking, camping, or just need a quick snack at work.
One of the great things about Bacon Sriracha Jerky is that it's made with all-natural ingredients. Unlike many other snacks on the market, this jerky doesn't contain any artificial preservatives or flavors. It's a healthier alternative to traditional beef jerky, as bacon is lower in fat and calories than beef.
Ingredients Needed
Sriracha – I prefer Huy Fung Foods Sriracha with the rooster on the bottle. Another brand that's good is Flying Goose Sriracha with the goose on the bottle.
Soy sauce – Only use low-sodium soy sauce so the saltiness doesn't over power.
Worcestershire sauce – Worcestershire sauce adds a savory flavor.
Brown sugar – The brown sugar balances out the heat of the Sriracha.
Ground black pepper – If you like spice you can add more than the recipe calls for.
Bacon – Use a good quality bacon. I use bacon lardons, or large bacon end pieces (like the ones you can buy at Trader Joe's) for this recipe.
» You might be interested in Is Bacon Pork Belly? Understanding the Differences.
How To Make Bacon Sriracha
You will be surprised at how easy it is to make this delicious jerky!
In a bowl, mix together Sriracha sauce, soy sauce, Worcestershire sauce, brown sugar, and ground black pepper to create a marinade. Pour the marinade into a large Ziplock bag.
If you are using sliced bacon start by cutting the bacon into thin, bite-sized pieces. You can use either regular or thick-cut bacon, depending on your preference. You can leave them in whole strips but bite size pieces are easier to snack on.
Add the bacon slices to the marinade and toss until they are fully coated. Close up the plastic bag and refrigerate for at least 4 hours or overnight.
Dehydrator method
A dehydrator makes this is an incredibly easy process. All you have to do is remove the bacon from the marinade, spread the bacon out evenly on the trays, turn it on, and wait for the bacon to completely dry out.
We have a guide to help you choose the best jerky dehydrator depending on what you want to use it for.
I really like this 4-tier dehydrator from Weston. It's a smaller size, but it still has a ton of space for jerky or fruit. Plus it's super easy to use and clean up.
Oven method
Preheat your oven to 170°F (77°C) and line a baking sheet with a wire rack. You can add parchment under the rack for easy clean up.
Remove the bacon from the marinade and place the slices on the baking rack lined baking sheet, making sure they are not touching each other.
Put it on the top rack in your oven and bake for 8 hours, or until it is crispy and fully dried out. The exact cooking time will depend on the thickness of the bacon slices and the heat of your oven.
Allow the bacon to cool completely before serving. You can store any leftovers in an airtight container for up to 1 week.
» Shop Jerky Dehydrators, Seasonings, Smokers and More at Weston.
How to Store Bacon Sriracha Jerky
Once you've made your delicious bacon Sriracha jerky, you'll need to store it properly to ensure it stays fresh and tasty for as long as possible. Here are a few tips on how to store your bacon Sriracha jerky:
Store in an airtight container: The best way to store your bacon Sriracha jerky is in an airtight container. This will help prevent any moisture from getting in and spoiling the jerky.
Keep in a cool, dry place: Jerky should be stored in a cool, dry place. Avoid storing it in direct sunlight or near any sources of heat.
Refrigerate or freeze for longer storage: If you want to store your bacon Sriracha jerky for longer than a week, you can refrigerate or freeze it. Just make sure to store it in an airtight container or freezer bag.
It's important to note that while bacon Sriracha jerky can last for several weeks when stored properly, it's always best to consume it as soon as possible for maximum freshness and flavor.
What Bacon to Use for Bacon Jerky
When it comes to making bacon jerky, choosing the right type of bacon is crucial. You want to use a bacon that is thick-cut and has a good meat-to-fat ratio. Here are some other options to consider:
Traditional pork bacon
Turkey bacon
Beef bacon
Lardons
I use bacon lardons, or large bacon end pieces (like the ones you can buy at Trader Joe's) for this recipe, but it's also fine to use full slices of thick-cut bacon. I personally prefer the pieces because it's easier to snack on them in small measure, without consuming dozens of whole slices of bacon because you can't resist it.
If you don't have a Trader Joe's nearby, there are a few ways to go about this. You can ask your store butcher to make you some larger bacon lardons, or you can buy a chunk of pork belly and cut it up into pieces yourself, or you can buy thick-cut bacon strips and cut it into pieces. Lots of options!
It is important to note that bacon jerky will shrink as it cooks, so be sure to account for this when choosing your bacon. You may need to use more slices than you would for regular bacon to get the desired amount of jerky.
What are Lardons?
If you are a fan of bacon, then you might have heard of lardons. Lardons are small strips or cubes of bacon that are used in cooking to add flavor and texture to dishes. They are typically made from the belly or back of the pig and are cut into small pieces.
The texture of lardons is different from regular bacon. They are thicker and chewier, which makes them perfect for adding to dishes where you want a burst of flavor and texture. Lardons are also typically saltier than regular bacon, so you may want to adjust the amount of salt in a recipe if you are using them.
Before You Go
Since you made it to the end of this article, you might be interested in pork recipes. Here are a few more articles we think you might enjoy.
Like this recipe? We'd love for you to share it on your Pinterest board! Click to follow our Pinterest boards so you can find all our recipes! 
Instagram it! If you try this recipe please tag #legendsofthegrill on Instagram or Twitter. We love to see your photos of our recipes! Also follow us on Facebook to keep up on what we're cooking up.
The Best Bacon Sriracha Jerky
The Best Bacon Sriracha Jerky is the perfect combination of salty and savory with a spicy kick of sriracha sauce, for a snack that's hard to resist.
Print
Pin
Rate
Equipment
Oven baking rack

Dehydrator
Ingredients
2

tablespoons

sriracha

1/2

tablespoon

soy sauce

1/2

tablespoon

Worcestershire sauce

1

tablespoon

brown sugar

1/2

teaspoon

ground black pepper

More if you want it extra peppery

1

pound

bacon pieces

like Bacon Ends and Pieces from Trader Joe's
Instructions
If using strips of bacon cut them into bite sized pieces.

Mix the marinade ingredients together and pour it into a plastic Ziplock bag. Add the bacon pieces.

Marinate it overnight, or up to 24 hours.

Place the bacon pieces on a baking tray with a rack, spacing them out so they don't touch each other. Put the baking tray on the top rack of the oven at 170° F for about 8 hours, or until thoroughly dried.
Notes
Dried jerky does not need to be kept in the refrigerator.
Consume within 5 days.
Nutrition
Calories:
326
kcal
|
Carbohydrates:
3
g
|
Protein:
10
g
|
Fat:
30
g
|
Saturated Fat:
10
g
|
Polyunsaturated Fat:
5
g
|
Monounsaturated Fat:
13
g
|
Trans Fat:
0.1
g
|
Cholesterol:
50
mg
|
Sodium:
718
mg
|
Potassium:
175
mg
|
Fiber:
0.1
g
|
Sugar:
2
g
|
Vitamin A:
37
IU
|
Vitamin C:
3
mg
|
Calcium:
8
mg
|
Iron:
0.5
mg
🥧 If you're interested in more great recipes, I share all my favorite recipes at A Food Lover's Kitchen, Instant Pot recipes over at A Pressure Cooker Kitchen, air fryer recipes at Air Fry Anytime, and cocktails and drinks at Savored Sips. Check it out today!
Pin it for later!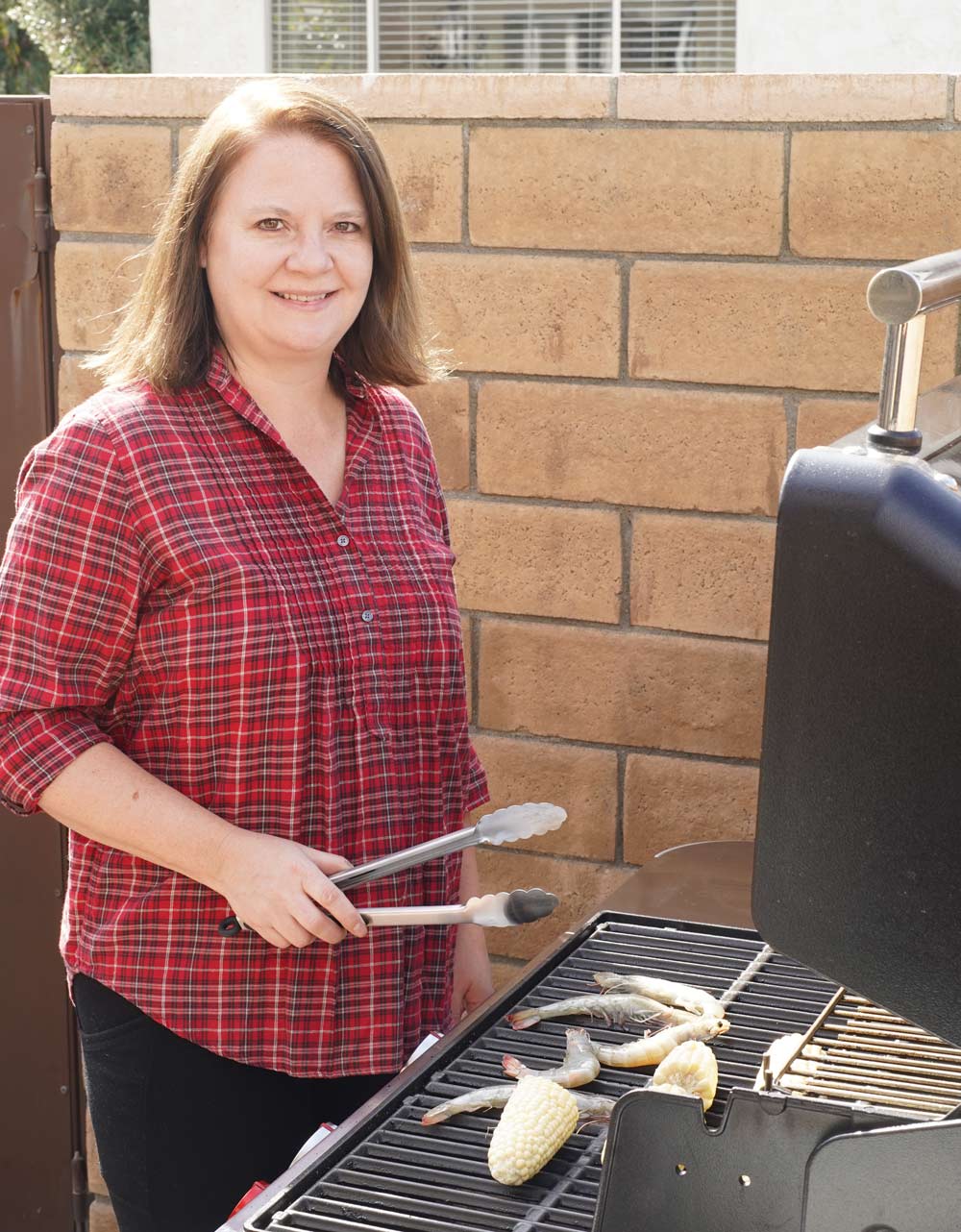 Laura is a passionate home cook and grill enthusiast who has spent years perfecting her culinary skills, with a particular focus on grilling techniques and flavor combinations. Her fascination with the grill, smoke, and the mouthwatering results they produce has led her on an exciting journey to discover the best methods for grilling delicious and unforgettable meals.