There's nothing quite like the heavenly aroma of Smoked Pork Belly filling your backyard as your smoker or pellet grill works its magic. The juiciness of the meat, combined with the perfect balance of salt, smoke, and tenderness is a true delight.
» You might also like this 3 2 1 Rib Recipe: The Ultimate Guide to Mouthwatering, Tender Ribs.
🥳New customers to ButcherBox get 2 NY strips FREE in every box for 1 year. Hurry! Offer ends 7/23/23 SIGN UP HERE
I'm not sure if I should be proud or slightly ashamed that we smoke a lot of pork belly at our house [sheepish grin]. It's a low-cost cut of meat and I can't honestly think of anything better to smoke. If you haven't tried it yet, better get on that!
Why Smoked Pork Belly Is a Must-Try
Pork belly is the flavorful and fatty cut of meat from the pig's underside. It's a super fatty and rich piece of meat that has to be cooked low and slow in order to properly render the fat and get the skin crispy (if you're doing it skin on).
Since pork belly is not like bacon and isn't yet smoked or cured, we go through that process ourselves while smoking it to enhance the natural favors and introduce that delicious element of smoke.
The slow and low cooking method allows the fat to render down and create a luscious texture that's utterly mouth-watering. The smoking process also imparts a unique flavor that simply cannot be replicated through other cooking methods.
Temperature and Time for Smoking Pork Belly
To achieve the ideal tenderness and flavor, you should smoke pork belly at a temperature of 225°F (107°C) for about 4 to 5 hours.
It's important to maintain a consistent temperature throughout the cooking process to ensure even cooking and tender results. You're aiming for an internal temperature of 195°F (90°C) for the perfect balance of texture and juiciness.
To make sure you're hitting the right internal temperature without having to lift the lid a bunch of times to test the meat, I suggest using a Smoke X remote thermometer that you can keep by your side so you always know where the meat stands.
Ingredients You Need
Slab or sliced pork belly – You might not be able to find a slab of pork belly at your grocery, though you can ask the butcher. They can come with the skin on or off. For smoking, I prefer the skin to be off.
Pork Dry Rub – We make a delicious pork dry rub at home with just a few basic spices. It's perfect for this pork belly. You can use a store-bought rub if you want.
» You might be interested in Is Bacon Pork Belly? Understanding the Differences.
Equipment Needed
Smoker – I use a Z Grills 700 series smoker for most of my smoking, though I also have a Traeger grill. You can use whatever smoker you have – they all work the same.
Wood pellets – There are many types of pellets available. If you've already got pellets in your smoker, use whatever you have. I really like Hickory pellets for chicken.
Meat thermometer – Many smokers have a thermometer built in, but if yours doesn't, get an instant-read thermometer. I love this Thermapen.
What Smokers We Use
We use the 7002C2E, which has dual temperature probes, a huge pellet hopper and pellet viewing window, with a large grill space and streamlined design. See this grill and more on the Z Grills site.
Did you know that Traeger created the original wood-pellet grill? The Pro Series 22 is the one most people choose because it's compact, yet has plenty of space for cooking. You can use any type of wood pellets you like. See the Traeger Series 22 Grill on Amazon.
What Pellets to Use for the Smoker?
You'll also need pellets for your smoker, if you've got a pellet grill like we do. Pellets come in many different types that you can choose from. I like to use hickory wood, or cherry wood pellets for mine. They also have a bourbon wood pellet that's very good. My friend Todd swears by the Jack Daniel's Tennessee Whiskey pellets.
How to Smoke Pork Belly: Step-by-Step
Prepare the Pork Belly
Start by trimming any excess fat or skin from the pork belly, leaving a thickness of about 1/4 inch. This will allow the meat to absorb the smoke evenly.
Apply the Dry Rub
Combine your spices to create a dry rub. Coat the pork belly generously with the dry rub, ensuring all sides are covered.
You can wrap the seasoned pork belly in plastic wrap and refrigerate overnight to let the flavors penetrate the meat, but that's not a necessary step. Do it if you want. Otherwise proceed with smoking.
Preheat the Smoker
Preheat your smoker to 225°F (107°C). If using a charcoal smoker, use a combination of charcoal and hardwood, such as hickory, apple, or cherry, for added flavor.
Smoke the Pork Belly
Allow the pork belly to come to room temperature for about 30 minutes. Place the pork belly fat-side up on the smoker grates, and insert a temperature probe into the thickest part of the meat. Close the smoker and maintain a consistent temperature throughout the cooking process.
Resist the urge to lift the lid!
Smoke the pork belly until the internal temperature reaches 195°F (90°C), which should take about 4 to 5 hours. Be sure to check the temperature periodically to ensure even cooking.
Rest and Slice
Once the pork belly has reached the desired internal temperature, remove it from the smoker and let it rest for about 5-10 minutes. This allows the juices to redistribute, resulting in a more tender and flavorful final product. After resting, slice the pork belly into desired portions, and serve immediately.
How to Serve Smoked Pork Belly
Smoked pork belly is incredibly versatile and can be served in various ways. Here are a few serving suggestions:
As a main course: Serve thick slices of smoked pork belly alongside roasted or grilled vegetables and a side of creamy mashed potatoes or rice.
As an appetizer: Slice the smoked pork belly into bite-sized pieces and serve with a dipping sauce, such as a tangy barbecue sauce or a spicy mustard.
In a sandwich: Layer thinly sliced smoked pork belly, pickles, coleslaw, and your choice of sauce between two slices of toasted bread for a satisfying sandwich.
What to Serve on the Side
For sides, there is an endless array of salads and veggies that would make a good choice. Here are a few of our favorites:
Like this recipe? We'd love for you to share it on your Pinterest board! Click to follow our Pinterest boards so you can find all our recipes! 
Instagram it! If you try this recipe please tag #legendsofthegrill on Instagram or Twitter. We love to see your photos of our recipes! Also follow us on Facebook to keep up on what we're cooking up.
The Ultimate Smoked Pork Belly Recipe
There's nothing quite like the heavenly aroma of Smoked Pork Belly filling your backyard as your smoker or pellet grill works its magic. The juiciness of the meat, combined with the perfect balance of salt, smoke, and tenderness is a true delight.
Print
Pin
Rate
Ingredients
2

pound

pork belly

or larger, if you want
For the rub:
1

tablespoon

brown sugar

1

tablespoon

paprika

2

teaspoons

salt

2

teaspoons

ground black pepper

2

teaspoons

chili powder

mild to spicy

2

teaspoons

onion powder

1

teaspoon

garlic powder

1/2

teaspoon

mustard powder
Instructions
Mix together the spices and season the pork belly all around. Allow it to sit out for 30 minutes to come up to room temperature and soak up the spices.

Preheat your smoker or pellet grill to 225° F (107° C).

Place the pork belly fat side down on the grate. Insert a digital

meat thermometer

. Close the lid.

Remove the pork belly from the smoker and let rest for 5 minutes before slicing.
Nutrition
Calories:
602
kcal
|
Carbohydrates:
3
g
|
Protein:
11
g
|
Fat:
60
g
|
Saturated Fat:
22
g
|
Polyunsaturated Fat:
7
g
|
Monounsaturated Fat:
28
g
|
Cholesterol:
82
mg
|
Sodium:
628
mg
|
Potassium:
259
mg
|
Fiber:
1
g
|
Sugar:
2
g
|
Vitamin A:
593
IU
|
Vitamin C:
0.5
mg
|
Calcium:
16
mg
|
Iron:
1
mg
🥧 If you're interested in more great recipes, I share all my favorite recipes at A Food Lover's Kitchen, Instant Pot recipes over at A Pressure Cooker Kitchen, air fryer recipes at Air Fry Anytime, and cocktails and drinks at Savored Sips. Check it out today!
PIN IT FOR LATER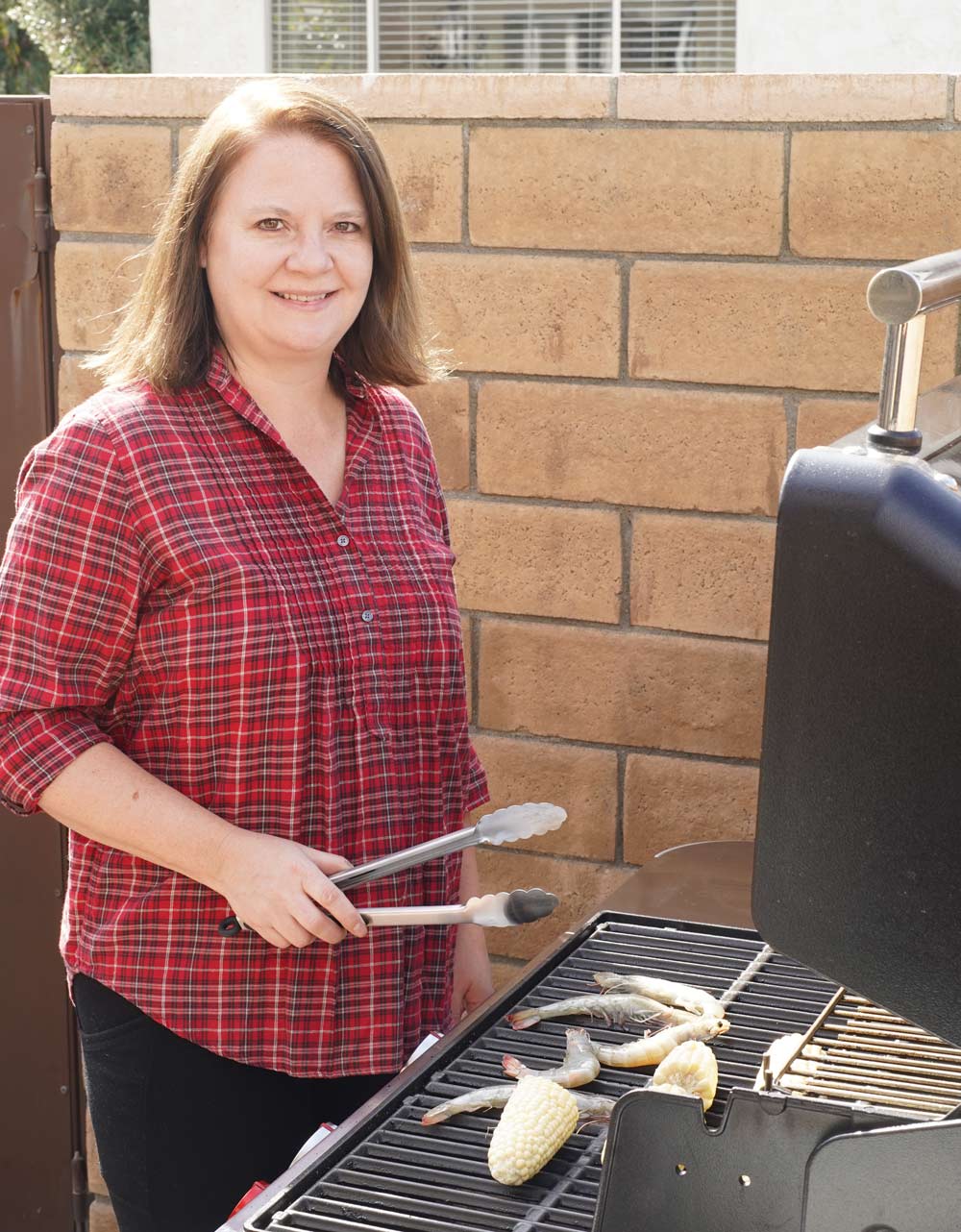 Laura is a passionate home cook and grill enthusiast who has spent years perfecting her culinary skills, with a particular focus on grilling techniques and flavor combinations. Her fascination with the grill, smoke, and the mouthwatering results they produce has led her on an exciting journey to discover the best methods for grilling delicious and unforgettable meals.