Combining the smoky essence of the grill with a creamy, cheesy filling and a touch of heat from the jalapeños, these Smoked Jalapeno Poppers will leave you craving more. The delicious blend of textures and flavors makes this dish an irresistible crowd-pleaser.
» You might also like Smoked Pig Shots and 21 Best Tailgate Grilling Recipes for Game Day.
In this easy-to-follow recipe, we'll guide you through the process of preparing, stuffing, and smoking the jalapeño poppers to achieve that perfect balance of spice, smokiness, and gooey goodness. So let's fire up the smoker and get ready to indulge in these scrumptious Smoked Jalapeño Poppers!
These little flavor bombs are the perfect appetizer for your next backyard barbecue or game day gathering.
Ingredients You Need
Jalapenos – A medium-sized jalapeno works best for even flavor distribution. Also try to keep them all about the same size so they cook at the same rate.
Cream Cheese – Don't bother with a less fat version. It's not good. And make sure you take this out of the refrigerator at least 30 minutes before working with it, so it can soften.
Cheddar Cheese – You can use shredded or block cheese. My favorite is Tillamook. You could also use Monterrey Jack cheese, if you want a little extra kick.
Green onion – A little green onion brightens up the flavor of the filling.
Seasonings – Garlic salt and cumin are my go-to seasonings to give the cream cheese stuffing some flavor.
Bacon – One of the keys to great jalapeno poppers is the bacon. Since there are so many different types of bacon, you do need to select the right one for these. I like to use a thinly sliced bacon (not thick cut or center-cut).
Equipment Needed
Smoker – I use a Z Grills 700 series smoker for most of my smoking, though I also have a Traeger grill. You can use whatever smoker you have – they all work the same.
Wood pellets – There are many types of pellets available. If you've already got pellets in your smoker, use whatever you have. I really like Hickory pellets for chicken.
Meat thermometer – Many smokers have a thermometer built in, but if yours doesn't, get an instant-read thermometer. I love this Thermapen.
How to Wrap the Bacon
If the jalapenos you purchase are small, like the ones pictured here, then halving the bacon horizontally works okay. Half a piece of bacon will wrap nicely around a small piece of pepper, but some cheese will likely spill out the end.
If the peppers are larger, you will probably need to use a whole piece of bacon to get good coverage around the whole pepper.
If you want to cut down on bacon, my best tips is to cut the bacon vertically so you have long skinny strips. These long strips will do a better job of wrapping all the way around the pepper and securing the cheese inside, which is key.
Aren't Jalapenos Super Hot?
You might be thinking these jalapeno poppers must be super hot, because no one in their right mind would chomp down on a whole jalapeno. Yes, that's true, but removing the seeds and the white pith from the inside of the pepper really tones down the heat.
You can really make these peppers as hot or mild as you want by removing the seeds and pith. These are the elements of the pepper that make it hot. The green flesh alone isn't really spicy. If you want a totally mild pepper, using gloves, remove all of the seeds and white pith. Leave some in for more heat.
How To Make Smoked Jalapeno Poppers
Prepare your smoker and set the temperature to 250° F. If you're making something else on the grill with these, you can cook the peppers on whatever temperature you need for the main dish. They may cook a little faster or slower than the instructions in the recipe card below.
Cut the jalapenos in half and remove the ribs and seeds. Leaving more in will increase the heat. We remove all of the seeds and most of the white ribs, as you can see below. If you like heat, just leave in more seeds.
Mix the cream cheese, green onion, garlic salt, and cumin in a bowl until well mixed. If you're using shredded cheddar cheese, add it to the cream cheese mixture as well.
I like to use a block of cheese from which I can cut little matchsticks of cheese to put in the bottom of each pepper. I do this because then the cheese doesn't melt with the cream cheese, and it has more texture and flavor.
Stuff each pepper half with filling, then wrap the whole thing with the bacon. You can either use one full piece per pepper, or cut them vertically and use one smaller strip. I prefer this method. But both ways are good.
You can put the peppers on butcher paper (they may stick, but you can get them up pretty easily with a knife). You can put them directly on the grill, but they drip quite a bit. Or put them on any platter you have that can go in the smoker.
Smoke them on 250° F for about 90 minutes to impart a good smoky flavor and get the bacon cooked and crispy. If you need to take them off earlier, you can finish cooking them under the broiler, if need be.
What Smokers We Use
We use the 7002C2E, which has dual temperature probes, a huge pellet hopper and pellet viewing window, with a large grill space and streamlined design. See this grill and more on the Z Grills site.
Did you know that Traeger created the original wood-pellet grill? The Pro Series 22 is the one most people choose because it's compact, yet has plenty of space for cooking. You can use any type of wood pellets you like. See the Traeger Series 22 Grill on Amazon.
What Pellets to Use for the Smoker?
You'll also need pellets for your smoker, if you've got a pellet grill like we do. Pellets come in many different types that you can choose from. I like to use hickory wood, or cherry wood pellets for mine. They also have a bourbon wood pellet that's very good. My friend Todd swears by the Jack Daniel's Tennessee Whiskey pellets.
Extra Tips & Suggestions
It's a good idea to wear some kind of protective gloves while working with jalapenos. One wrong touch to the eye and you'll be glad you did. The oils stay on your hands for a long time.
You might need to cook them a little bit longer to get the bacon crisped. I also put them under the broiler if the bacon isn't cooking fast enough, to get some extra crispness. That step is optional.
If you want the poppers to stay together really well and not have cheese spilling out the end, you need to wrap them really well with bacon, meaning you probably have to use a whole piece of bacon per popper. I don't mind a little spillage.
Like this recipe? We'd love for you to share it on your Pinterest board! Click to follow our Pinterest boards so you can find all our recipes! 
Instagram it! If you try this recipe please tag #legendsofthegrill on Instagram or Twitter. We love to see your photos of our recipes! Also follow us on Facebook to keep up on what we're cooking up.
Smoked Jalapeno Poppers
Combining the smoky essence of the grill with a creamy, cheesy filling and a touch of heat from the jalapeños, these Smoked Jalapeno Poppers will leave you craving more.
Print
Pin
Rate
Ingredients
6

jalapenos

medium sized

1-2

ounces

cheddar cheese

shredded or cut into matchsticks

5

ounces

cream cheese

softened

2

green onions

chopped

1/2

teaspoon

garlic salt

1/2

teaspoon

cumin

12

slices

bacon

or 6 if you cut them in half
Instructions
Prepare the smoker and set it to 250° F.

Cut the jalapenos in half and scoop out the seeds and ribs.

In a bowl, mix together the cream cheese, green onions, garlic salt, and cumin. If using shredded cheddar add it to the filling. Stir together well.

If using cheddar matchsticks, place them in the bottom of the pepper.

Stuff each jalapeno with the cream cheese mixture.

Wrap bacon around the peppers tightly so no cheese can escape.

Place the peppers on a piece of butcher paper and place it on the smoker.

Smoke for 90 minutes, or until your preferred crispiness is reached.
Notes
You can double the recipe or make as many as you want.
Nutrition
Calories:
146
kcal
|
Carbohydrates:
2
g
|
Protein:
4
g
|
Fat:
14
g
|
Saturated Fat:
6
g
|
Polyunsaturated Fat:
2
g
|
Monounsaturated Fat:
5
g
|
Trans Fat:
0.03
g
|
Cholesterol:
29
mg
|
Sodium:
296
mg
|
Potassium:
85
mg
|
Fiber:
0.3
g
|
Sugar:
1
g
|
Vitamin A:
287
IU
|
Vitamin C:
9
mg
|
Calcium:
32
mg
|
Iron:
0.2
mg
🥧 If you're interested in more great recipes, I share all my favorite recipes at A Food Lover's Kitchen, Instant Pot recipes over at A Pressure Cooker Kitchen, air fryer recipes at Air Fry Anytime, and cocktails and drinks at Savored Sips. Check it out today!
LIKE IT? PIN IT!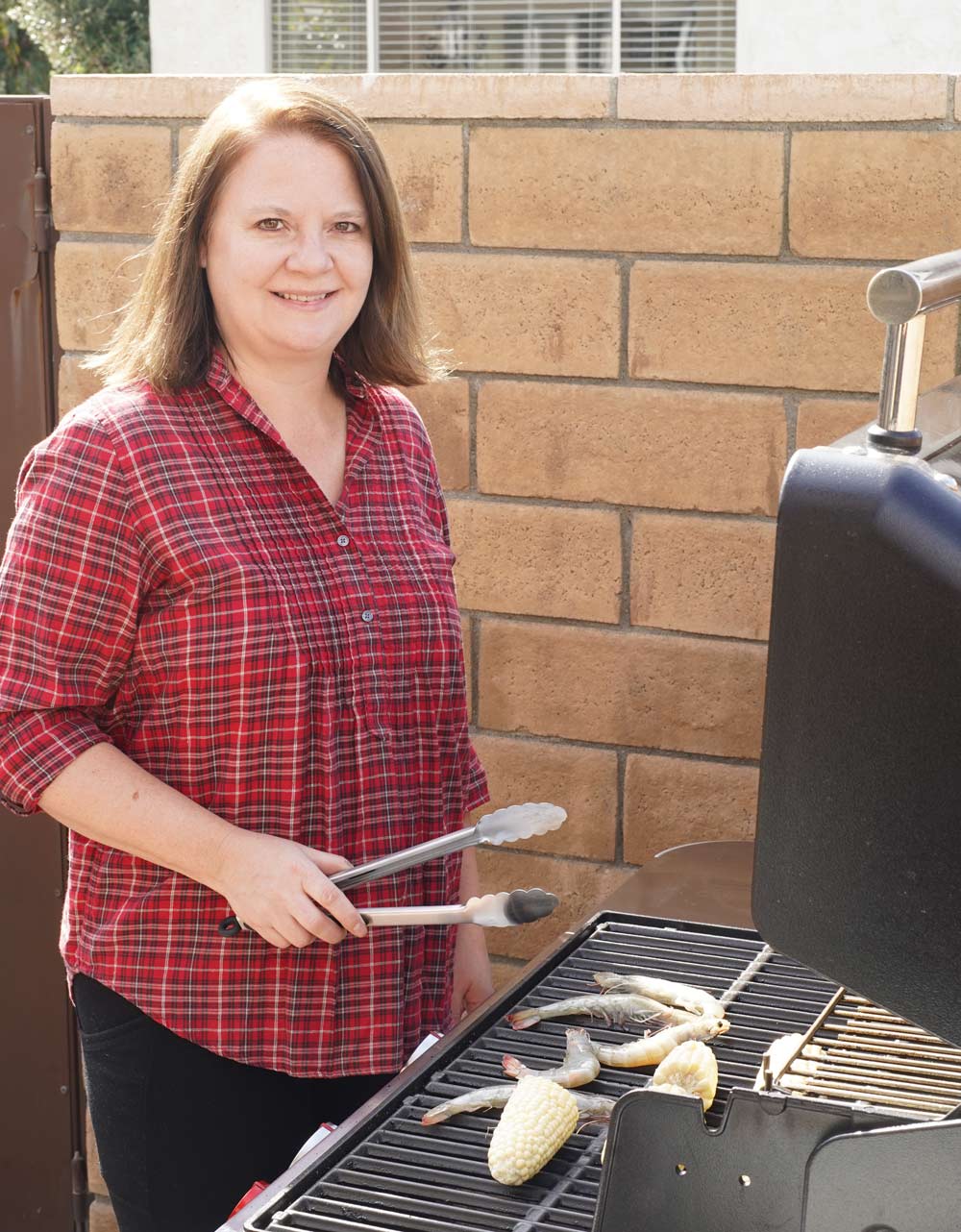 Laura is a passionate home cook and grill enthusiast who has spent years perfecting her culinary skills, with a particular focus on grilling techniques and flavor combinations. Her fascination with the grill, smoke, and the mouthwatering results they produce has led her on an exciting journey to discover the best methods for grilling delicious and unforgettable meals.