Baked beans are perfect for any occasion, whether it's an impromptu cookout, a backyard party or a casual family dinner. This Smoked Baked Beans Recipe will add a whole new level of flavor and complexity to your meal that you can't achieve with traditional baking methods.
» You might also like The Best Slow Grilled Tri Tip Steak and Bacon-Wrapped Smoked Meatloaf.
In this recipe post, we'll go over why smoking baked beans is a great idea, how to smoke them, and some tips for making the best-smoked baked beans you've ever had.
Why are Baked Beans Good on the Smoker?
Smoking baked beans gives them a rich, smoky flavor that you can't get from baking them in an oven. The smoke adds depth to the sweetness of the beans and the tang of the tomato sauce. Plus, it's a perfect side dish to any smoked meat, like brisket or tri tip.
What Temperature to Smoke Baked Beans?
The ideal temperature for smoking baked beans is between 225-250°F. This temperature range allows the beans to cook slowly and absorb the smoke flavor without overcooking or becoming mushy.
Be sure to use a thermometer to monitor the temperature of your smoker. You want it to stay at an even temperature throughout cooking for the best results.
» You might like these 25 Best Traeger Recipes for Your Pellet Grill.
What Smokers We Use
We use the 7002C2E, which has dual temperature probes, a huge pellet hopper and pellet viewing window, with a large grill space and streamlined design. See this grill and more on the Z Grills site.
Did you know that Traeger created the original wood-pellet grill? The Pro Series 22 is the one most people choose because it's compact, yet has plenty of space for cooking. You can use any type of wood pellets you like. See the Traeger Series 22 Grill on Amazon.
How Long Does it Take to Smoke Baked Beans on the Smoker?
Smoking baked beans can take anywhere from 2-4 hours, depending on the type of smoker you have and how many beans you're making.
It's best to start checking them after 2 hours and continue cooking until they reach your desired texture. You'll know they're done when the beans are tender and the sauce has thickened.
What Pellets to Use for the Smoker?
You'll also need pellets for your smoker, if you've got a pellet grill like we do. Pellets come in many different types that you can choose from. I like to use hickory wood, or cherry wood pellets for mine. They also have a bourbon wood pellet that's very good. My friend Todd swears by the Jack Daniel's Tennessee Whiskey pellets.
Ingredients In This Dish
Dried pinto beans – With the help of the Instant Pot you can make these baked beans from dried beans with no soaking. You can use canned beans if you want or substitute the pinto beans for another beans that you like better.
Broth or water – The Instant Pot uses liquid to build steam and help the pressurizing process. Use broth to impart more flavor to the beans while cooking.
Salt & pepper – Seasoning for the beans.
Cooking oil – Use your favorite oil to saute the onions, garlic, and bacon.
Bacon – Chopped. Bacon is a great ingredient for building flavor.
Onion – Diced
Red Pepper – Diced
Garlic – Minced
Brown Sugar – I usually use light brown sugar in all of my cooking. You could us dark brown sugar just as easily. It has a deeper flavor that would do really well with the BBQ sauce and liquid smoke.
Ketchup – This is the base for building the baked bean sauce.
BBQ sauce – Use your favorite BBQ sauce. If you want to try making it at home use this recipe.
Worcestershire sauce – This sauce has a very unique flavor and is used to give a little boost of savory, saltiness to many dishes such as stews and soups.
Paprika – You can use smoked paprika or regular sweet paprika.
Equipment Needed
How to Make Baked Beans in the Instant Pot
1. Step One: Cook the Beans
I use pinto beans for this recipe. However, you can choose from many other beans. If you like navy beans better, you can substitute with those.
The first step is to cook the beans. I use my Instant Pot to cook the beans because it's way faster than any other method.
It takes 30 minutes to cook the beans, and 30 minutes to allow the pressure to release naturally from the Instant Pot. When the beans are done, remove them and drain off the cooking water.
If you don't want to use an Instant Pot, you'll need to soak the beans overnight before cooking them. Heat a pot of water on the stove top. Add the soaked beans to the pot. Bring beans to a boil, then reduce heat to a low simmer. Cover and cook for 2 to 2 1/2 hours, or until they are tender.
Step 2: Saute the Onions and Bacon
Prepare the onions and bacon by sauting them in the cast iron skillet.
Add the cooking oil, the onion and the bacon. Saute (stirring regularly) for 3 to 4 minutes. Add the garlic and saute another 1 minute before turning off the heat. Add the rest of the ingredients in with the onions and bacon. Stir it to combine everything.
Step 3: Smoke the Beans
Preheat the smoker to 225° F. When it's ready, set the cast iron skillet on the grate and close the lid. Allow it to smoke, undisturbed, for an hour. Stir the beans and continue to smoke for another hour.
After 2 hours, check the beans and see how much smoke flavor has been imparted. I usually take the beans off the smoker at the 2 hour mark, but if you're cooking it alongside something else that's taking longer, you can continue to cook it as long as you like.
Tips for Smoking Baked Beans
Soak your beans overnight. If you're not using an Instant Pot to make your beans, you will need to soak your beans to help them cook evenly and absorb the smoky flavor more effectively. Rinse and drain them before using them in the recipe.
Use a cast-iron skillet or disposable aluminum pan. The high sides will help contain the sauce and prevent it from spilling over and making a mess in your smoker.
Use the right wood chips. Hickory, mesquite, or applewood are excellent choices for smoking baked beans because they add a bold, smoky flavor that complements the sweetness of the beans.
Stir occasionally. To ensure that the beans cook evenly and don't stick to the bottom of the pan, stir them every 30 minutes or so.
Don't forget the bacon. Adding chopped bacon to your baked beans will add a smoky, salty flavor and a bit of texture. You can either cook the bacon before adding it to the beans or place uncooked bacon strips on top of the beans before smoking them.
How to Store Baked Beans
If you have any leftovers, store them in an airtight container in the refrigerator for up to 5 days. You can also freeze them for up to 3 months.
How to Reheat Baked Beans
There are a few ways to reheat your baked beans. The easiest way is to microwave them for 1-2 minutes, stirring occasionally until heated through. You can also reheat them on the stovetop by placing them in a saucepan over medium heat and stirring occasionally until heated through.
If you're reheating a large batch, you can place them in a preheated oven at 350°F for 10-15 minutes or until heated through.
Frequently Asked Questions
Do I need to soak the beans first?
With the Instant Pot, or pressure cooker, it's not necessary to soak the beans beforehand. You will need to pre-cook the beans for this recipe. If using a pressure cooker, no soaking is necessary. If cooking on the stove, you will need to soak the beans overnight before cooking.
What type of beans are best for baked beans?
Traditionally, navy beans are used for baked beans. We like to use pinto beans, which are the most popular dried beans in the US, but great northern beans also work well. Dried beans are very inexpensive and easy to find so try this recipe with a few different kinds and see which you like best.
Like this recipe? We'd love for you to share it on your Pinterest board! Click to follow our Pinterest boards so you can find all our recipes! 
Instagram it! If you try this recipe please tag #legendsofthegrill on Instagram or Twitter. We love to see your photos of our recipes! Also follow us on Facebook to keep up on what we're cooking up.
Smoked Baked Beans
Smoking your baked beans can add a whole new level of flavor and complexity.
Print
Pin
Rate
Ingredients
For the Beans
1

cup

dried pinto beans

3

cups

water or broth

1

teaspoon

salt

1

teaspoon

pepper
For the Baked Beans
1

teaspoon

cooking oil

3

slices

bacon

chopped

1/4

onion

diced

1/2

red bell pepper

1

garlic clove

minced

1/4

cup

brown sugar

2

tablespoons

ketchup

1/4

cup

bbq sauce

1

tablespoon

Worcestershire sauce

1

teaspoon

dried ground mustard

1

teaspoon

smoked paprika
Instructions
To Cook the Beans in the Instant Pot
Add dry beans, salt, pepper and 3 cups of water or broth to the Instant Pot. Cook on High Pressure for 30 minutes. Allow the cooker to naturally release pressure (about 30 minutes).

Drain the beans in a colander and rinse under cold water.
To Cook the Beans on the Stove Top
Pre-soak the beans overnight. Set a pot of water to boil on the stovetop. Add the beans to the pot and return to a boil. Cover and lower the heat to a simmer. Cook for 2 hours.
To Smoke the Baked Beans:
Add cooking oil to a cast iron skillet over medium high heat. Add the bacon, onion, and red pepper and saute for about 5 minutes, stirring occasionally. Add the garlic. Cook for 1 more minute. Turn off the heat.

Add the cooked beans and the remaining ingredients to the skillet. Stir to combine.

Preheat the smoker to 225 degrees F. Set the cast iron skillet on the grate and close the lid. Smoke, untouched, for 1 hour. Stir the beans and continue cooking for another hour. Test the beans. Remove when they've reached your desired degree of doneness.
Notes
You can pre-cook the beans in an Instant Pot or on the stove top. If using the stove top, pre-soak the beans overnight before cooking.
Nutrition
Calories:
175
kcal
|
Carbohydrates:
28
g
|
Protein:
7
g
|
Fat:
4
g
|
Saturated Fat:
1
g
|
Polyunsaturated Fat:
1
g
|
Monounsaturated Fat:
2
g
|
Trans Fat:
0.01
g
|
Cholesterol:
5
mg
|
Sodium:
509
mg
|
Potassium:
441
mg
|
Fiber:
4
g
|
Sugar:
12
g
|
Vitamin A:
401
IU
|
Vitamin C:
12
mg
|
Calcium:
46
mg
|
Iron:
2
mg
🥧 If you're interested in more great recipes, I share all my favorite recipes at A Food Lover's Kitchen, Instant Pot recipes over at A Pressure Cooker Kitchen, air fryer recipes at Air Fry Anytime, and cocktails and drinks at Savored Sips. Check it out today!
Like it? Pin it!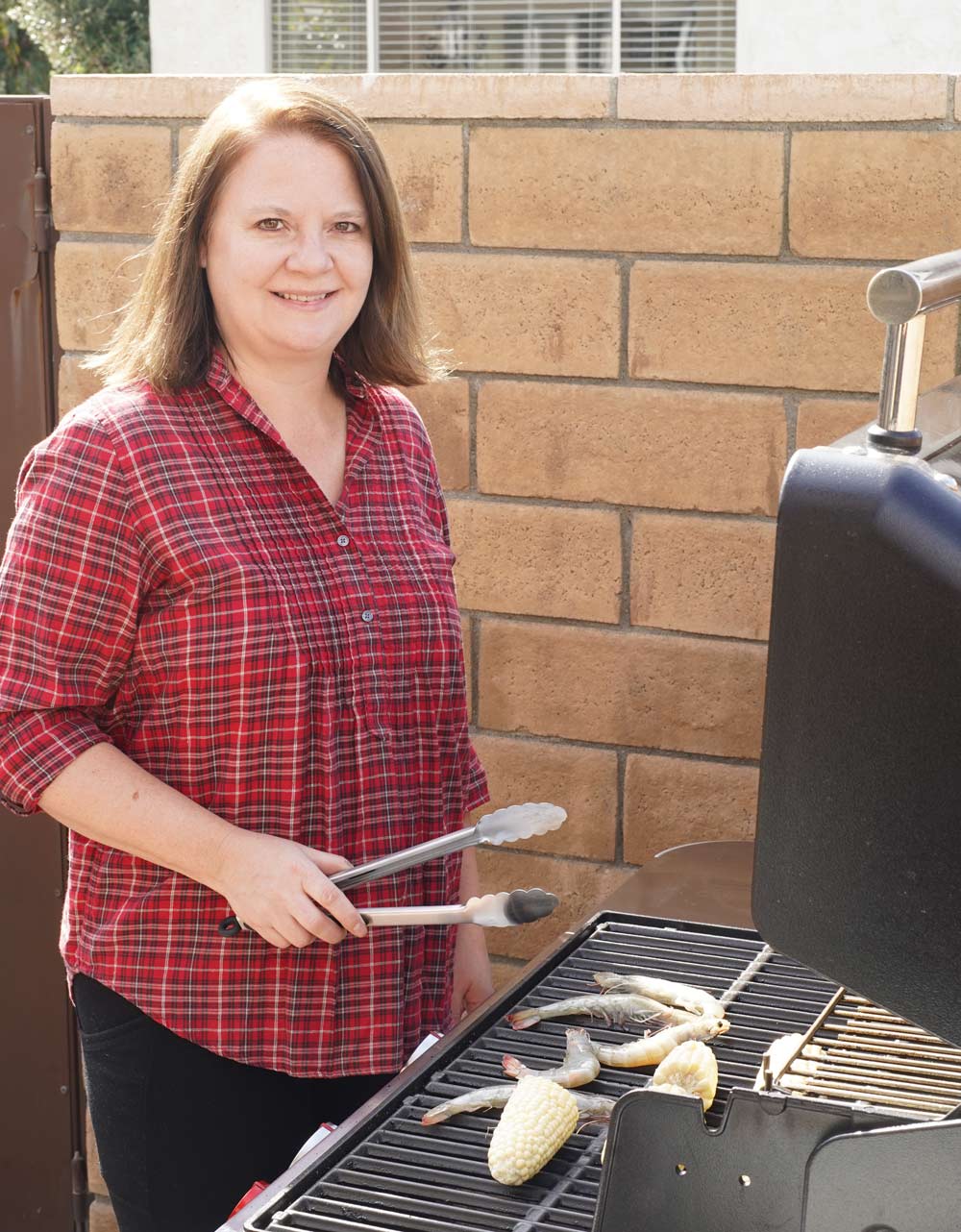 Laura is a passionate home cook and grill enthusiast who has spent years perfecting her culinary skills, with a particular focus on grilling techniques and flavor combinations. Her fascination with the grill, smoke, and the mouthwatering results they produce has led her on an exciting journey to discover the best methods for grilling delicious and unforgettable meals.