This Smoked Meatloaf Recipe is a mouthwatering and flavorful twist on a classic comfort food. This dish combines the rich and hearty flavors of meatloaf with the smoky and savory taste of smoked meat.
» You might be interested in the Pros and Cons of A Pellet Grill and What Kind of Wood Chips to Use in an Electric Grill.
🥳New customers to ButcherBox get 2 NY strips FREE in every box for 1 year. Hurry! Offer ends 7/23/23 SIGN UP HERE
Meatloaf is a classic comfort food that has been around for generations. It's a dish that brings back memories of home-cooked meals and family gatherings. But have you ever tried smoked meatloaf? Smoking your meatloaf adds a whole new level of flavor that takes this classic dish to the next level.
What Smokers We Use
We use the 7002C2E, which has dual temperature probes, a huge pellet hopper and pellet viewing window, with a large grill space and streamlined design. See this grill and more on the Z Grills site.
Did you know that Traeger created the original wood-pellet grill? The Pro Series 22 is the one most people choose because it's compact, yet has plenty of space for cooking. You can use any type of wood pellets you like. See the Traeger Series 22 Grill on Amazon.
Why Is Meatloaf Good on the Smoker?
Smoking meatloaf is a game-changer. It takes a classic comfort food and turns it into a smoky, savory masterpiece. Here are a few reasons why smoked meatloaf is so good:
Flavor: Smoking meatloaf infuses it with a rich, smoky flavor that you just can't get from baking it in the oven. The smoke adds depth and complexity to the dish that elevates it to a whole new level.
Tenderness: When you smoke meatloaf, it cooks slowly and evenly, which helps to keep it moist and tender. The low and slow cooking method allows the flavors to develop fully and the meat to become incredibly tender and juicy.
Versatility: Smoked meatloaf is incredibly versatile. You can use any ground meat you like, from beef and pork to turkey and chicken. You can also add in a variety of different seasonings, vegetables, and cheeses to customize the flavor to your liking.
Overall, smoking meatloaf is a fun and delicious way to switch up your usual dinner routine. Whether you're a seasoned pitmaster or a beginner, this recipe is sure to impress. So get ready to enjoy the best meatloaf you've ever tasted!
Ingredients Needed
Ground Beef – We recommend using a fattier blend of ground beef like 80/20 to prevent a dry meatloaf.
Onion – If you want to add onions to your meatloaf, you want to be sure to dice them very small so they blend in and add flavor, not texture. I like to use sweet onions, but you can use white or yellow too.
Breadcrumbs – These help bind the meatloaf together. Feel free to use any brand of breadcrumbs that you prefer. I use plain. To add extra flavor, you can use Italian breadcrumbs.
Garlic – Fresh minced garlic will taste best, but garlic powder can be used as well.
Tomato Paste – Adds a lovely tomato flavor to the meatloaf that brightens the taste.
Worcestershire Sauce – Bring a lot of umami to the meatloaf.
Egg – Acts as a binding agent for the loaf. If you're allergic to eggs, you can leave it out.
Salt & Ground Black Pepper – Bring out the other flavors in the meatloaf. Adjust seasoning to fit your tastes.
BBQ Sauce – Use your favorite BBQ sauce or try our smoky bourbon BBQ sauce.
Equipment Needed
How To Make The Best Smoked Meatloaf Recipe
Start by preheating the smoker to 250° F.
In a mixing bowl, combine ground beef with the onion, breadcrumbs, garlic, tomato paste, Worcestershire sauce, salt, and black pepper. Mix the ingredients together until just combined, being careful not to overwork the mixture.
Shape the mixture into a loaf and place it onto the smoker grill. Smoke the meatloaf for approximately two hours, basting it with BBQ sauce every 30 minutes until the internal temperature reaches 160° F.
Once cooked, remove the meatloaf from the smoker and allow it to rest for five minutes before slicing and serving.
How Long Does it Take to Smoke Meatloaf?
The smoking time can vary depending on factors such as the size of the meatloaf, the temperature of the smoker, and the weather conditions outside.
This 2-pound meatloaf smokes at 250° F for approximately 2 hours or until it reaches an internal temperature of 160° F. However, it's essential to use a meat thermometer to check the internal temperature to ensure it's fully cooked.
It's important to note that the smoking time can vary depending on the thickness of the meatloaf, the type of smoker used, whether it's cold and windy outside, and how often the smoker's lid or door is opened. For example, some recipes suggest smoking meatloaf for up to 4 hours, while others suggest smoking it for only 2 hours.
» Reading in one second or less
» Accuracy of ± 0.5°
» 5-year warranty
» Auto-rotate display; motion-sensing
» Insanely long battery life (2000 hrs)
Tips and Tricks
Don't overwork the meat mixture. Mix the ingredients until just combined, as overworking the mixture can result in a tough meatloaf.
Line your baking sheet with foil and place a wire rack on top to allow for even smoking and to prevent the meatloaf from sticking to the pan.
Make sure your smoker is at the right temperature before adding the meatloaf. A temperature of 225-250°F is ideal for smoking meatloaf.
Brush the meatloaf with a glaze or barbecue sauce every 30 minutes to add flavor and create a delicious crust.
Let the meatloaf rest for at least 10 minutes after smoking to allow the juices to redistribute and the meat to firm up.
Wear food-safe gloves when handling raw meat to avoid any cross-contamination or food poisoning, especially if you're mixing the meat with your hands.
Make sure all ingredients are cut small and well mixed. This will help you to avoid big chunks of breadcrumbs or onions in the meatloaf.
By following these tips and tricks, you can make the best smoked meatloaf possible and impress your family and friends with your delicious cooking skills.
What Temperature Should Meatloaf be Smoked at?
Most recipes recommend smoking meatloaf at a temperature range between 225°F and 280°F. At this temperature range, the meatloaf will cook slowly and absorb the smoky flavor from the wood chips or pellets used in the smoker.
How to Store Leftover Smoked Meatloaf
Refrigerating: Wrap the meatloaf tightly in foil or place it in an airtight container. You can also keep it in a loaf pan covered with plastic wrap or foil. It will keep in the fridge for 3 to 5 days.
Freezing: If you have a lot of leftover smoked meatloaf, you can freeze it for later use. Wrap the meatloaf in plastic cling film, then place it in an airtight storage container or freezer bag. It will keep in the freezer for up to 3 months.
How to Reheat Smoked Meatloaf
Smoked meatloaf is a delicious meal that can be enjoyed hot or cold. If you have leftovers, you may be wondering how to reheat it without drying it out or losing its flavor. Here are a few simple ways to reheat smoked meatloaf:
Method 1: Oven
Preheat the oven to 225 to 250° F. Place the leftover smoked meatloaf in a shallow oven-safe dish. Pour 1-2 tablespoons of broth or water to keep the meatloaf moist. Cover the dish with foil and reheat for 25-30 minutes. Let the meatloaf rest for 10 minutes before serving. This method will help the meatloaf retain its moisture and flavor.
Method 2: Microwave
If you're short on time, you can also reheat smoked meatloaf in the microwave. Place the leftover meatloaf on a microwave-safe plate and cover it with a damp paper towel. Microwave on high for 30-60 seconds, or until heated through. Check the meatloaf frequently to avoid overcooking it. Let the meatloaf rest for a few minutes before serving.
Method 3: Stovetop
Another option is to reheat smoked meatloaf on the stovetop. Heat a non-stick skillet over medium heat. Add a small amount of oil or butter to the skillet. Once the skillet is hot, add the leftover smoked meatloaf and cook for 2-3 minutes on each side, or until heated through. This method will give the meatloaf a crispy exterior.
Whichever method you choose, be sure to check the internal temperature of the meatloaf with a meat thermometer to ensure it has reached a safe temperature of 165°F before serving. Enjoy your delicious leftover smoked meatloaf!
What To Serve With It
Before You Go
Since you made it to the end of this article, you might be interested in other smoked recipes. Here are a few more articles we think you might enjoy.
Like this recipe? We'd love for you to share it on your Pinterest board! Click to follow our Pinterest boards so you can find all our recipes! 
Instagram it! If you try this recipe please tag #legendsofthegrill on Instagram or Twitter. We love to see your photos of our recipes! Also follow us on Facebook to keep up on what we're cooking up.
The Best Smoked Meatloaf Recipe
This dish combines the rich and hearty flavors of meatloaf with the smoky and savory taste of smoked meat.
Print
Pin
Rate
Ingredients
2

pounds

ground beef

1/2

onion

finely diced

1/3

cup

breadcrumbs

2

cloves

garlic

minced

1

tablespoon

tomato paste

1

tablespoon

Worcestershire sauce

1

egg

lightly beaten

1

teaspoon

salt

1/2

teaspoon

ground black pepper

1/3

cup

BBQ sauce
Instructions
Preheat the smoker to 250° F.

In a mixing bowl, combine the ground beef through black pepper. Mix to combine, but don't overwork. Shape into a loaf.

Place the loaf on the grill and smoke for about 2 hours, until the internal temperature reaches 160° F, basting with BBQ sauce every 30 minutes.

Remove from smoker and rest for 5 minutes before slicing and serving.
Nutrition
Calories:
456
kcal
|
Carbohydrates:
13
g
|
Protein:
28
g
|
Fat:
31
g
|
Saturated Fat:
12
g
|
Polyunsaturated Fat:
1
g
|
Monounsaturated Fat:
14
g
|
Trans Fat:
2
g
|
Cholesterol:
135
mg
|
Sodium:
765
mg
|
Potassium:
536
mg
|
Fiber:
1
g
|
Sugar:
7
g
|
Vitamin A:
119
IU
|
Vitamin C:
2
mg
|
Calcium:
56
mg
|
Iron:
4
mg
🥧 If you're interested in more great recipes, I share all my favorite recipes at A Food Lover's Kitchen, Instant Pot recipes over at A Pressure Cooker Kitchen, air fryer recipes at Air Fry Anytime, and cocktails and drinks at Savored Sips. Check it out today!
PIN IT FOR LATER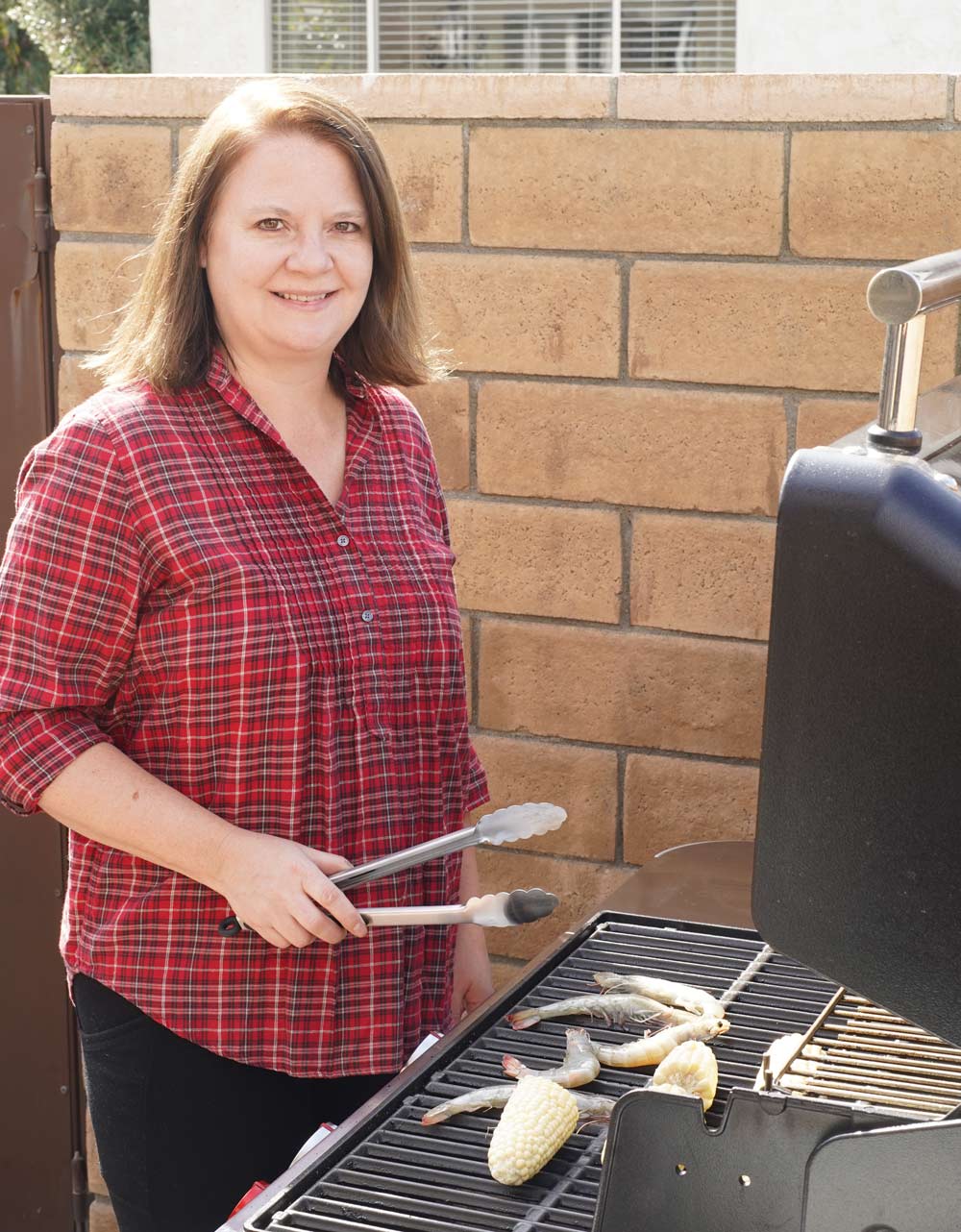 Laura is a passionate home cook and grill enthusiast who has spent years perfecting her culinary skills, with a particular focus on grilling techniques and flavor combinations. Her fascination with the grill, smoke, and the mouthwatering results they produce has led her on an exciting journey to discover the best methods for grilling delicious and unforgettable meals.