The Best Chicken Wing Brine is a simple solution made up of water, salt, sugar, and soy sauce that will help improve the texture, flavor, and moisture of your chicken wings.
» You might also like this Bang Bang Sauce.
🥳New customers to ButcherBox get 2 NY strips FREE in every box for 1 year. Hurry! Offer ends 7/23/23 SIGN UP HERE
Brining involves soaking the chicken wings in the solution for a few hours before cooking them. This process allows the chicken to absorb the liquid and seasonings, resulting in a more flavorful and tender meat.
Chicken wings are a popular snack or appetizer for many people, especially during parties or game nights. However, not all chicken wings are created equal. Some can be dry and tough, while others can be juicy and tender. One way to ensure that your chicken wings are flavorful and moist is by using a brine.
There are many different chicken wing brine recipes available, each with its own unique combination of ingredients and flavors. Some recipes may include soy sauce, vinegar, garlic, or herbs, while others may use brown sugar, hot sauce, or apple cider. In this article, we will explore some of the best chicken wing brine recipes available and provide tips on how to use them to make the perfect chicken wings.
What is a Chicken Wing Brine?
A chicken wing brine is a mixture of salt, sugar, and water that is used to soak chicken wings before cooking. Brining chicken wings can add moisture and flavor to the meat and help it retain moisture during cooking. The salt in the brine solution penetrates the meat and helps to break down muscle fibers, resulting in a more tender and juicy chicken wing.
Brining chicken wings is a simple and easy process that can be done in a few hours. The chicken wings are first rinsed and then soaked in the brine solution for a specified amount of time. The brine solution can be adjusted to include additional flavorings such as herbs, spices, and vinegar.
There are many different brine recipes available online, and each recipe may have different ingredients and ratios of salt, sugar, and water. Some recipes may also include additional flavorings such as soy sauce, Worcestershire sauce, or hot sauce. It is important to follow the recipe carefully to ensure that the chicken wings are not over-brined, which can result in an overly salty or mushy texture.
Why Use a Chicken Wing Brine?
Brining chicken wings is a great way to enhance their flavor and texture. Here are some reasons why you should consider brining your chicken wings:
Increased Moisture: Brining helps the meat retain more moisture, resulting in juicy and tender chicken wings.
Flavor Infusion: Brining allows for added flavors to penetrate deep inside the meat, resulting in more flavorful wings.
Better Texture: Brining can help prevent the meat from becoming dry and tough, resulting in a more pleasing texture.
Uniform Cooking: Brining helps the meat cook more evenly, resulting in wings that are cooked to perfection.
Overall, brining your chicken wings can take them to the next level and make them even more delicious. Whether you prefer a wet or dry brine, taking the time to brine your wings can be well worth the effort.
Ingredients Needed
This recipe is an easy one with few ingredients, most of which are probably in your cupboard right now.
Water
Sugar – Granulated sugar
Salt
Soy Sauce – We tend to use low sodium soy sauce whenever possible. Use a low-sodium version if you can because the regular strength will add too much salt to the dish.
Optional seasonings: Ground black pepper, oregano, garlic, thyme, rosemary.
A Note About Salt
For the ideal salt to water ratio, use 1 tablespoon of salt for every 1 cup of water. To brine 1 pound of chicken, I typically use 2 cups of water and 2 tablespoons of salt and let it sit for 2 hours.
If you need to brine more chicken wings than 1 pound, simply adjust the brine quantity accordingly. For instance, for 2 pounds of chicken, mix 4 cups of water with 4 tablespoons or 1/4 cup of salt.
Over-soaking chicken in brine can result in a soggy or mushy texture, and overly salty flavor. To avoid this, it's recommended to only brine for a few hours, rather than a longer duration.
In case the chicken has been brined for too long or with excessive salt, you can draw out some of the salt by soaking the chicken wings in plain cold water for an hour before cooking.
If you do require an extended brining time of up to 20 hours, it's best to reduce the salt quantity in the brine by half. However, it's not recommended to brine wings for such an extended period.
How To Brine Chicken Wings
Step 1 Preparing the Brine
Add all of the ingredients for the brine to a Ziplock bag. This makes things simple and is my preferred method. Alternatively, you can mix the brine in a lidded container or a large bowl that can be covered with plastic wrap.
Make sure that the sugar and salt are fully dissolved before adding the chicken.
Step 2 Marinating the Chicken Wings
Ensure that the chicken is entirely immersed in the brine. I typically use a large Ziplock bag that accommodates both the chicken and brine, a 1-quart bag will do. I then put the bag in a bowl as a precaution against accidental spills in the refrigerator. You can also use a bowl covered with plastic wrap.
Place the chicken into the refrigerate for at least 2 hours. Since the brine is salty, it's best not to leave it for more than a total of 6 hours. Unlike a whole chicken or turkey, chicken wings do not require a prolonged brining period. If you intend to leave it overnight, I recommend halving the salt in the brine.
Step 3 Prepping to Cook
When you are ready to cook the chicken wings remove them from the brine and discard the rest of the brine.
Rinse the wings and pat them dry with a paper towel. This helps them get crispy on the outside. Don't skip this step.
Step 4 Cooking the Wings
There are several ways to cook chicken wings, so feel free to use your preferred method. You can grill them outdoors, deep-fry them, bake them in the oven, or cook them in an air fryer.
Personally, I prefer either grilling or baking to reduce the amount of oil used. However, if you have an air fryer, it's an excellent way to achieve crispy wings without oil and the hassle of baking in the oven.
Cooking Temperature for Chicken
To ensure that chicken is cooked safely and properly, it should reach an internal temperature of 165°F (74°C). Using a food thermometer, insert it into the thickest part of the meat without touching the bone to accurately measure the internal temperature.
Chicken breasts, being leaner and containing less fat, cook relatively quickly and can become dry if overcooked, so you'd want to remove it from the grill when it reaches 160°F, then rest it so it reaches165°F.
On the other hand, chicken thighs have a higher fat content, which means they can be cooked longer without drying out and are often more forgiving in terms of cooking time.
To ensure meat at the bone is no longer pink, you'd want to cook bone-in pieces, like thighs and wings, to 165°F and let it rest to come up to 170°F.
» Reading in one second or less
» Accuracy of ± 0.5°
» 5-year warranty
» Auto-rotate display; motion-sensing
» Insanely long battery life (2000 hrs)
Tips for Brining Chicken Wings
Brining chicken wings is a great way to add flavor and moisture to your wings. Here are a few tips to help you get the best results:
Use a brine that contains salt, sugar, and acid. The salt helps to tenderize the meat, the sugar adds sweetness, and the acid helps to break down the proteins in the meat, making it more tender.
Brine your wings for at least 2 hours, but no more than 24 hours. Brining for too long can result in overly salty meat.
Make sure your wings are fully submerged in the brine. You can use a heavy plate or a zip-top bag filled with water to keep the wings submerged.
After brining, rinse the wings thoroughly with cold water to remove any excess salt.
Here are a few additional tips to help you get the most out of your brined chicken wings:
Pat the wings dry with paper towels before cooking to ensure they get crispy.
Season the wings with your favorite dry rub or marinade before cooking to add even more flavor.
Cook the wings using your preferred method, whether it's grilling, baking, frying, or smoking.
By following these tips, you can create delicious, juicy chicken wings that are sure to be a hit with your family and friends.
Should You Sauce Chicken Wings?
Whether or not to sauce chicken wings is a matter of preference. Plain and sauced wings can both be delicious when prepared properly.
Saucing them adds flavor making them more complex and interesting while helping the keep the chicken wings moist. There are countless sauces out there to choose from, so saucing your wings can provide some variety and excitement to your meat. Check out these 6 great wing flavors if you need some inspiration.
How To Reheat Chicken Wings
Reheating chicken wings can be a bit tricky, as you want to make sure that the meat is warmed through without drying out or becoming rubbery. Here are a few methods that work well:
In the oven: Preheat your oven to 350°F (175°C). Place the chicken wings on a baking sheet and heat them for about 10-15 minutes, depending on their size. This will help to restore their crispy texture while heating them through.
In the air fryer: An air fryer is another great way to reheat chicken wings, as it can restore their crispy texture without the need for extra oil. Place the wings in the air fryer and heat at 375°F (190°C) for 5-8 minutes, or until they are heated through and crispy.
In the microwave: While this method is the fastest, it can also dry out the chicken wings if done improperly. To reheat in the microwave, place the wings on a microwave-safe plate and heat on high for 1-2 minutes, or until heated through. Try to avoid overheating as it can make the wings become tough.
Note: No matter which method you choose, it is important to avoid overcooking as it can dry out the wings. Also, make sure to store the wings correctly by keeping them in an airtight container in the fridge to maintain their freshness until reheating.
Like this recipe? We'd love for you to share it on your Pinterest board! Click to follow our Pinterest boards so you can find all our recipes! 
Instagram it! If you try this recipe please tag #legendsofthegrill on Instagram or Twitter. We love to see your photos of our recipes! Also follow us on Facebook to keep up on what we're cooking up.
Best Chicken Wing Brine
The Best Chicken Wing Brine is a simple solution made up of water, salt, sugar, and soy sauce that will help improve the texture, flavor, and moisture of your chicken wings.
Print
Pin
Rate
Ingredients
2

cups

water

2

tablespoons

salt

2

tablespoons

sugar

1

tablespoon

soy sauce

1

pound

chicken wings
Instructions
Mix together the first four ingredients until the salt and sugar are dissolved. Add the chicken, making sure the brine fully covers the chicken. Cover and store in the refrigerator for at least 2 hours or up to 24 hours.

Remove the chicken from the brine. Discard the brine. Rinse the chicken wings under cold water. Pat dry with a paper towel.

Cook following your preferred method.
Notes
You can add optional seasonings to the brine for additional flavor. Try 1 teaspoon of black pepper, oregano, garlic, thyme, or rosemary.
You can also replace the plain salt with a seasoned salt.
You can brine the wings as little as two hours, which is optimal, but you can brine for longer, if necessary, up to 8 hours. Mix up the brine in the morning before work and it will be done by the time you get home to cook dinner.
For more robust flavor, you can replace the salt with more soy sauce. Use 1/4 cup of full-sodium soy sauce instead of salt.
Nutrition
Calories:
323
kcal
|
Carbohydrates:
12
g
|
Protein:
23
g
|
Fat:
20
g
|
Saturated Fat:
5
g
|
Polyunsaturated Fat:
4
g
|
Monounsaturated Fat:
8
g
|
Trans Fat:
0.2
g
|
Cholesterol:
94
mg
|
Sodium:
7581
mg
|
Potassium:
212
mg
|
Fiber:
0.1
g
|
Sugar:
12
g
|
Vitamin A:
180
IU
|
Vitamin C:
1
mg
|
Calcium:
28
mg
|
Iron:
1
mg
🥧 If you're interested in more great recipes, I share all my favorite recipes at A Food Lover's Kitchen, Instant Pot recipes over at A Pressure Cooker Kitchen, air fryer recipes at Air Fry Anytime, and cocktails and drinks at Savored Sips. Check it out today!
Pin it for later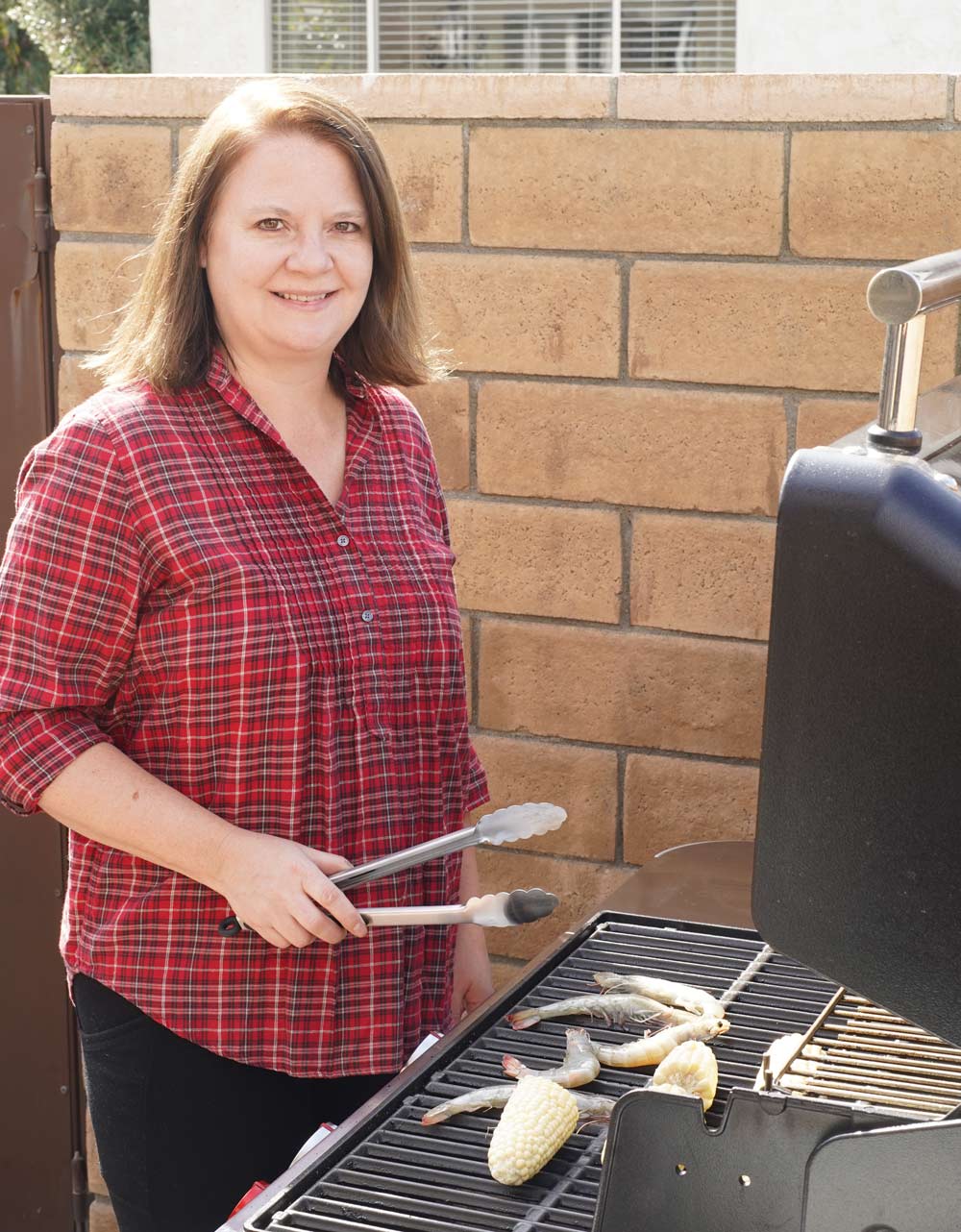 Laura is a passionate home cook and grill enthusiast who has spent years perfecting her culinary skills, with a particular focus on grilling techniques and flavor combinations. Her fascination with the grill, smoke, and the mouthwatering results they produce has led her on an exciting journey to discover the best methods for grilling delicious and unforgettable meals.