Trying to decide which cut of beef to throw on the BBQ tonight? You are likely try to decide brisket vs tri tip. We love both of these cuts and how they turn out on the barbecue, but they are very different both in the way you cook them and the texture they produce.
The major differences between these two cuts of meat are that brisket is a flat cut of beef that is usually cooked slowly over low heat, while tri tip is a round cut of beef that is usually cooked quickly over high heat.
» You might also like How to Pick the Best Wood Chips for Smoking and Weber GENESIS E-325 Gas Grill Review.
🥳New customers to ButcherBox get 2 NY strips FREE in every box for 1 year. Hurry! Offer ends 7/23/23 SIGN UP HERE
Brisket has a much tougher texture than tri tip, which makes it better suited to slow cooking. Tri tip, on the other hand, has a more tender and juicy texture that can be more delicious when cooked quickly.
Ultimately, it comes down to personal preference as to which cut of beef you would like to cook on the BBQ tonight. Brisket or tri tip? We can't choose for you! But we can tell you which cuts we love and recommend trying out for yourself!
Our Top Grill Recommendation
I chose this grill based on quality, performance, and features. It's pretty much got it all (large cooking area, plenty of BTU, high-quality cooking grates, and it's priced well. If you're feeling fancy, you can upgrade it to add more burners, smart grilling technology and grill lighting.
What Are the Main Differences of Brisket vs Tri Tip?
Size
A tri tip is usually smaller than a brisket, unless you've asked the butcher for a small brisket. A whole tri tip weighs around 3-4 pounds, while a whole brisket can weigh up to 20 pounds.
Texture
Brisket is a tougher cut of meat, with a more pronounced texture than tri tip. Brisket will have more of a fat cap that melts into the meat as it cooks, which leads it to be more fall-apart tender. Tri tip tends to be more marbled, so it can come out more juicy – more like a steak.
Cooking Method
Brisket is typically cooked slowly over low heat, whereas tri tip is usually cooked quickly over high heat.
Price
The price varies depending on your location, but tri tip is usually more expensive than brisket. However, once cooked, brisket yields less meat, which brings it back in line with tri tip, pound per pound.
» Reading in one second or less
» Accuracy of ± 0.5°
» 5-year warranty
» Auto-rotate display; motion-sensing
» Insanely long battery life (2000 hrs)
How Much Do They Cost?
Speaking of price, it's good to have an idea of how much both of these cuts normally cost, so you know what you're going to need to spend. Cost can have a major impact on which cut you choose.
On a per-pound basis, a tri tip is usually about twice as expensive as a brisket. You can typically expect to pay around $8 per pound. A brisket is more like $4 per pound. However, once cooked, a brisket yields less in weight, so they come out to about the same cost per cooked pound.
A brisket tends to have a large fat cap on it, which can add to the cost of the meat, even though the fat won't be eaten. You can ask the butcher to remove as much of the fat as you want, but definitely leave a lot on to help with the cooking.
More About Brisket
Brisket is the most common cut of beef on the BBQ, and it is cut from the front of the cow, near the pectoral muscles. It has more fat and less muscle. This means that brisket is often very tender, especially when slow cooked on the smoker, and its flavor is dominated by smoky notes.
The best way to cook a brisket is in a smoker – long, slow hours – the meat will begin to break down and become super tender. The internal temperature you're looking for here is 210° F.
» Read here for What to Serve with Brisket: 13 Tasty Sides.
More About Tri Tip
Tri tip is a cut that a lot of people don't know about. It originated in Santa Maria, California, and is a prevalent cut in stores in California, but you might have a hard time finding it elsewhere.
It is cut from the bottom sirloin, and it has a lot more muscle, like a steak. This means that tri tip can be a bit tougher when cooked, but its flavor is also much more complex.
Tri tip can be very juicy when cooked, and its flavor can include notes of garlic, spices, and even wood smoke. You would typically cook a tri tip on a higher heat, much faster cooking method than a brisket. The internal temperature you're looking for is 140° F for medium-rare. It turns out more like a steak than a tender roast.
Availability
As mentioned, it can be difficult to find tri tip everywhere. If you're looking for something different and more flavorful, tri tip might be a great option for you, but you'll have to see if you can find it in your area first.
A brisket is a classic cut and can be found everywhere. Your butcher will definitely know this cut and you can even find it easily in the meat aisle of the grocery.
Method for Cooking: Which is Easier?
If you're wondering which one of these cuts is easier to cook, I would say they neck and neck. Both require very little in terms of "doing" to get them ready for the grill. I put on a nice thick meat rub and let it marinate overnight to draw in some of the flavors. This also makes for a nice crust after cooking.
Then the contest comes down to length of time. That's where the tri tip pulls ahead, because it's cooked relatively quickly on the grill, taking no longer than a steak would, just about 15 -25 minutes total, depending on the size. See our cooking guide for a grilled tri tip and for an oven-roasted tri tip.
A brisket has to be slow cooked over low heat to be good. You have to take that extra time and allow the connective tissue to breakdown. Without giving it sufficient time, it can be really tough and not good. It takes at least 5 hours to smoke a brisket. See our cooking guide for smoking a brisket on a pellet grill.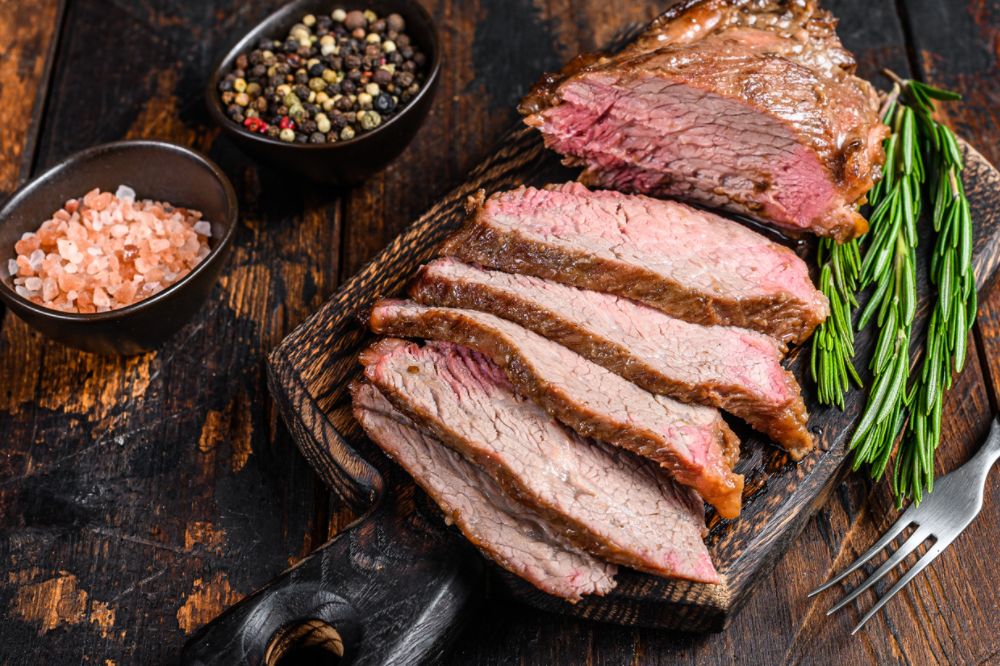 Which Cut I Prefer
I get asked often which cut of meat I prefer cooking. In my opinion, it really depends on what you're looking for in a meal. If you're looking for something simple and easy to cook, then I would recommend going with a brisket. It's definitely a classic cut and everyone knows how to cook it. You'll get the juiciest meat and it makes amazing brisket buns.
If you're looking for something more complex and flavorful, then I would recommend trying out tri tip. It's got a lot more muscle and can be cooked on a higher heat, resulting in a juicier steak. It makes amazing leftover tri tip sandwiches with a little BBQ sauce on top.
I usually choose tri tip for a typical meal – like when we're grilling out on a Friday night or have some friends over for an afternoon. It's easier to prepare for and doesn't take long to cook. But if I want to impress and pull out all the stops, then I go for a brisket.
Conclusion
In the end, both of these cuts of beef are fantastic and can be show stoppers when cooked properly. The choice will likely come down to whether you want to cook it fast or have time to smoke it slow. You really also need a smoker to do a brisket justice, though it can be made in the oven as well.
Like this recipe? We'd love for you to share it on your Pinterest board! Click to follow our Pinterest boards so you can find all our recipes! 
Instagram it! If you try this recipe please tag #legendsofthegrill on Instagram or Twitter. We love to see your photos of our recipes! Also follow us on Facebook to keep up on what we're cooking up.
Pin it for later
🥧 If you're interested in more great recipes, I share all my favorite recipes at A Food Lover's Kitchen, Instant Pot recipes over at A Pressure Cooker Kitchen, air fryer recipes at Air Fry Anytime, and cocktails and drinks at Savored Sips. Check it out today!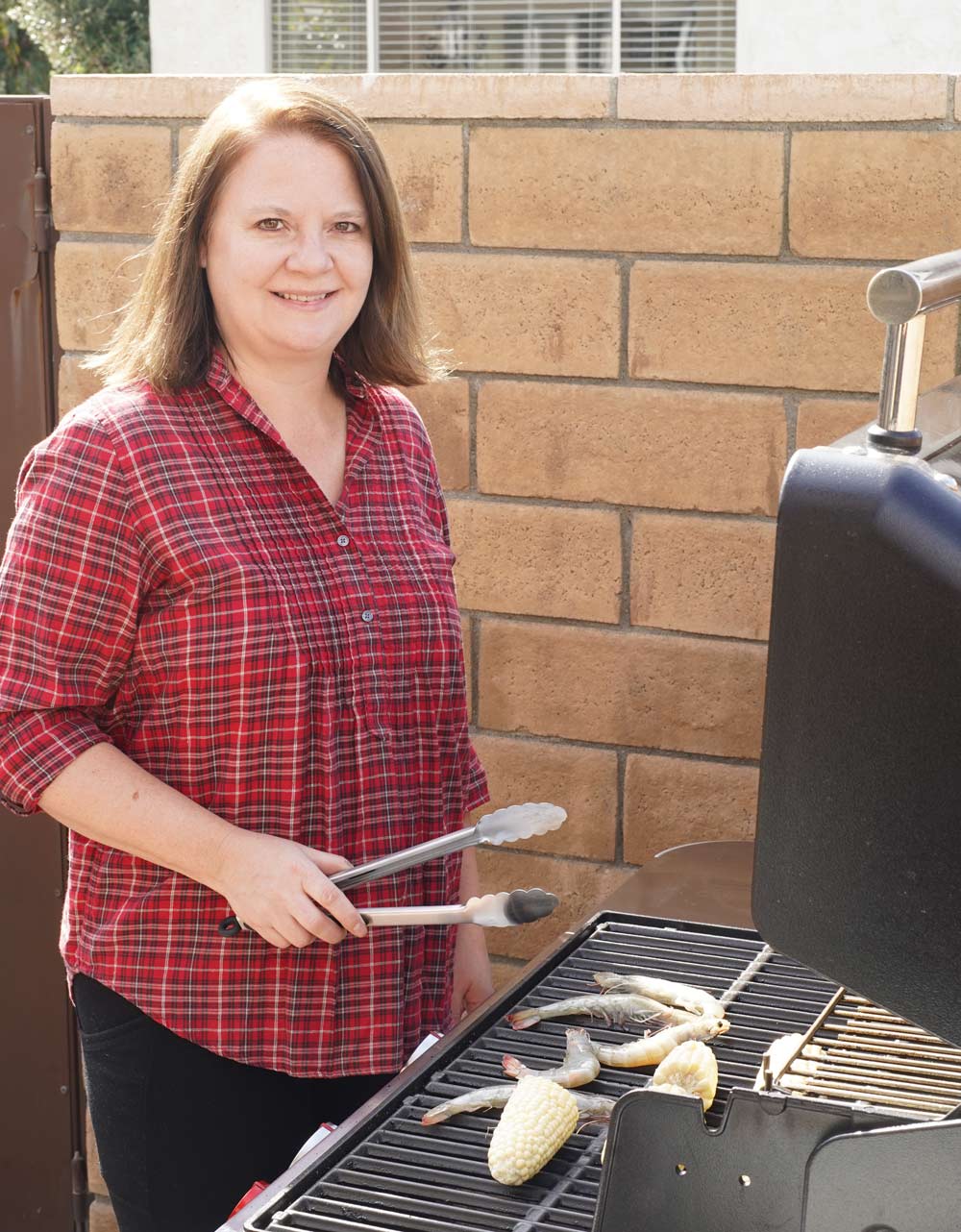 Laura is a passionate home cook and grill enthusiast who has spent years perfecting her culinary skills, with a particular focus on grilling techniques and flavor combinations. Her fascination with the grill, smoke, and the mouthwatering results they produce has led her on an exciting journey to discover the best methods for grilling delicious and unforgettable meals.