This Classic Macaroni Salad combines tender macaroni with a medley of vegetables, eggs, and a tangy mayonnaise-based dressing to make the perfect side dish for your outdoor cookout or picnic.
» You might also like this Grilled Mexican Street Corn and Classic Potato Salad.
This dish is an all-time favorite for barbecues and picnics – the Classic Macaroni Salad. This versatile side dish is perfect for complementing grilled meats, veggies, and everything in between.
Packed with creamy goodness, a medley of vegetables, and cheese, this macaroni salad recipe is a must-try this grilling season. It's easy to make and always a crowd pleaser.
Ingredients You Need
Dry macaroni – You can use small or large macaroni – your preference. Any brand will do.
Peas – Use frozen or fresh peas – whatever you have available.
Red bell pepper – I love the brightness of the red in the dish, but you can use green or yellow bell peppers instead.
Celery – This adds a nice crunch to the salad, but it also adds a lot of flavor.
Cheddar cheese – Really any type of hard cheese if great in this salad. I like cubed cheddar.
Eggs – Use fresh eggs so they're easy to peel.
Mayonnaise – I always use full-fat mayo to give this salad the creaminess it needs.
Apple cider vinegar – If you don't have it, use white or red wine vinegar.
Dijon mustard – I like the tang and heat of Dijon, but stone ground mustard or even yellow mustard can be used.
Salt and ground black pepper
Green onion, chopped – for garnish
How to Make Classic Macaroni Salad:
Cook the Pasta
Bring 2 cups of water to a boil in a pot and add the macaroni. Cook it according to the package instructions until it's al dente. Drain the pasta and run it under cold water for 2-3 minutes, until it's cooled. This stops the cooking process and ensures the macaroni stays firm. Allow it to cool and drain completely.
Cook and Cool the Eggs
In a separate pot, boil the eggs until they are hard-boiled. Once cooked, place them in a bowl of cold water to cool. Peel and cube the eggs.
Mix It Up
Transfer the cooled pasta to a large mixing bowl. Add the cubed eggs, peas, bell pepper, celery, and cheese to the bowl with the macaroni.
Prepare the Dressing
In a separate bowl, mix the mayonnaise, apple cider vinegar, Dijon mustard, salt, and black pepper until smooth. This creamy dressing will bind all the ingredients together and provide a tangy flavor to the salad.
Combine Everything
Add the dressing to the large mixing bowl with the pasta and veggies. Stir until everything is well coated and combined.
Chill
Refrigerate the salad for a few hours, or overnight if possible. This allows the flavors to meld together and the salad to be well chilled before serving.
Garnish and Serve
Just before serving, garnish the macaroni salad with chopped green onions. This adds a touch of freshness and a pop of color.
Choosing the Perfect Pasta
There are different sizes of macaroni pasta that you can choose from. You might just buy whatever is available at the store, of you might choose a smaller or larger pasta, depending on your preference.
While this recipe calls for macaroni, you can easily substitute it with other types of short pasta. Some great options are fusilli, penne, or farfalle. Keep in mind that the cooking times may vary, so be sure to follow the package instructions for the best results.
Storing Your Macaroni Salad
Remember not to leave the macaroni salad out for longer than 2 hours. Bacteria can start to form on the salad when it's at room temperature for too long. Since you're likely serving this with an outdoor BBQ or cookout, it's easy to lose track of time and leave the salad out too long.
To store your macaroni salad, place it in an airtight container to keep it fresh. It's best to consume the salad within 3-4 days when stored in the refrigerator. If the salad seems a little dry after refrigeration, you can add a tablespoon of mayonnaise to moisten it before serving.
Frequently Asked Questions
Can I make macaroni salad ahead of time?
Yes, making macaroni salad ahead of time is actually a great idea! Preparing it a day in advance allows the flavors to meld together, resulting in a richer and more delicious salad. Just be sure to store it in an airtight container in the refrigerator. Before serving, you might want to check the consistency; if it's too dry, add a little bit of mayonnaise to freshen it up. Don't forget to garnish with green onions or any other fresh herbs before serving.
Can I freeze macaroni salad?
Freezing macaroni salad is not recommended. The mayonnaise-based dressing tends to separate and become watery when frozen and then thawed. Additionally, the pasta and vegetables can become mushy and lose their texture. Macaroni salad is best enjoyed fresh or stored in the refrigerator for up to 3-4 days.
What can I add to my macaroni salad to make it more flavorful or unique?
Macaroni salad is versatile, and there are countless ingredients you can add to enhance flavor or add a twist. Some ideas include:
Proteins: Tuna, cooked chicken, or bacon bits.
Veggies: Cucumbers, cherry tomatoes, olives, or grated carrots.
Cheeses: Feta, blue cheese, or gouda in addition to or instead of cheddar.
Herbs and Spices: Fresh dill, basil, paprika, or a dash of hot sauce.
Nuts and Seeds: Sunflower seeds or slivered almonds for crunch.
Like this recipe? We'd love for you to share it on your Pinterest board! Click to follow our Pinterest boards so you can find all our recipes! 
Instagram it! If you try this recipe please tag #legendsofthegrill on Instagram or Twitter. We love to see your photos of our recipes! Also follow us on Facebook to keep up on what we're cooking up.
Classic Macaroni Salad
This Classic Macaroni Salad combines tender macaroni with a medley of vegetables, eggs, and a tangy mayonnaise-based dressing to make the perfect side dish for your outdoor cookout or picnic.
Print
Pin
Rate
Ingredients
8

ounces

(

227

g

)

dry macaroni

2

cups

(

473

ml

)

water

1/2

cup

(

73

g

)

peas frozen or thawed

1

medium red bell pepper diced

1

cup

(

101

g

)

celery halved and sliced

3/4

cup

(

85

g

)

cheddar cheese cubed

2

large eggs

1

cup

(

224

g

)

mayonnaise

2

tablespoons

(

30

ml

)

apple cider vinegar

2

teaspoons

(

10

ml

)

Dijon mustard

1

teaspoon

(

6

g

)

salt

1/2

teaspoon

(

1

g

)

ground black pepper

1

green onion chopped
Instructions
Cook and drain the pasta according to the box instructions and run it under cold water for 2-3 minutes, until cooled. Set it aside to cool completely.

At the same time, cook the eggs in another pot. Put cold water in a pot with the eggs over high heat until boiling. Then cover the pot, turn off the heat, and let sit for 10-12 minutes. When done, cool the eggs in an ice bath.

Transfer the pasta to a large mixing bowl. Peel and chop the eggs.

Add the egg, peas, bell pepper, celery, and cheese to the bowl with the macaroni.

Mix the mayonnaise, vinegar, Dijon mustard, salt and pepper in a bowl until smooth and then add it to the bowl. Stir to combine.

Refrigerate the salad until well chilled, at least 30 minutes, before serving. Garnish with green onion.
Nutrition
Calories:
370
kcal
|
Carbohydrates:
25
g
|
Protein:
9
g
|
Fat:
26
g
|
Saturated Fat:
6
g
|
Polyunsaturated Fat:
13
g
|
Monounsaturated Fat:
6
g
|
Trans Fat:
0.1
g
|
Cholesterol:
63
mg
|
Sodium:
583
mg
|
Potassium:
189
mg
|
Fiber:
2
g
|
Sugar:
2
g
|
Vitamin A:
792
IU
|
Vitamin C:
23
mg
|
Calcium:
102
mg
|
Iron:
1
mg
🥧 If you're interested in more great recipes, I share all my favorite recipes at A Food Lover's Kitchen, Instant Pot recipes over at A Pressure Cooker Kitchen, air fryer recipes at Air Fry Anytime, and cocktails and drinks at Savored Sips. Check it out today!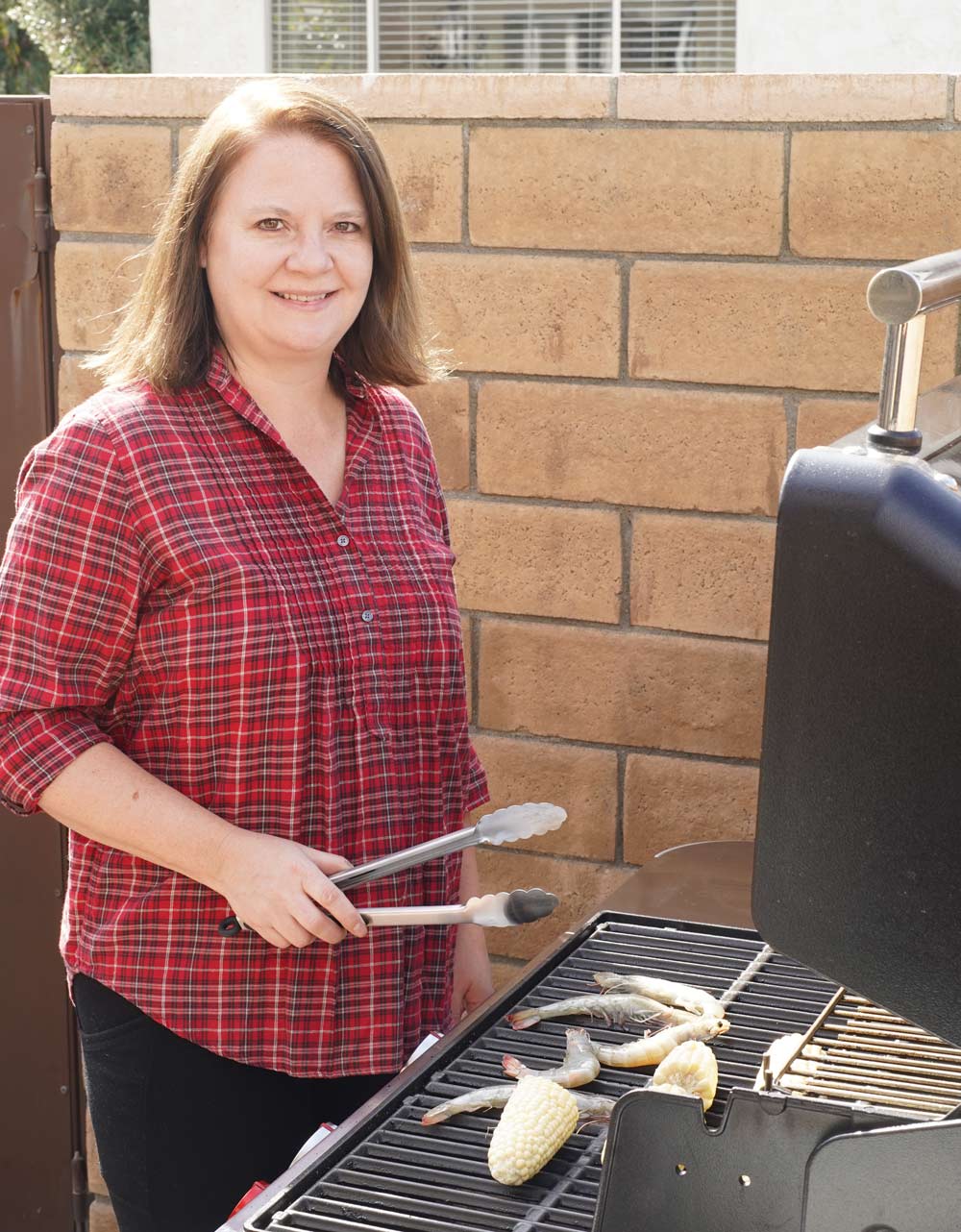 Laura is a passionate home cook and grill enthusiast who has spent years perfecting her culinary skills, with a particular focus on grilling techniques and flavor combinations. Her fascination with the grill, smoke, and the mouthwatering results they produce has led her on an exciting journey to discover the best methods for grilling delicious and unforgettable meals.