This review was first published on A Food Lover's Kitchen, or sister website.
As a grilling enthusiast, I was very excited to try out the Ninja Woodfire Outdoor Grill. Since I often grill and smoke foods on a full-sized outdoor grill, the compact size of this new appliance by Ninja caught my attention. Not just because of its convenient size, but because it has seven cooking functions, and the ability to smoke with hardwood pellets.
I was on the fence about whether to add this woodfire grill to my outdoor setup, but when Ninja offered to send me one for review, I quickly accepted. I couldn't wait to put it to the test and share my honest thoughts on its performance and versatility. And so this is our Ninja Woodfire Outdoor Grill review.
Read also » Become a Grill Master: 50 Sizzling Tips & Tricks for Grill Enthusiasts.
Just how good can a small unit like this perform? Can it actually impart enough wood flavor with so few pellets? Can it actually crisp up chicken wings and slow smoke brisket? I was a skeptic starting out, but now that I've used it numerous times, I'm actually quite impressed. I'll tell you all about it in my review.
For the record, I have the Woodfire Pro Outdoor Grill & Smoker. There is also a non-pro version, which has a few less bells and whistles. If you're thinking about buying one, you'll want to note the differences, which include a larger cooking surface, more advanced temperature controls, and a more robust construction for better durability.
Disclaimer: Ninja did send me this grill to review, but all of the opinions expressed herein are my own, honest words. My opinion and thoughts on the grill were not swayed or coerced in any way.
Ninja Woodfire Outdoor Grill Review
Once I got my hands on the Ninja Woodfire Grill, I was pleased to find that the assembly was minimal, requiring only the attachment of the two plastic side handles. For this, I had to turn the grill upside down and attach the pieces. It was very simple and I didn't need any help lifting or turning it.
The grill came with a grate, crisper basket, smoke box, grease tray, and plastic pellet scoop. I didn't need anything else to get started using it, so I launched right in. By the way, I really hate it when you buy a product and it requires all kinds of other things to run it. That gives one positive mark in the column for Ninja on this one.
From the first time I turned on the Ninja Woodfire Outdoor Grill, it immediately left an impression on me, as well as the three other people who were standing around watching.
There are many reasons for this, that I will go over in detail below, but since I know some people are not going to want to read this entire review, and won't ever make it to the part where I say if I actually like it, I'll give the crib notes here:
Why I Like It
It imparts an amazing amount of woodfire flavor into the food with just 1/2 cup of pellets.
It's incredibly fast and efficient.
It cooks faster and with more smoker flavor than my full-size smoker – by far.
There's no guessing, especially with the built-in temperature probe available on the Pro version.
The food comes out with a perfect crispy or seared exterior that's both gorgeous and super tasty.
It's very portable and can be set up anywhere on a sturdy surface with a power outlet nearby.
Areas for Improvement
The cooking surface is pretty small. If using the grill and combo air fryer basket at the same time, there's very little space to cook.
The lid has no latch, so you have to carry it by the two handles; would be more portable with a latch.
The Ninja brand pellets are extremely expensive (not sure why that's necessary).
Guess what? We've brokered a deal for you, our lovely readers.
Use our coupon code on the Ninja Website to get a discount!
Use LOTG30 to get $30 off the PRO version of the grill
Use LOTG40 to get $40 off the base model of the grill
---
All The Details
Size and Dimensions
The grill is a total of 18.58″ width x 23.62″ depth x 13.31″ height. It weighs in at just 31 pounds. The actual cooking grill grate is 15 x 11 inches – a total grilling area of 141 square inches.
According to Ninja, you can fit 2 racks of ribs, 6 steaks, 3 pounds of wings, a 9-lb brisket, or up to 30 hot dogs on the grill. I haven't tried all of that yet, but I do know you can fit 2 racks of ribs, 15 pieces of chicken, and 10 lamb chops.
At first glance, the grill was a bit smaller than I initially expected. I thought they might make it large enough to fit something typical, like a rack of ribs, without having to cut them in half. But it's a bit too small for that. The form-factor is pretty compact, which is great for small spaces or for carting it around, if you want to take it camping or tailgating. If you're planning to do a big family cookout, it's too small for that.
It feels very stable and durable during use. It's not made with cheap plastic parts. It's got a high-end feel to it.
Power Supply
Ninja has ensured that the grill has an efficient power system that is designed for optimal performance. You plug it into a power outlet, so no need for gas or propane. The power cord is a bit short, so I have a hooked it up to a longer extension cord so I can use it wherever I want in the backyard.
The grill runs on a 120V – 60Hz electrical supply and consumes 1760 Watts. As long as the power outlet can provide 15 amps of 120-volt AC power, you can plug this baby in where ever you want, such as from your RV.
There is an electrical heating element under the grill plate and a circulating fan above the grill or the air fryer function. These two elements are what heat the grill and provide the intense and fast cooking.
Built-In Thermometer
One of the most useful features for me is the built-in thermometer. Having it built in makes it simple to monitor and maintain the right temperatures for various cooking methods. Since I don't want to disturb the cooking process, especially when using the woodfire flavor technology, I appreciate that I don't have to open the door to check the temp of the meat.
The Pro version is the only one that has the built-in thermometer. You don't need the build in function if you have a remote thermometer, like the Smoke X, which I love.
Key Features and Functions
Woodfire Flavor Technology
The Woodfire Flavor Technology is the core feature of the Ninja Woodfire Outdoor Grill, which gives an authentic woodfired taste to your food. This technology elevates the grill's performance and truly sets it apart. No other grill has this built-in smoking technology.
While most traditional smoker use pellets to produce heat and smoke for the grill, this one uses pellets only for flavor and aroma. the pellets themselves are not producing the heat.
Ninja recommends that you use only their pellets, but they are made by Bear Mountain, which makes other woodfire pellets, so you can can use those rather than buying the very expensive Ninja branded pellets. I'll speak more about the pellets below.
Air Fry and Air Crisp
One of my favorite features is the ability to air fry and air crisp food items, a healthier alternative to deep frying, and you can do it outside now! The Ninja Woodfire Outdoor Grill's air fryer utilizes circulating hot air to cook food, creating a crunchy exterior without excess oil.
All you need to use this function is the air fryer basket that comes with the machine. You just place the basket on top of the grill and put your food inside. This is THE way to make crispy chicken wings. I've cooked all kinds of things in there, from French fries, to brussels sprouts, to French bread. It all comes out looking really great.
I have a Ninja MaxXL air fryer inside the house and I use that thing multiple times per day, but if I'm already cooking outside, this air fryer basket is a great way to finish up a meal without traipsing through the house.
Variety of Cooking Functions
The Ninja Woodfire Outdoor Grill offers an impressive range of cooking functions, such as grilling, smoking, frying, baking, roasting, broiling, and dehydrating. I wasn't sure if I'd use most of these, but I've actually used most of them already. The only ones I haven't used are baking and roasting.
For grilling and smoking, the Woodfire Grill is just as good, if not better, than my full sized Weber Genesis grill and my ZGrills smoker. There are pros and cons of each, but I do tend to lean toward using the Woodfire Grill now when it's just my husband and me eating, because it's just so much more convenient.
Quick Start Guide
The included Quick Start Guide made it simple for me to set up and operate the grill. The guide provides easy-to-follow instructions to help you navigate through the various cooking functions and settings available on the control panel.
It can be a bit intimidating at first, because the quick start guide is actually pretty thick. It looks like you're going to need to do some serious reading to be able to run the thing, but once you dig into it, you find that it's loaded with step by step instructions with images, so it's actually very simple.
Display & Settings
You can easily adjust the temperature and time settings using the control panel on the grill face. There's a dial on the left where you choose what cooking method you're using. If you want to add smoke, you push the woodfire technology button. Then you set the temperature you're trying to reach and the time you want to cook for.
If you're using the built-in temperature probe, you don't need to set that information. Instead, you push the up/down buttons to select the food you're cooking, like chicken, and the machine will set the time and temp for you. This is great because there's no need to look up the safe internal temp of every food you're cooking.
The display and controls on the Ninja Woodfire Outdoor Grill are user-friendly and intuitive. If you've got another Ninja appliance, you'll notice that the controls, display, and even the beeping sounds are the same. That's somehow comforting to me.
Don't forget to use our coupon codes on the Ninja website: LOTG30 and LOTG40
Cooking Performance
Smoke Flavor
The Ninja Woodfire Outdoor Grill does an excellent job of infusing a rich smoke flavor into meats when using the smoker function. I was actually blown away the first time I used it, as were my guests. We set it up with the 1/2 cup of robust pellets. I placed 8 lamb chops on the grill and put it on the smoke setting.
From experience on my other smoker, I expected it to take about 40 minutes to smoke the lamb chops. We all sat down with a glass of wine around the fire pit. Exactly 8 minutes later, they were done.
The smoke flavor on those lamb chops were a revelation. None of us could believe it. In just 8 minutes, they soaked up more smoker flavor than any food I cooked on my traditional smoker, even after 10 hours of low and slow. They were AMAZING.
Brisket
One of those foods we know you have to cook low and slow on a smoker for it to turn out well is brisket. We make it often on our Z Grills smoker.
Not only does it need to turn out fall-apart tender, it also needs to develop that bark on the outside – the crispy flavorful crust that forms when it's cooked low and slow on the smoker. I wasn't sure the Woodfire Grill would be able to do it.
But it did. This is a true testament to its abilities. It usually takes about 13 hours to smoke a brisket, but it took half the time in the Woodfire Outdoor Grill. The smoke flavor was tremendous, even though I only refilled the smoke box once. So I used a total of 1 cup of pellets to smoke a brisket for about 6 hours that came out really really good. I will definitely be doing that again.
Smoked Ribs
After the lamb chops turned out so good, I wanted to do a test with smoked ribs. The one drawback here is that you have to cut the rack in half to fit on the grill. However, they cook WAY faster in the Woodfire than on the traditional smoker, but a far margin. It took about 30 minutes to smoke the ribs and they turned out so good.
They got up to the required 190 degrees F internal temperature in a fraction of the time they would need to reach that in the traditional smoker. You'd think that would result in less smoky flavor, but it didn't. Again, the smoke flavor had really penetrated the meat and was way more detectable than in the traditional smoker. I don't see myself using the regular smoker for ribs anymore. The Woodfire wins in this category!
Grilling Steaks and Burgers
When it comes to grilling steaks and burgers, the Ninja Woodfire Grill delivers satisfying sear marks, creating a beautiful crust on the outside while keeping the inside tender and juicy.
The grill grate heats up evenly, which is essential for even cooking and avoiding hotspots. I've cooked burger, steaks, pork chops all with the smoke infusion. All have turned out great. And they don't stick to the grate at all.
Chicken Wings
The Ninja Woodfire Grill also excels at air frying. I almost always cook chicken wings inside in my Ninja XL, but I wanted to give them a try on the grill and in the air fryer basket.
The convection heat settings help with even browning and cooking, resulting in juicy, flavorful, and perfectly cooked wings. I found that it didn't matter if they were in the crisper basket or not. They turned out really great both ways.
I cooked the wings from frozen to see how long they'd take. It was 13 minutes from start to finish. They went from 32 degrees F to 165 degrees F in just 13 minutes. And the exterior was so crispy and golden brown. They truly looked incredible.
Smoked Tri Tip
I have to say that I was incredibly impressed with the smoked tri tip that we made on the Ninja Woodfire Outdoor Grill. I don't think I've ever seen such a beautiful bark on a tri tip after smoking. And it only took about 38 minutes to reach an internal temp of 125 degrees F. We rested it and it landed right at 135 degrees F in 10 minutes. It was just about as near perfection as you can get.
Things It Can Do That I Haven't Tried
Baking Pizza and Breads
While not a traditional use for an outdoor grill, the Ninja Woodfire Grill can also bake pizza and bread. I haven't experimented with baking homemade pizza or bread yet, but it's something you can do on this grill if you want.
Broiling Salmon and Fish
The broil function on the Ninja Woodfire Grill adds another level of versatility. If you particularly enjoy salmon and other fish, you might want to try the broil function, as the high heat provides a delicious and crispy crust while keeping the inside moist and tender.
Dehydrating Beef Jerky
One of the more unique features of the Ninja Woodfire Grill is its ability to dehydrate foods. Again, I haven't tried dehydrating beef jerky, but I've heard that it turns out flavorful, with a pleasing chewy texture. It's something I look forward to experimenting with in the future.
Design and Build Quality
In this section, we'll discuss the design and build quality of the Ninja Woodfire Outdoor Grill. We'll cover some key features like the nonstick grill grate and griddle, collapsible grill stand, combo crisper basket, handles, and weather-resistant materials.
Grilling Grates & Accessories
The Ninja Woodfire Outdoor Grill comes with a nonstick grill grate and a crisper basket. These are really all you need for cooking a variety of foods.
The nonstick surface makes it easy to cook without worrying about food sticking to the grill. It's easy to clean and PTFE and PFOA free. The crisper basket can be used for air fryer and dehydrating.
There are a few other optional accessories you can add that will help with cooking various things, but these are not included:
Combo Crisper Basket
The combo crisper basket is smaller than the full-sized one, so it can fit on the grill alongside your other food. This enables you to grill your meat and air fryer your veggies at the same time. It does cut the grill space in half, too, but that might be worth it for you if you're only cooking for 2 people. I really appreciate the ability to do both the main and side at the same time.
Griddle
If you want to cook things without grill marks, like make pancakes or smash burgers, you can use the flat griddle insert.
Collapsible Grill Stand
Keep in mind that it doesn't come with a stand and needs to be placed on a sturdy surface like a table or grill stand. I have placed mine on my outdoor dining table, but I can see the benefit of having the stand that you can buy separately.
The collapsible grill stand is a great addition to the overall design. When collapsed, it's easy to store, so if you don't want to leave the grill up all the time, you can pack it away. When fully assembled, it provides a stable platform for the grill and ensures that it was at an optimal height for comfortable grilling and cooking.
Cover
There's a premium cover that's made with anti-fade, water resistant fabric, and has an elastic drawstring to keep the cover tight and in place. You'll want to double check what comes in your package, because sometimes extra things like the cover are included for free with the grill. Mine did not include a cover.
Handles
Another aspect of the grill's design that I appreciated is the inclusion of sturdy carry handles. These make it simple to transport the grill from one location to another, whether it was just moving it around the yard or taking it to a friend's house for a cookout. I also store my grill inside, so I carry it in after each use. It's very easy to carry.
One thing I'd like to see is a lock or latch on the door, so I could possibly carry it on its side from one handle. You can't do that right now because the lid will flop open.
Weather-Resistant Materials
The materials used in the construction of the Ninja Woodfire Outdoor Grill are weather-resistant, ensuring that it can withstand being outdoors in various conditions. This is essential for a grill, as it means that the grill will look good and function well even after being exposed to the elements over time. I live on the beach and I don't feel like the grill will rust or erode quickly, even with the corrosive beach elements.
Don't forget to use our coupon codes on the Ninja website: LOTG30 and LOTG40
Smoke & Pellet Options
One of the best features of the Ninja Woodfire Outdoor Grill is the smoke function. The grill is electric, so no propane or charcoal hassles, but thanks to the little grill box on the side, you can add smoke flavor to your cooking in a very efficient way.
All you have to do is add 1/2 a cup of pellets to get a pretty incredible authentic smoke flavor. I've smoked all kinds of things on my full-sized pellet grill, which uses way more pellets than that, and I get considerable more smoke flavor from the Ninja.
When it comes to choosing pellets, Ninja recommends using their pellets, which are available in only two flavors: Robust and All-Purpose Blend. These are sold in a 2-lb bag, which provides up to 20 cooking sessions for $15.99.
To me, that's a bit expensive. Okay, a lot expensive. There's a wide range of hardwood options on the market and you can buy them in larger bags that are less expensive. My favorite is the Bear Mountain Gourmet Blend. You can get a 20-pound bag for $12.
Try one of these, if you want to experiment:
Hickory – Well-suited for pork and ribs
Cherry – Adds a sweet, mild flavor to poultry and pork
Apple – Works well for chicken, turkey, and other poultry
Mesquite – Provides a strong, earthy flavor for red meat and vegetables
Maple – Enhances flavor in pork, chicken, and vegetables with a mild sweetness
Note that when using pellets, you must ensure they are food-grade hardwood pellets specifically designed for grilling and smoking. Using inappropriate pellets may result in damage to the grill or compromise the safety and taste of your food.
Ease of Use and Cleaning
As someone who has used various types of grills in the past, I found the Ninja Woodfire Outdoor Grill to be relatively easy to use. The assembly process was straightforward, and I was able to get started grilling in under 10 minutes.
Assembly
The assembly process was quite straightforward and took very little time. The grill comes mostly pre-assembled, with only a couple of components requiring attention.
First, I needed to attach the two plastic side handles to the grill. The included hex key made this a simple task, and I appreciated the addition of these handles, as they provided a secure grip for moving the grill around.
After setting up the handles, I inserted the grill grate, crisper basket, smoke box, and grease tray in their respective slots. I also made sure I had the included plastic pellet scoop handy for when it was time to add pellets to the grill.
Grease Tray
The Ninja Woodfire Outdoor Grill features a grease tray that slides onto the back of the grill. This tray efficiently collects grease and oil during the cooking process, making it easier to clean up after using the grill.
The design of the grease tray adds to the convenience of using this grill, as it minimizes any mess that may result from grilling and makes maintenance a breeze. It's even easier if you line the tray with tinfoil. Then you just have to toss the foil.
Portability and Suitability
In this section, I'll discuss the portability and suitability of the Ninja Woodfire Outdoor Grill for various settings, such as patios and apartments, as well as for outdoor explorers.
Patio or Apartment Use
The compact size of the Ninja Woodfire Outdoor Grill makes it ideal for patio and apartment dwellers, as long as you have a suitable outdoor space. The grill cannot be used indoors and shouldn't be used under an overhang with a smoke detector or sprinklers.
It has a 4′ long, 20A weatherproof cord, which means you can conveniently use it outdoors. The grill requires an outlet with a 15A circuit breaker, so it's compatible with most standard household outlets.
This grill's compact design makes it a great option for small spaces. It doesn't require much room for storage, and its portability allows you to move it around your patio or balcony with ease.
Outdoor Explorers
As for the outdoor explorers, the lightweight and portable nature of the grill makes it a convenient choice for those who love to camp or tailgate. I do wish it could be carried on its side, but there's no clamp for the door. Perhaps you could wrap a bungy cord around it to hold it shut.
The availability of portable power supplies and generators might make it possible to use the Ninja Woodfire Outdoor Grill in various outdoor settings.
Warranty and Support
When investing in a high-quality outdoor grill like the Ninja Woodfire, it's essential to consider the warranty and support options. The Ninja Woodfire Outdoor Grill comes with a limited one-year warranty, which provides peace of mind in case of any manufacturing defects or issues.
In addition, the Ninja customer support team is readily available to assist with any troubleshooting or questions related to the grill's performance and maintenance. I've always found their customer support to be top-notch. And their appliances have really good longevity, so it's a pretty sound investment.
Final Verdict
In my experience with the Ninja Woodfire Outdoor Grill, I've found it to be a versatile and well-built outdoor cooking solution. The grill's ability to manage a wide range of cooking styles has been impressive, from simple grilling to wood-fired smoking and everything in between.
One aspect that caught my attention was the build quality. The grill's solid construction and durable materials give me confidence that it can withstand regular use in various outdoor scenarios, such as camping trips, tailgating parties, or backyard barbecues.
The built-in thermometer and other features included in the Pro version provide added convenience and user-friendly control. It does cost more, but I think I would be disappointed not having those extra features.
As for versatility, the grill's adaptability and cooking surface options, like grates or flat surfaces, makes it really useful. I've already used it in many different ways, which is saying a lot about its ease of use, because I don't tend to use every available function on an appliance.
Now, I was given the Ninja Woodfire Grill to test, but if it were taken away, I would probably fairly quickly buy one for myself. After having used it and enjoyed the outcome of many meals, I would be sad not having it around.
Don't forget to use our coupon codes: LOTG30 and LOTG40
To make sure you're hitting the right internal temperature without having to lift the lid a bunch of times to test the meat, I suggest using a Smoke X remote thermometer that you can keep by your side so you always know where the meat stands.
Like this post? Share it on your Pinterest board!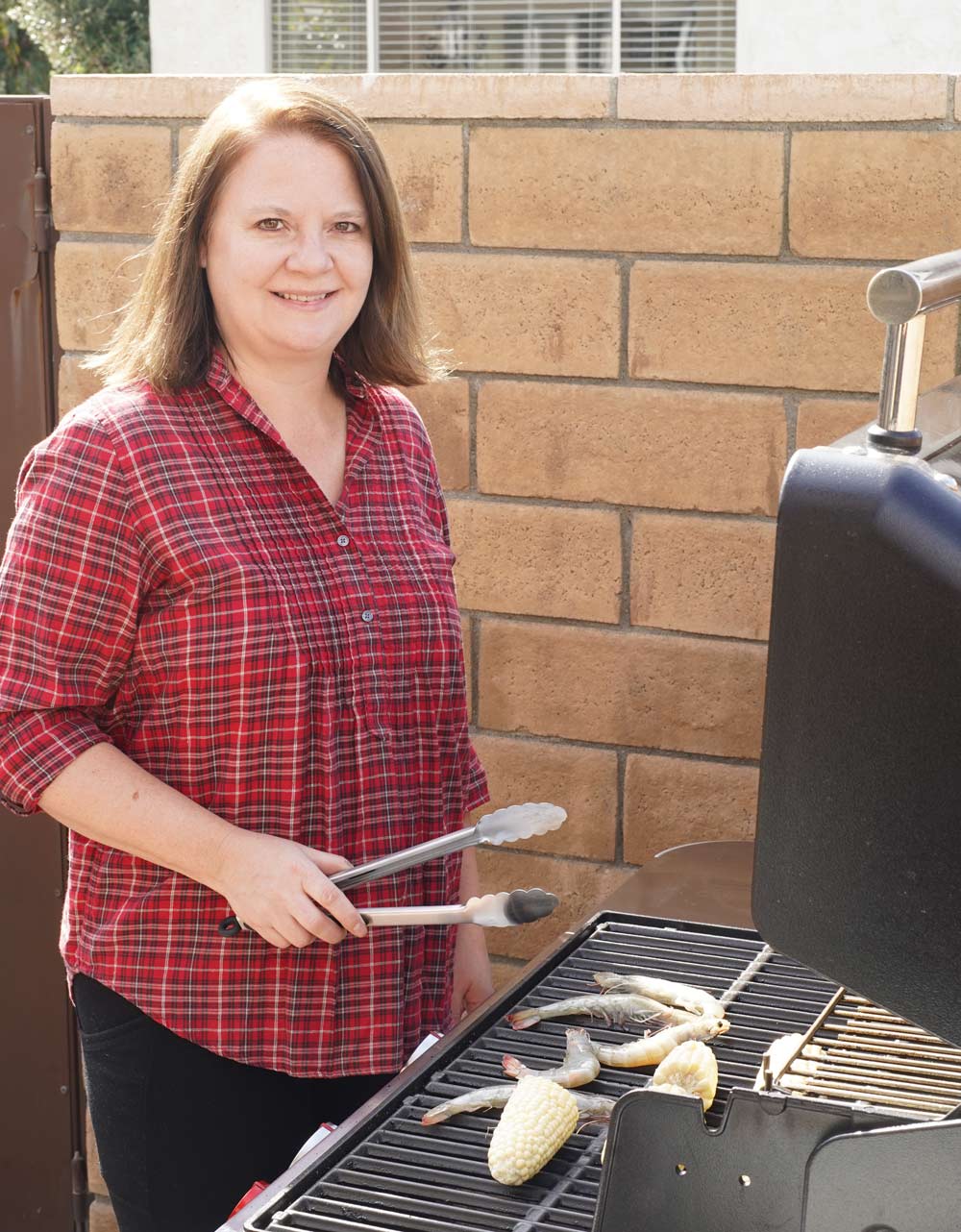 Laura is a passionate home cook and grill enthusiast who has spent years perfecting her culinary skills, with a particular focus on grilling techniques and flavor combinations. Her fascination with the grill, smoke, and the mouthwatering results they produce has led her on an exciting journey to discover the best methods for grilling delicious and unforgettable meals.