One of the secrets to achieving a perfectly seasoned and flavorful piece of chicken lies in the magic of a good dry rub for chicken. Mix it up and use it for all your chicken dishes!
» You might also like How to Brine a Chicken for Smoking and Smoked Beer Can Chicken.
If you haven't found a good dry rub to use for your chicken, this is your lucky day. I have been perfecting this rub for years. I based it on the secret blend of spices in the KFC chicken rub, and I've landed on a pretty awesome rub that gives amazing flavor to chicken.
Since I'm always cooking chicken – both on the grill and in the smoker – I use a lot of this rub. I even use it to bake a whole chicken in the air fryer. So I like to mix it in a large batch so I can put it in my seasoning shaker and use it whenever needed.
This recipe makes about 1 cup of rub. That's enough to season 2 whole chickens, or about 16 – 24 pieces of chicken. You can store any leftovers in a seasoning bottle where it will stay free of dirty hands in the kitchen.
What is Dry Rub?
A dry rub is a seasoning mix that consists of a blend of dried herbs, spices, salt, and sometimes sugar. This combination is specifically designed to enhance the flavor of the meat it is applied to. Dry rubs are rubbed into the surface of the meat, creating a flavorful crust when grilled or cooked.
Where to Get Seasonings in Bulk
Since you're making a large batch of this dry rub (and maybe some of our other dry rubs too), you might want to buy your seasonings in bulk to save money. Buying a small container of seasonings is not the way to go here, because they are too expensive.
I by my bulk seasonings at stores like Win Co, Sprouts, and Whole Foods. Maybe you have a seasoning store near you. Or you can buy them online at places like Penzeys Spices.
Ingredients You Need
Paprika – you can use sweet or smoked paprika depending on your preference. It makes up the bulk of the dry rub and adds a beautiful reddish-brown color to the meat.
Granulated garlic – Pairs incredibly well with chicken and adds a ton of savory flavors.
Celery salt – Celery adds a lot of depth of flavor that you can't get from other seasonings.
Onion granules – A delicious savory flavor addition.
Dried mustard powder – Adds a distinctly tangy flavor.
Ground black pepper – I like to use freshly ground black peppercorns, but you can use a blend of peppercorns for more nuanced flavors, if preferred.
Ground ginger – Lends warm and spicy notes – both savory and sweet – to the rub.
Dried oregano – You can also use Italian seasoning or dried parsley.
Dried thyme – Adds a delicious savory herbaceous flavor that pairs great with chicken.
Dried basil – I love dried basil in anything, so I always have it on hand.
Kosher salt – Must-add additions and can be increased or decreased to your liking.
Cayenne pepper – this is optional, if you like to add a bit of heat to your rub.
How to Make Chicken Dry Rub
Mix together all of the spices in a bowl. Use it to season your chicken. Store the remaining rub in an airtight container until you're ready to use it. This recipe makes enough to season 2 whole chickens.
Keeping the rest of the seasoning in a jar or container will ensure that you don't touch the rub accidentally with dirty hands in the kitchen. If you touch the rub with your hands while seasoning the chicken, it can easily get contaminated.
What Cuts of Chicken to Use It On
Dry rubs can be used on any cut of chicken, from whole birds to individual pieces such as:
Whole chicken: Using a dry rub on a whole chicken will infuse the entire bird with flavor. Be sure to apply the rub both on the outside and under the skin for best results.
Breasts: Chicken breasts can be prone to drying out, so a dry rub can help seal in moisture and add flavor.
Thighs and legs: Dark meat is already juicy and flavorful, but a dry rub can take it to the next level. Try it on these grilled drumsticks.
Wings: Dry rubs are great for adding flavor to wings without the mess of sauces.
How to Use Chicken Dry Rub
Using dry rub on chicken is incredibly simple:
Pat your chicken dry with paper towels to remove any excess moisture.
Apply the dry rub evenly, generously coating the entire surface of the chicken. For best results, use your hands to work the rub into the meat, ensuring it sticks well.
Allow the chicken to rest with the rub for at least 30 minutes, or even overnight, in the refrigerator. This step helps the flavors penetrate the meat and enhances the overall taste.
Cooking Temperature for Chicken
To ensure that chicken is cooked safely and properly, it should reach an internal temperature of 165°F (74°C). Using a food thermometer, insert it into the thickest part of the meat without touching the bone to accurately measure the internal temperature.
Chicken breasts, being leaner and containing less fat, cook relatively quickly and can become dry if overcooked, so you'd want to remove it from the grill when it reaches 160°F, then rest it so it reaches165°F.
On the other hand, chicken thighs have a higher fat content, which means they can be cooked longer without drying out and are often more forgiving in terms of cooking time.
To ensure meat at the bone is no longer pink, you'd want to cook bone-in pieces, like thighs and wings, to 165°F and let it rest to come up to 170°F.
How to Store Dry Rub
Store your dry rub in an airtight container in a cool, dark place, such as a cupboard or pantry. This will help maintain its freshness and potency.
Properly stored, most dry rubs will last for up to a year. Make sure to check the expiration date on any store-bought rubs, or keep track of when you made your own rub for best results.
Frequently Asked Questions (FAQs)
Can I use a dry rub and a brine together?
Yes, you can! While it's not necessary, using both a brine and a dry rub can add even more flavor to your chicken. Brine the chicken first, and then apply the dry rub just before grilling.
What are some popular dry rub ingredients for chicken?
Some popular dry rub ingredients for chicken include paprika, garlic powder, onion powder, brown sugar, salt, pepper, cumin, and chili powder. Feel free to mix and match these ingredients or experiment with your own combinations!
How long should I leave the dry rub on the chicken before grilling?
Ideally, you should let the chicken rest with the dry rub for at least 30 minutes. However, if you can plan ahead, letting it sit for several hours or overnight in the refrigerator will allow the flavors to develop even more.
Like this recipe? We'd love for you to share it on your Pinterest board! Click to follow our Pinterest boards so you can find all our recipes! 
Instagram it! If you try this recipe please tag #legendsofthegrill on Instagram or Twitter. We love to see your photos of our recipes! Also follow us on Facebook to keep up on what we're cooking up.
The Best Dry Rub For Chicken
In the world of grilling, nothing quite compares to a perfectly seasoned and cooked piece of chicken. One of the secrets to achieving this flavor explosion lies in the magic of a good Dry Rub for Chicken.
Print
Pin
Rate
Ingredients
1/4

cup

(

37.25

g

)

Spanish paprika

1

tablespoon

(

8

g

)

all-purpose flour

2

tablespoons

(

16

g

)

granulated garlic

1

tablespoon

(

18

g

)

celery salt

1

tablespoon

(

7

g

)

onion granules

1

tablespoon

(

7

g

)

dried mustard powder

1

tablespoon

(

6

g

)

ground black pepper

1

tablespoon

(

5

g

)

ground ginger

1 1/2

teaspoons

(

3

g

)

dried oregano

1 1/2

teaspoons

(

2

g

)

dried thyme

1 1/2

teaspoons

(

0.15

g

)

basil

2

teaspoons

(

12

g

)

salt

1

teaspoon

(

2

g

)

cayenne pepper

optional
Instructions
Mix together all of the spices in a bowl. Store the rub in an airtight container until ready to use. Makes enough to season 2 whole chickens.
Nutrition
Calories:
270
kcal
|
Carbohydrates:
52
g
|
Protein:
12
g
|
Fat:
7
g
|
Saturated Fat:
1
g
|
Polyunsaturated Fat:
3
g
|
Monounsaturated Fat:
2
g
|
Sodium:
11667
mg
|
Potassium:
1213
mg
|
Fiber:
18
g
|
Sugar:
5
g
|
Vitamin A:
14286
IU
|
Vitamin C:
5
mg
|
Calcium:
273
mg
|
Iron:
14
mg
🥧 If you're interested in more great recipes, I share all my favorite recipes at A Food Lover's Kitchen, Instant Pot recipes over at A Pressure Cooker Kitchen, air fryer recipes at Air Fry Anytime, and cocktails and drinks at Savored Sips. Check it out today!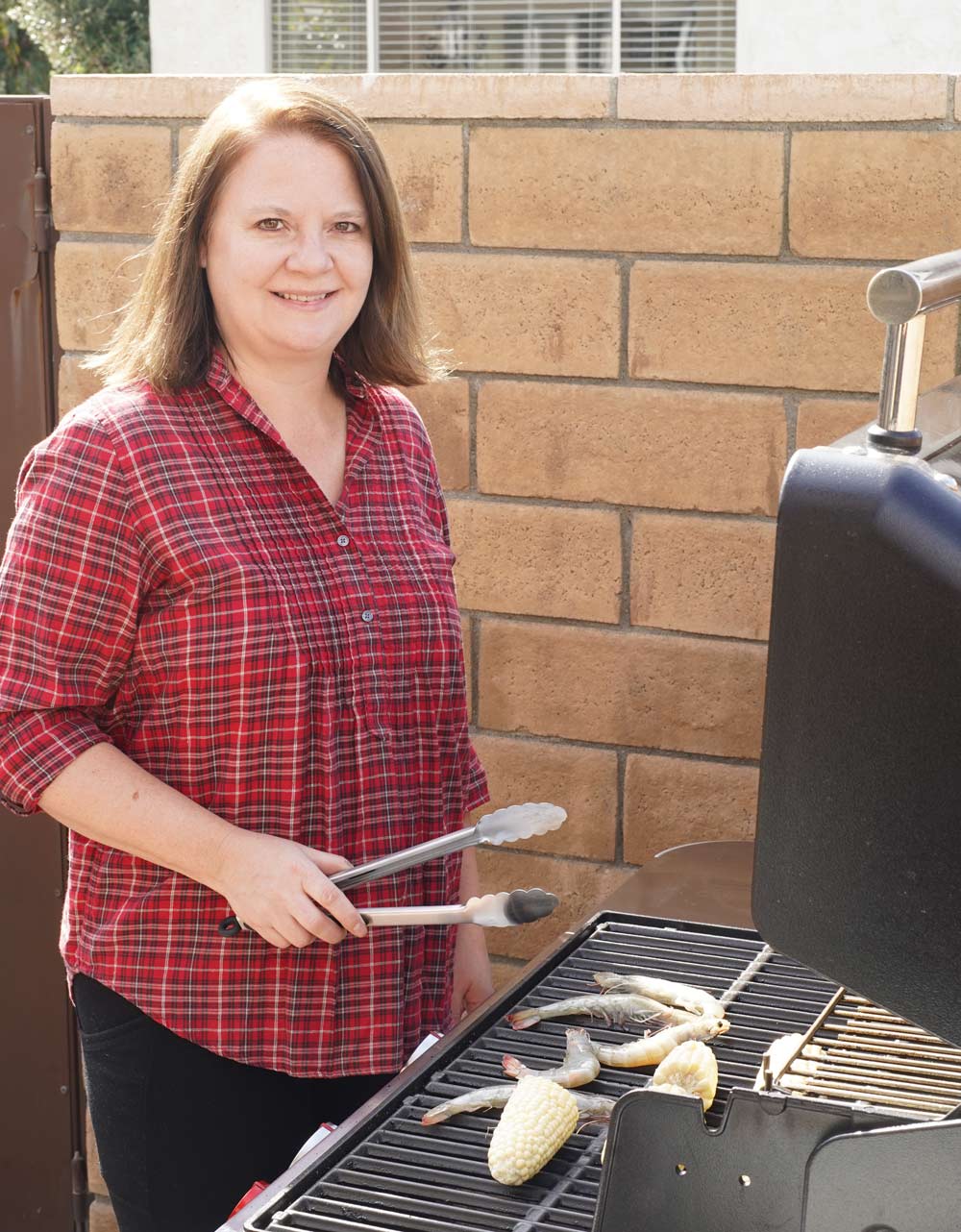 Laura is a passionate home cook and grill enthusiast who has spent years perfecting her culinary skills, with a particular focus on grilling techniques and flavor combinations. Her fascination with the grill, smoke, and the mouthwatering results they produce has led her on an exciting journey to discover the best methods for grilling delicious and unforgettable meals.