Grilled Bourbon Pineapple combines the sweetness of fresh pineapple with the smoky flavors of bourbon to create a delicious grilled side dish for your meal.
» This pineapple is a perfect pairing for Grilled Shrimp on a Skewer. Or try these Smoked Sweet Potatoes.
Grilled Bourbon Pineapple is a unique side dish that will add a burst of flavor to your next barbeque gathering. It is a versatile side dish that can be served with a wide range of main courses. It pairs well with grilled meats like chicken, steak, or pork, as well as seafood dishes like shrimp or fish.
Whenever we grill pineapple, it's gone almost before it gets set on the table. It's so sweet and flavorful that everyone loves it. Grilling the pineapple caramelizes the natural sugars in the fruit, creating a sweet and caramelized exterior while the inside remains juicy and tender. It's a great way to add a unique and delightful twist to your side dish game.
Why Bourbon Grilled Pineapple is Great For the Grill
Grilling pineapple is a relatively quick and easy process that requires minimal preparation and cleanup. The hardest part is cutting the skin off the pineapple, but we have a few tips for making that a bit easier down below.
Unlike other side dishes that may require boiling or baking, grilling pineapple can be done in a matter of minutes, making it a great option for your next outside gathering.
When the pineapple hits the grill, the heat instantly starts to caramelize the sugars in the fruit, giving it a really nice rich flavor that is only enhanced by the smokiness of the grill.
Ingredients Needed
Pineapple – Look for one that is heavy for its size, has a slightly yellowed bottom that smells sweet, and gives just a little when you squeeze it.
Bourbon – You can use whatever Bourbon you have on hand. It doesn't need to be a high-end one. I use Bulleit because that's what we drink.
Agave Syrup or Honey – It is up to you which one you use. I like agave better because it adds less flavor.
Chili Powder – You can use mild to hot chili powder, depending on how much heat you want to add.
What Temperature Should Pineapple Be Grilled At?
The ideal temperature to grill pineapple is between 375° and 400° F. This heat will allow the pineapple to get grill marks, but won't be so hot that it falls apart while cooking, or worse, burns.
Try to monitor the heat of the grill so you keep it under 400° F, and do your grilling mostly with the lid open, so you can keep an eye on flare-ups that might cause the pineapple to burn.
Remember that it has a lot of sugar content, which will burn much more quickly than your other food on the grill.
How to Peel a Pineapple
Peeling a pineapple may seem intimidating, but with the right technique, it's quite simple. Just remember to always use a sharp knife to prevent accidents, and go slowly so you don't chop off a finger. Here's a step-by-step guide on how to peel a pineapple:
You'll need a sharp chef's knife, a cutting board, and a small paring knife or a pineapple corer (optional).
Lay the pineapple on its side on the cutting board. Slice off about half an inch from the top (where the leaves are) and bottom of the pineapple. Stand the pineapple upright.
With the pineapple standing on its flat bottom, use the chef's knife to slice the skin off from top to bottom, following the natural curve of the pineapple. Work your way around the pineapple until you've removed all the skin. Be careful not to cut too deeply, as you don't want to waste the fruit.
The pineapple will still have some small, brown, spiky "eyes" embedded in the flesh. Using the tip of the paring knife or a pineapple corer, remove these eyes by cutting a shallow, angled groove around them in a diagonal pattern.
Once the eyes are removed, slice the pineapple in half and then in quarters. Now you an easily remove the tough core from each slice. Generally, quarters are too thick for the grill, so I would then cut each in half again. This will give you 8 slices of pineapple.
How to Grill Bourbon Pineapple
Mix together the bourbon, agave, and chili powder in either a large flat-bottom bowl or a large ziplock bag. Set the slices in the marinade and soak them for at least 5 minutes, up to 15 minutes.
Heat the grill to between 375° and 400° F. It will take about 10 minutes to reach this temperature and ensure that the grates are hot enough to sear the fruit once it's in place.
Grill the slices for 5 minutes per side, until a light char forms. Serve hot. You can pour some of the marinade over the top, if desired.
Helpful Tips for Bourbon Grilled Pineapple
Choose ripe and juicy pineapples for the best results. You can tell a pineapple is ripe when it gives slightly when pressed and has a sweet aroma.
Don't overcook the pineapple slices, or they may become too soft and lose their shape.
Serve the grilled pineapple warm or at room temperature as a side dish or as a topping for ice cream, yogurt, or cake.
If you don't have bourbon on hand, you can substitute it with other spirits like rum or whiskey, or just leave it out. Pineapple is great grilled, all on its own with no marinade.
Cut the pineapple slices evenly to ensure they cook evenly and are ready at the same time.
How to Store Leftovers
If you have any leftover bourbon grilled pineapple, you can store it in an airtight container in the refrigerator for up to 3-4 days. Before storing, make sure the pineapple has cooled down to room temperature. If you've used wooden skewers, remove them before storing the pineapple in the container.
You can also freeze leftover grilled pineapple. Again, make sure it's cooled down completely before putting it in an airtight container or freezer bag. Freeze for up to 2 months.
How to Reheat Grilled Pineapple
To reheat the pineapple, you can microwave it for a few seconds or reheat it on the grill or in the oven. However, keep in mind that reheated pineapple may not have the same texture and flavor as freshly grilled pineapple.
What to Serve It With
This side dish goes great with all kinds of grilling favorites. Here are a few of our go-to main dishes to serve with this:
Like this recipe? We'd love for you to share it on your Pinterest board! Click to follow our Pinterest boards so you can find all our recipes! 
Instagram it! If you try this recipe please tag #legendsofthegrill on Instagram or Twitter. We love to see your photos of our recipes! Also follow us on Facebook to keep up on what we're cooking up.
Grilled Bourbon Pineapple
Grilled Bourbon Pineapple combines the sweetness of fresh pineapple with the smoky flavors of bourbon to create a delicious grilled side dish for your meal.
Print
Pin
Rate
Ingredients
1

pineapple

2

tablespoons

bourbon

1

tablespoon

agave syrup or honey

1/2

teaspoon

chili powder
Instructions
Heat the grill to 400° F.

Peel the pineapple, remove the core, and cut it into slices.

Mix together the bourbon, agave, and chili powder. Soak the slices in the mixture for 5 minutes.

Grill the slices for 5 minutes per side, until a light char forms. Serve hot.
Nutrition
Calories:
98
kcal
|
Carbohydrates:
23
g
|
Protein:
1
g
|
Fat:
0.2
g
|
Saturated Fat:
0.02
g
|
Polyunsaturated Fat:
0.1
g
|
Monounsaturated Fat:
0.02
g
|
Sodium:
4
mg
|
Potassium:
168
mg
|
Fiber:
2
g
|
Sugar:
17
g
|
Vitamin A:
137
IU
|
Vitamin C:
73
mg
|
Calcium:
20
mg
|
Iron:
0.5
mg
🥧 If you're interested in more great recipes, I share all my favorite recipes at A Food Lover's Kitchen, Instant Pot recipes over at A Pressure Cooker Kitchen, air fryer recipes at Air Fry Anytime, and cocktails and drinks at Savored Sips. Check it out today!
Like it? Pin it!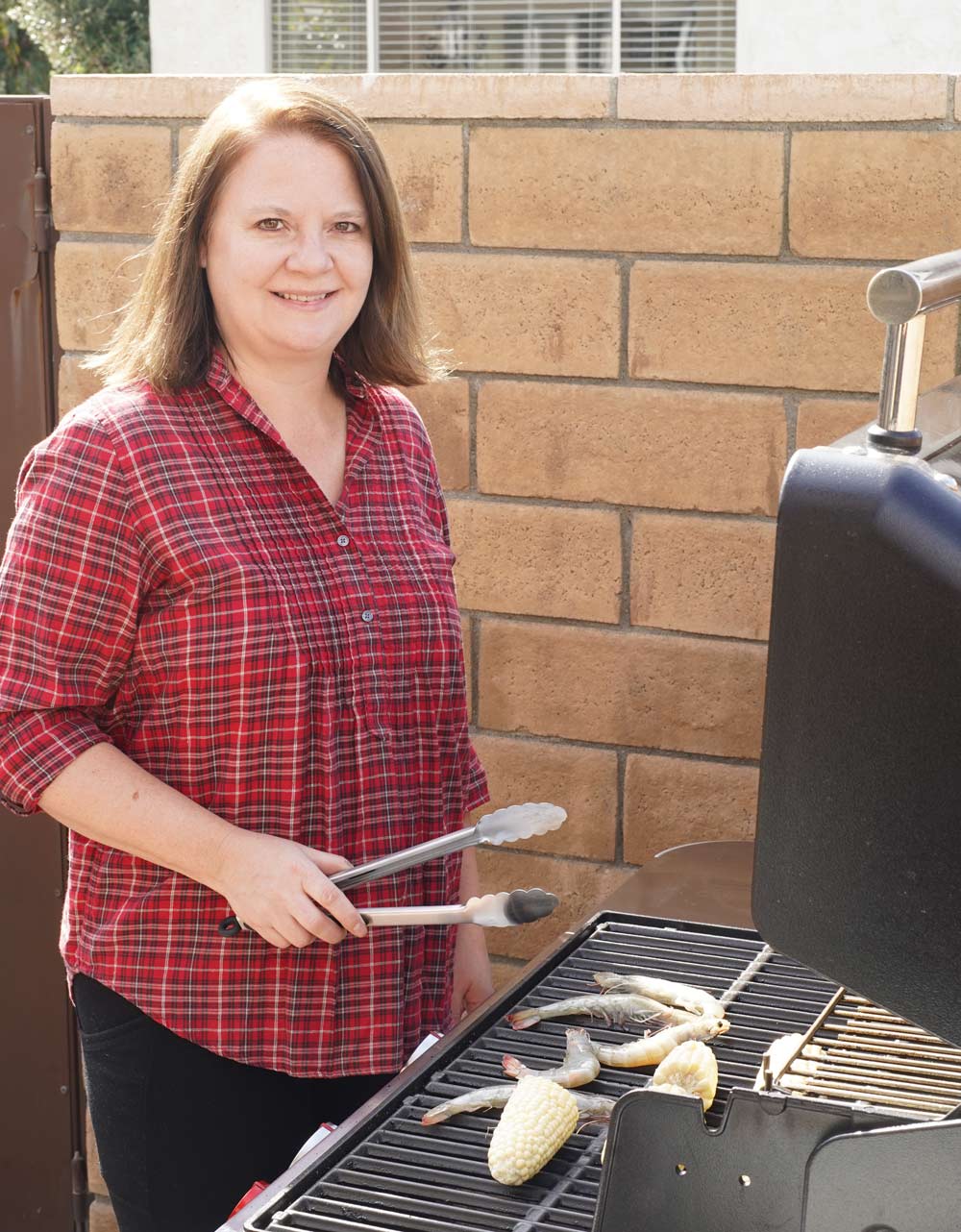 Laura is a passionate home cook and grill enthusiast who has spent years perfecting her culinary skills, with a particular focus on grilling techniques and flavor combinations. Her fascination with the grill, smoke, and the mouthwatering results they produce has led her on an exciting journey to discover the best methods for grilling delicious and unforgettable meals.