This post was originally published on A Food Lover's Kitchen.
These delicious Grilled Honey Sriracha Chicken Wings are cooked to perfection, then coated in sweet and spicy sauce that will have you licking your fingers.
Also try these delicious Cajun dry rub chicken wings and Dry Rubs, Sauces, & Marinades.
🥳🍗New customers to ButcherBox can save $100 on their first 5 boxes ($20 off for 5 months) from 5/26 to 5/30. Hurry! Offer ends 5/30 SIGN UP HERE
If you're a fan of chicken wings, you absolutely must try them with this honey sriracha sauce. Don't shy away if you're not into super spicy sauces. The honey does a great job of neutralizing the spiciness and turning this sauce into something you'll want to put on everything.
I'm a serious chicken wing fan, so I'm always creating new flavors and trying new ways to dress up chicken wings. One of the first sauces we fell in love with was this Honey Sriracha sauce.
Sriracha is super spicy and a lot of people shy away from it because of that, but if you can get past the hotness, you'll see that sriracha also has a ton of nuanced flavor. You just need something to tame it down, so you can taste that.
Honey does the job. The sweetness of the honey really cuts the heat and adds a really irresistible sweet note to the flavors in the hot sauce. It's a pretty amazing pairing, if you ask me.
The outcome is amazing. You're going to love these wings.
For a party, we like to serve these along with Cajun Chicken Wings to give two different flavors for guests to enjoy.
How to Cook Chicken Wings
There are a lot of ways you can cook chicken wings, but baking leads to a tender and crispy wing, with a lot less fat than deep frying, and it's an easy way to make them with much mess. It takes about 30 minutes in the oven on 400° F, turning once.
Another great way to cook chicken wings is in the air fryer. If you have one, you're going to love how quick these are to make. Just pop them in the air fryer for 20 minutes on 400° F. Give the basket a shake halfway through cooking.
While the wings are cooking, put together the Honey Sriracha sauce. It requires just 5 ingredients that you might already have on hand, and it comes together in just a few minutes.
Honey
Sriracha
Lemon Juice
Butter
Soy Sauce
Mix up the sauce in a pan over medium-high heat until bubbly, then turn it down and whisk occasionally as it thickens, about 5 minutes. Turn off the heat and set it aside until the wings are ready.
After the 30 minute bake time, remove the wings and baste them with the sauce. Be generous and coat the top side of the chicken wings.
Switch the oven to broil, with the top rack lowered to the 2nd row. This will help keep the splatter and flare ups to a minimum. You'll want to keep a close eye on the wings as they broil. They only need about 3 minutes per side.
Once one side begins to crackle and pop, remove the tray and slather the sauce on the other side of the wings. Broil for 3 minutes.
If you want to add more sauce to the wings, you can toss them in a bowl with any remaining sauce.
» Reading in one second or less
» Accuracy of ± 0.5°
» 5-year warranty
» Auto-rotate display; motion-sensing
» Insanely long battery life (2000 hrs)
Cooking Temperature for Chicken
To ensure that chicken is cooked safely and properly, it should reach an internal temperature of 165°F (74°C). Using a food thermometer, insert it into the thickest part of the meat without touching the bone to accurately measure the internal temperature.
Chicken breasts, being leaner and containing less fat, cook relatively quickly and can become dry if overcooked, so you'd want to remove it from the grill when it reaches 160°F, then rest it so it reaches165°F.
On the other hand, chicken thighs have a higher fat content, which means they can be cooked longer without drying out and are often more forgiving in terms of cooking time.
To ensure meat at the bone is no longer pink, you'd want to cook bone-in pieces, like thighs and wings, to 165°F and let it rest to come up to 170°F.
Our Top Grill Recommendation
I chose this grill based on quality, performance, and features. It's pretty much got it all (large cooking area, plenty of BTU, high-quality cooking grates, and it's priced well. If you're feeling fancy, you can upgrade it to add more burners, smart grilling technology and grill lighting.
How to Reheat Chicken Wings
There are quite a few ways to go about reheating chicken wings if you happen to find yourself with some leftovers, but one method really stands out from the rest. We really believe that the best way to reheat chicken wings is with the air fryer.
Preheat the air fryer to 365°F (185°C) for about 5 minutes.
Brush or spray the air fryer basket with oil.
Place the chicken wings in a single layer in the air fryer basket, making sure not to overcrowd them.
Cook for about 8-10 minutes, flipping the wings halfway through.
Overall, reheating chicken wings in an air fryer is a great option for those who want to enjoy hot and crispy wings fast. It provides consistent results, ensuring that the wings are heated evenly and thoroughly.
That said, it won't matter if you use an air fryer, a toaster oven, a full oven, or a convection oven to reheat your wings. They will turn out the best when done this way because it allows for even and thorough heating, which helps retain the juicy and tender texture while ensuring they are fully heated.
What to Serve With Chicken Wings
For sides, serve these wings with a Bacon & Jalapeno Corn Salad, or our favorite Classic Wedge Salad.
Since wings are total comfort food for me, I go right to 5-Cheese Mac & Cheese as a side. They also go well with Baked Beans.
These grilled wings are great for parties, picnics, or even backyard barbecues. They turn out perfect every time, and the sauce makes them irresistible finger food!
If you like these, you might want to go a step further and brine the chicken wings for more tenderness.
Like this recipe? We'd love for you to share it on your Pinterest board! Click to follow our Pinterest boards so you can find all our recipes! 
Instagram it! If you try this recipe please tag #legendsofthegrill on Instagram or Twitter. We love to see your photos of our recipes! Also follow us on Facebook to keep up on what we're cooking up.
Honey Sriracha Chicken Wings
These delicious Honey Sriracha Chicken Wings are cooked to perfection, then coated in sweet and spicy sauce that will have you licking your fingers.
Print
Pin
Rate
Ingredients
2

pounds

chicken wings

1/2

cup

sriracha

1/4

cup

honey

add extra for less heat

2

tablespoons

salted butter

1

tablespoon

low-sodium soy sauce

2

teaspoons

lemon juice
Instructions
Pre-heat the grill to 400° F (200° C).

Place the chicken wings directly on the grill. Cook for 30 minutes, flipping the wings halfway through cooking.

While the wings are cooking, mix together the remaining ingredients in a small saucepan. Bring to a boil over medium-high heat.

Reduce heat to medium-low and continue cooking for about 5 minutes, until the sauce has reduced and thickened slightly.

Brush the tops of the wings with the honey sriracha sauce and grill the wings over direct flames, until a bit of char begins to form. Flip the wings over, brush the sauce on the tops. Cook for 3 minutes.

Remove the wings from the grill, toss with additional sauce as desired, and serve.
Notes
You can bake these wings at 400 degrees F for 30 minutes, if you don't have a grill.
Leftover sauce can be stored in the refrigerator for up to 5 days.
Nutrition
Calories:
393
kcal
|
Carbohydrates:
18
g
|
Protein:
23
g
|
Fat:
25
g
|
Saturated Fat:
9
g
|
Polyunsaturated Fat:
4
g
|
Monounsaturated Fat:
9
g
|
Trans Fat:
0.5
g
|
Cholesterol:
109
mg
|
Sodium:
1072
mg
|
Potassium:
264
mg
|
Fiber:
0.2
g
|
Sugar:
18
g
|
Vitamin A:
404
IU
|
Vitamin C:
24
mg
|
Calcium:
21
mg
|
Iron:
1
mg
Pin it for later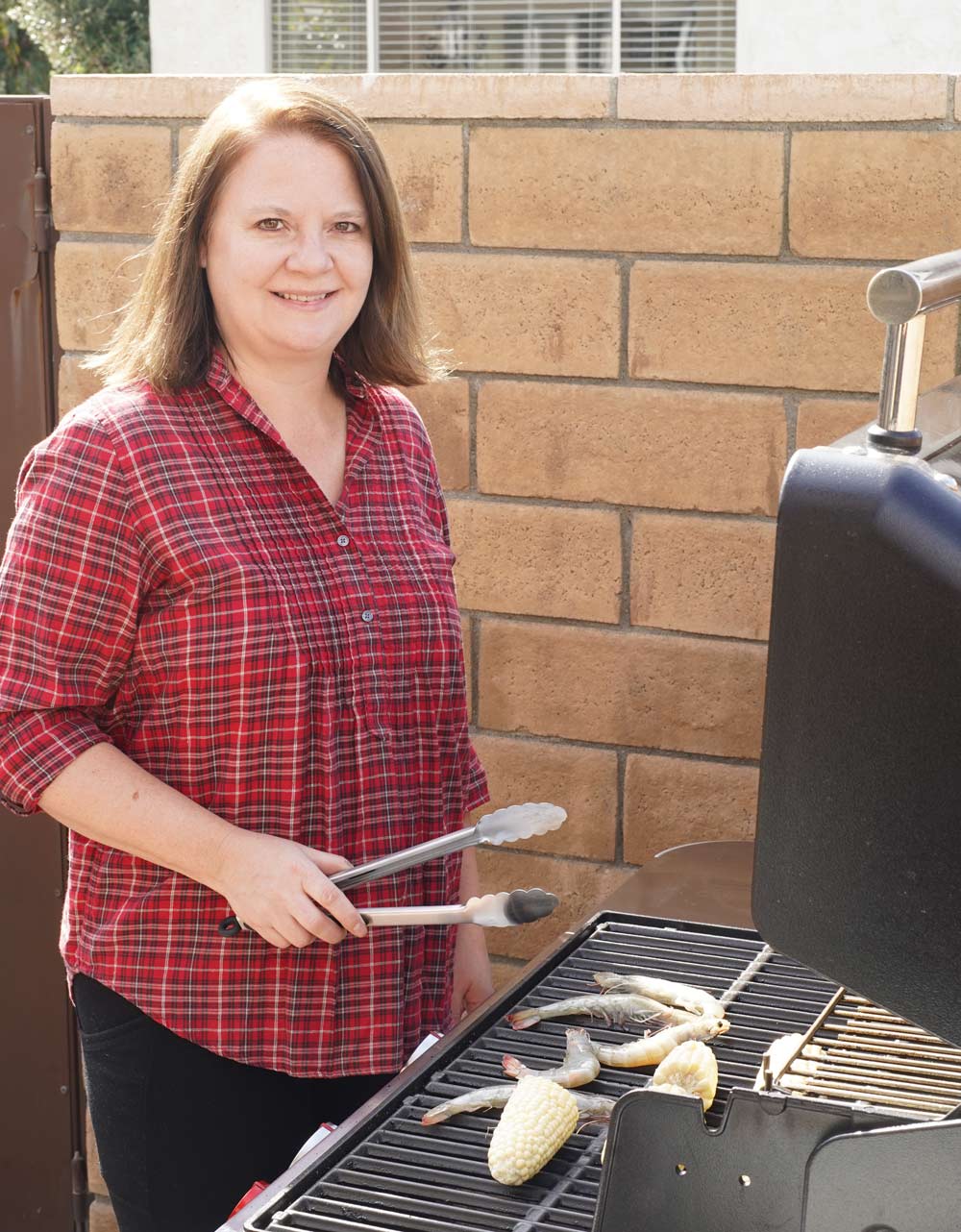 Laura is a passionate home cook and grill enthusiast who has spent years perfecting her culinary skills, with a particular focus on grilling techniques and flavor combinations. Her fascination with the grill, smoke, and the mouthwatering results they produce has led her on an exciting journey to discover the best methods for grilling delicious and unforgettable meals.