This Smoked Brisket Rub is made with just five simple ingredients, including salt, ground black pepper, garlic powder, onion powder, and mustard powder, and it transforms a brisket into an unforgettable masterpiece.
» You might also like Brisket vs Tri Tip: What are the Differences.
Picture this: a perfectly smoked brisket, its bark rich and flavorful, the meat tender and juicy. The secret behind this BBQ masterpiece? A flavorful spice rub! The right combination of spices, herbs, and seasonings can turn your brisket into a mouthwatering, smoky sensation.
This rub is really simple in it's flavors. Just the basics here but what it does to a brisket while it is smoking is anything but basic. Together with the low and slow heat and smoke it helps form a crust on the brisket that is truly amazing.
I like to mix it in a large batch so I can put it in my seasoning shaker and use it whenever needed. This recipe makes about 1/4 cup of rub. That's enough to season 1 large brisket, a small brisket and some steaks. You can store any leftovers in a seasoning bottle where it will stay free of dirty hands in the kitchen.
What is Dry Rub?
A dry rub is a seasoning mix that consists of a blend of dried herbs, spices, salt, and sometimes sugar. This combination is specifically designed to enhance the flavor of the meat it is applied to. Dry rubs are rubbed into the surface of the meat, creating a flavorful crust when grilled or cooked.
Where to Get Seasonings in Bulk
Since you're making a large batch of this dry rub (and maybe some of our other dry rubs too), you might want to buy your seasonings in bulk to save money. Buying a small container of seasonings is not the way to go here, because they are too expensive.
I by my bulk seasonings at stores like Win Co, Sprouts, and Whole Foods. Maybe you have a seasoning store near you. Or you can buy them online at places like Penzeys Spices.
Why Using a Dry Rub for Brisket is a Great Idea
Enhances Flavor: A dry rub is an incredible flavor enhancer for beef, creating a perfect balance of sweet, spicy, and savory notes that complement the meat's natural taste.
Improves Texture: The dry rub forms a delicious crust on the surface of the brisket when cooked, adding an appealing contrast of textures between the crisp exterior and tender interior.
Easy and Economical: Preparing a dry rub is simple, requiring minimal time and effort. Plus, many spices and seasonings can be bought in bulk, making it way more economical to make your own rub than to buy expensive rubs.
Versatility: Dry rubs can be customized to match your flavor preferences or to pair with other dishes in your meal. This allows for endless possibilities and the opportunity to get creative in the kitchen.
Ingredients You Need
Ground black pepper – I like to use freshly ground black peppercorns, but you can use a blend of peppercorns for more nuanced flavors, if preferred.
Kosher salt – Can be increased or decreased to your liking.
Granulated garlic – Pairs incredibly well with brisket and adds a ton of savory flavors.
Onion powder
Dried mustard powder – Adds a distinctly tangy flavor.
How to Make Smoked Brisket Dry Rub
Mix together all of the spices in a bowl. Use it to season your brisket or any cut of beef. Store the remaining rub in an airtight container until you're ready to use it. This recipe makes enough to season 1 large brisket.
Keeping the rest of the seasoning in a jar or container will ensure that you don't touch the rub accidentally with dirty hands in the kitchen. If you touch the rub with your hands while seasoning the chicken, it can easily get contaminated.
How to Use Smoked Brisket Rub
Using dry rub on brisket is incredibly simple:
Pat your brisket dry with paper towels to remove any excess moisture.
Apply the dry rub evenly, generously coating the entire surface. For best results, use your hands to work the rub into the meat, ensuring it sticks well.
Allow the brisket to rest with the rub for at least 30 minutes, or even overnight, in the refrigerator. This step helps the flavors penetrate the meat and enhances the overall taste.
How to Store Dry Rub
Store your dry rub in an airtight container in a cool, dark place, such as a cupboard or pantry. This will help maintain its freshness and potency.
Properly stored, most dry rubs will last for up to a year. Make sure to check the expiration date on any store-bought rubs, or keep track of when you made your own rub for best results.
What Smokers We Use
We use the 7002C2E, which has dual temperature probes, a huge pellet hopper and pellet viewing window, with a large grill space and streamlined design. See this grill and more on the Z Grills site.
Did you know that Traeger created the original wood-pellet grill? The Pro Series 22 is the one most people choose because it's compact, yet has plenty of space for cooking. You can use any type of wood pellets you like. See the Traeger Series 22 Grill on Amazon.
Ideal Temperature For Smoking Brisket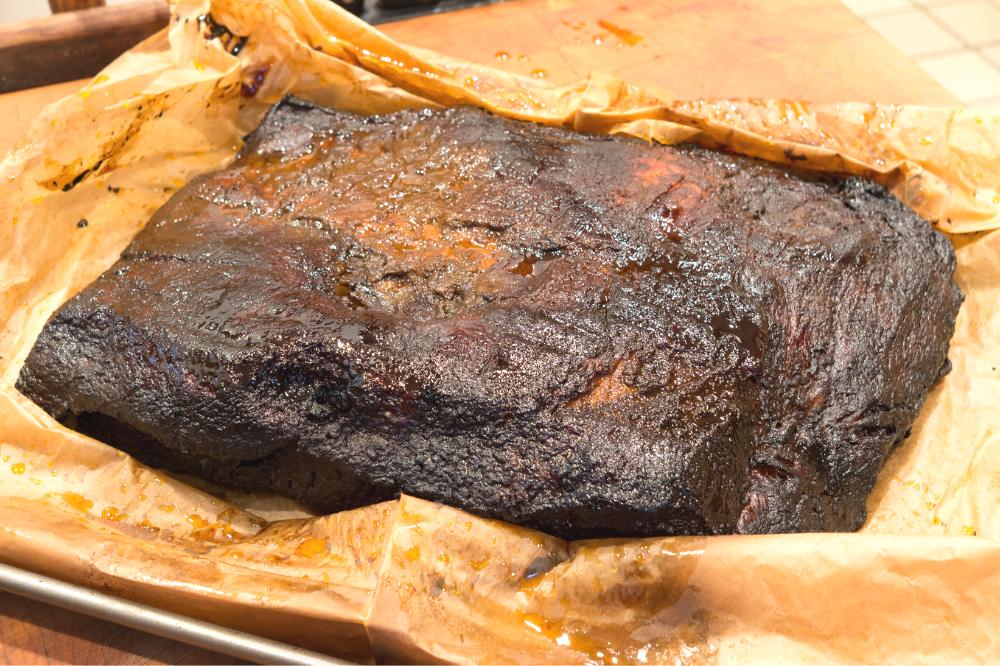 Smoking brisket is a slow process and requires consistency and patience. The ideal temperature for smoking a brisket is around 225 to 250°F (107-120°C). This low and slow cooking method helps to break down the tough connective tissue in the meat, making it tender.
When smoking a brisket, you should try to maintain an even temperature throughout your cooking process. It's important to avoid huge spikes or drops in temperature as this can affect how your brisket turns out. When adjusting temperatures mid-cooking, be sure not to change them by more than 25 degrees at once.
The final internal temperature of your brisket should be between 195-205°F (90-96°C). This ensures that the meat is cooked through without becoming too dry or tough. Keeping track of the internal temperature will help you get your brisket cooked just right every single time. I use a Thermapen instant read thermometer as well as the built in thermometers to keep track.
» Reading in one second or less
» Accuracy of ± 0.5°
» 5-year warranty
» Auto-rotate display; motion-sensing
» Insanely long battery life (2000 hrs)
Frequently Asked Questions
How long should I let the dry rub sit on the brisket before smoking it?
The more you let the brisket rest after applying the spice rub, the more flavor it will get. So, try to let the meat rest for at least 3 to 4 hours up to overnight. 
Can I use the same dry rub for other types of meat, or is it specific to brisket?
You can definitely use this rub for other kinds of meat. All of the ingredients are versatile enough to use on other types of meat. It's always a good idea to experiment and find what works best for you.
How much dry rub should I use per pound of brisket?
The amount of dry rub you use per pound of brisket can vary depending on your preference. A general rule of thumb is to use about 1 tablespoon of dry rub per pound of meat, but you can adjust this up or down based on your taste. Shoot for covering the entire surface of the meat with a thin layer.
Should I apply the dry rub directly to the meat or mix it with oil first?
You can apply the dry rub directly to the meat without mixing it with oil first. However, some people like to mix the dry rub with oil to create a paste that adheres better to the meat.
Can I make a dry rub in advance and store it for later use?
Yes, you can make a dry rub in advance and store it for later use. Store your dry rub in an airtight container in a cool, dry place and it should last for several months. Just make sure to give it a good shake or stir before using it, as the ingredients may settle over time.
Like this recipe? We'd love for you to share it on your Pinterest board! Click to follow our Pinterest boards so you can find all our recipes! 
Instagram it! If you try this recipe please tag #legendsofthegrill on Instagram or Twitter. We love to see your photos of our recipes! Also follow us on Facebook to keep up on what we're cooking up.
Smoked Brisket Rub
With just five simple ingredients, including kosher salt, freshly ground pepper, and garlic and onion powders, this Smoked Brisket Rub transforms a good brisket into an unforgettable masterpiece.
Print
Pin
Rate
Ingredients
1

tablespoon

(

6

g

)

black pepper freshly ground

1

tablespoon

(

18

g

)

coarse kosher salt

1

tablespoon

(

8

g

)

granulated garlic powder

1

tablespoon

(

7

g

)

onion powder

3/4

teaspoon

(

1.5

g

)

mustard powder
Instructions
Mix the spices together in a bowl until well blended. Use immediately or store in an air tight container for up to 1 month.

To use, rub the spice mixture all over the brisket, making sure to coat it evenly. You can use your hands or a brush to apply the rub. Let the brisket sit for at least 1 hour before smoking. This will allow the flavors of the rub to penetrate the meat.
Notes
Makes 1/4 cup of spice rub.
Nutrition
Calories:
73
kcal
|
Carbohydrates:
16
g
|
Protein:
3
g
|
Fat:
1
g
|
Saturated Fat:
0.2
g
|
Polyunsaturated Fat:
0.2
g
|
Monounsaturated Fat:
0.4
g
|
Sodium:
6988
mg
|
Potassium:
257
mg
|
Fiber:
3
g
|
Sugar:
1
g
|
Vitamin A:
33
IU
|
Vitamin C:
2
mg
|
Calcium:
68
mg
|
Iron:
2
mg
🥧 If you're interested in more great recipes, I share all my favorite recipes at A Food Lover's Kitchen, Instant Pot recipes over at A Pressure Cooker Kitchen, air fryer recipes at Air Fry Anytime, and cocktails and drinks at Savored Sips. Check it out today!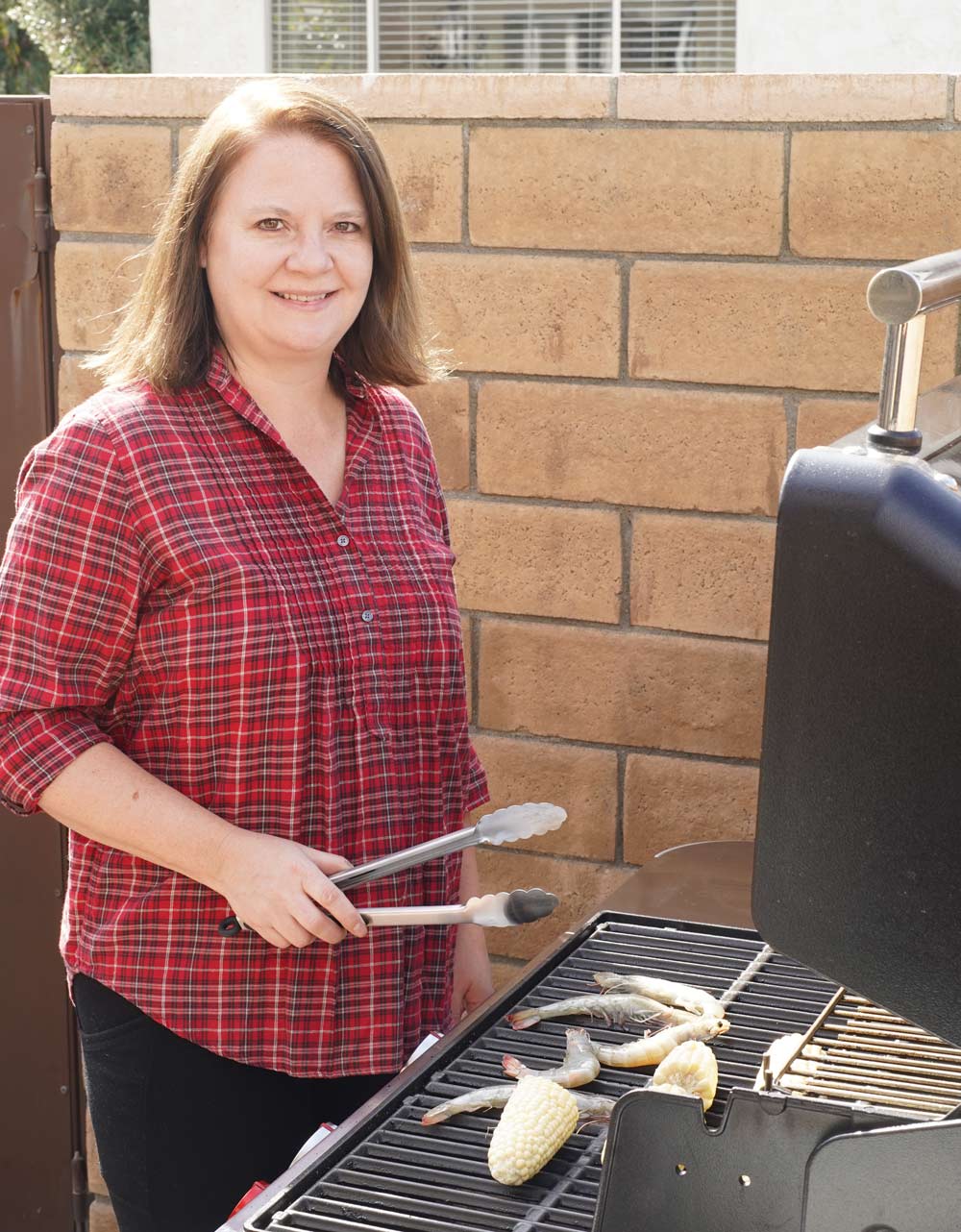 Laura is a passionate home cook and grill enthusiast who has spent years perfecting her culinary skills, with a particular focus on grilling techniques and flavor combinations. Her fascination with the grill, smoke, and the mouthwatering results they produce has led her on an exciting journey to discover the best methods for grilling delicious and unforgettable meals.