This Beef Rib Rub is just the right blend of herbs, spices, and seasonings to transform your ribs into a delicious symphony of flavor.
🥳New customers to ButcherBox get 2 NY strips FREE in every box for 1 year. Hurry! Offer ends 7/23/23 SIGN UP HERE
» You might also like these Smoked Beef Short Ribs.
There's no denying it: the secret to truly exceptional BBQ Beef Ribs often lies not in the meat itself, but in the rub that enhances its flavors. The right mix of seasonings can truly make your ribs stand out, turning a good meal into a memorable feast.
Whether you're a pitmaster, a weekend griller, or a BBQ enthusiast, we have just the recipe for you. Take your ordinary beef ribs to the next level by imparting a deep, complex flavor that beautifully complements the rich, savory taste of the beef.
Since I'm always cooking ribs – both on the grill and in the smoker – I use a lot of this rub. So I like to mix it in a large batch so I can put it in my seasoning shaker and use it whenever it's needed.
This recipe makes about 2/3 cup of rub. That's enough to season about 3 racks of beef ribs or about 15 beef short ribs, depending on how liberally you apply it. You can store any leftovers in a seasoning bottle where it will stay free of dirty hands in the kitchen.
» You might also like our Pork Dry Rub or Chicken Dry Rub.
What is Dry Rub?
A dry rub is a seasoning mix that consists of a blend of dried herbs, spices, salt, and sometimes sugar. This combination is specifically designed to enhance the flavor of the meat it is applied to. Dry rubs are rubbed into the surface of the meat, creating a flavorful crust when grilled or cooked.
We use dry rub on all kinds of meats and veggies while cooking on the grill. It's a great way to impart an incredibly amount of flavor without losing the flavor that comes directly from the grill. They go hand-in-hand to create the perfect grilled meat.
Why Using a Dry Rub for Beef Ribs is a Great Idea
Enhances Flavor: A dry rub is an incredible flavor enhancer for beef, creating a perfect balance of sweet, spicy, and savory notes that complement the meat's natural taste.
Improves Texture: The dry rub forms a delicious crust on the surface of the ribs when cooked, adding an appealing contrast of textures between the crisp exterior and tender interior.
Easy and Economical: Preparing a dry rub is simple, requiring minimal time and effort. Plus, many spices and seasonings can be bought in bulk, making it way more economical to make your own rub than to buy expensive rubs.
Versatility: Dry rubs can be customized to match your flavor preferences or to pair with other dishes in your meal. This allows for endless possibilities and the opportunity to get creative in the kitchen.
Where to Get Seasonings in Bulk
Since you're making a large batch of this dry rub (and maybe some of our other dry rubs too), you might want to buy your seasonings in bulk to save money. Buying a small container of seasonings is not the way to go here, because they are too expensive.
I buy my bulk seasonings at stores like Win Co, Sprouts, and Whole Foods. Maybe you have a seasoning store near you. Or you can buy them online at places like Penzeys Spices.
Ingredients You Need
Paprika – you can use sweet or smoked paprika depending on your preference. It makes up the bulk of the dry rub and adds a beautiful reddish-brown color to the meat.
Coarse kosher salt – I use coarse salt so that it holds up to the grilling. Salt is a necessary flavor enhancer, so you want it to be prominent.
Brown sugar – Adding brown sugar cuts that sharpness of the other spices and helps to caramelize the exterior of the meat, for a nice crust.
Celery seed – Celery adds a lot of depth of flavor that you can't get from other seasonings. I use celery seed in this rub because it's more robust than celery salt, but you can use either – though you will need to cut down on the salt if you use celery salt.
Ground chipotle pepper – Don't worry, this won't add too much heat to your rub because the sugar balances it. It does add a really nice smokiness though.
Dried mustard powder – Adds a distinctly tangy flavor.
Ground black pepper – I like to use freshly ground black peppercorns, but you can use a blend of peppercorns for more nuanced flavors, if preferred.
Granulated garlic – Pairs incredibly well with chicken and adds a ton of savory flavors.
Chili powder – I use a mild chili powder to add flavor without much heat, but you can use a hot powder if you like spice.
How to Make Beef Rib Rub
Mix together all of the spices in a bowl. Use it to season your ribs. Store the remaining rub in an airtight container until you're ready to use it. This recipe makes enough to season about 3-4 racks of ribs.
Keeping the rest of the seasoning in a jar or container will ensure that you don't touch the rub accidentally with dirty hands in the kitchen. If you touch the rub with your hands while seasoning the chicken, it can easily get contaminated.
Tips for Using Dry Rub for Beef
Choose the right cut: Dry rubs work well on various beef cuts, such as ribs, tenderloin, and even steak. Select a cut that suits your taste and cooking method.
Prep the ribs: Before applying the rub, pat the meat dry with paper towels to remove any excess moisture. This ensures the rub adheres well to the surface of the ribs.
Apply the rub generously: Be liberal with your dry rub, making sure to coat the ribs evenly, even on the back side. Use your hands to press the rub into the meat, ensuring a good crust forms during cooking.
Let it rest: For maximum flavor absorption, let the rubbed ribs rest for at least 30 minutes or up to 24 hours in the refrigerator before cooking. The longer it rests, the more intense the flavors become.
Cook it right: Depending on the size of your ribs, adjust your cooking time and method accordingly. Remember to use a meat thermometer to check for the desired internal temperature to ensure it is cooked to perfection. Nothing beats the rich smoky flavor of smoked ribs!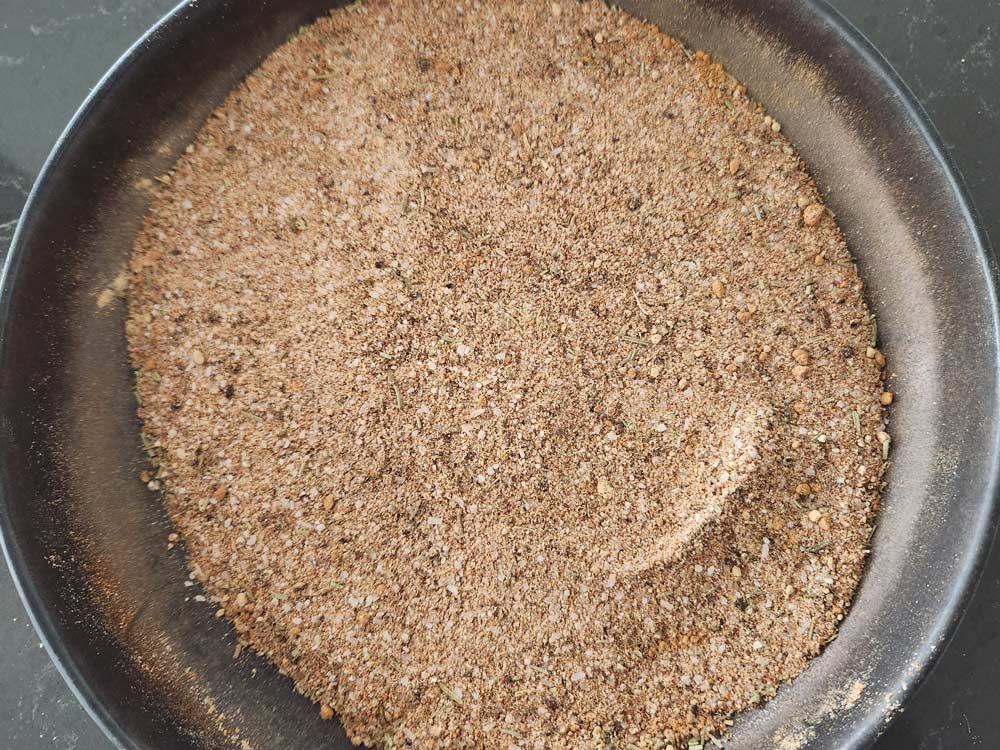 How to Store Dry Rub
Store your dry rub in an airtight container in a cool, dark place, such as a cupboard or pantry. This will help maintain its freshness and potency.
Properly stored, most dry rubs will last for up to a year. Make sure to check the expiration date on any store-bought rubs, or keep track of when you made your own rub for best results.
Frequently Asked Questions (FAQs)
How long should dry rub sit on ribs?
For maximum flavor absorption, let the rubbed ribs rest for at least 30 minutes or up to 24 hours in the refrigerator before cooking. The longer it rests, the more intense the flavors become.
What are some popular dry rub ingredients for beef ribs?
Some popular dry rub ingredients for beef ribs include paprika, garlic powder, mustard powder, brown sugar, salt, pepper, chili powder. Oregano and thyme can also be good flavor enhancers. Feel free to mix and match these ingredients or experiment with your own combinations!
How do you get a dry rub to stick to ribs?
If you sprinkle the beef rib rub onto the ribs and let it sit for a few minutes, it will stick on its own by absorbing into the natural juices in the beef. There's no need to add olive oil to the ribs before adding the rub, though we do this anyways for flavor.
Like this recipe? We'd love for you to share it on your Pinterest board! Click to follow our Pinterest boards so you can find all our recipes! 
Instagram it! If you try this recipe please tag #legendsofthegrill on Instagram or Twitter. We love to see your photos of our recipes! Also follow us on Facebook to keep up on what we're cooking up.
Beef Rib Rub
This Beef Rib Rub is just the right blend of herbs, spices, and seasonings to transform your ribs into a delicious symphony of flavor.
Print
Pin
Rate
Ingredients
2

tablespoons

coarse kosher salt

2

tablespoons

brown sugar

1

tablespoon

ground black pepper

not a fine grind

1

tablespoon

onion powder

1

tablespoon

garlic powder

2

teaspoons

mustard powder

2

teaspoons

ground ginger

2

teaspoons

chili powder

2

teaspoons

celery salt

1/2

teaspoon

dried rosemary

1/2

teaspoon

dried thyme

1/2

teaspoon

all spice

1

teaspoon

tomato powder

optional
Instructions
Mix all spices in a bowl and stir well to combine. Use immediately or store in an airtight container for up to one month.
Notes
1 batch makes a 2/3 cup of rub.
Nutrition
Calories:
115
kcal
|
Carbohydrates:
22
g
|
Protein:
5
g
|
Fat:
3
g
|
Saturated Fat:
0.4
g
|
Polyunsaturated Fat:
1
g
|
Monounsaturated Fat:
1
g
|
Sodium:
18683
mg
|
Potassium:
423
mg
|
Fiber:
6
g
|
Sugar:
1
g
|
Vitamin A:
1247
IU
|
Vitamin C:
3
mg
|
Calcium:
116
mg
|
Iron:
4
mg
🥧 If you're interested in more great recipes, I share all my favorite recipes at A Food Lover's Kitchen, Instant Pot recipes over at A Pressure Cooker Kitchen, air fryer recipes at Air Fry Anytime, and cocktails and drinks at Savored Sips. Check it out today!
PIN IT FOR LATER!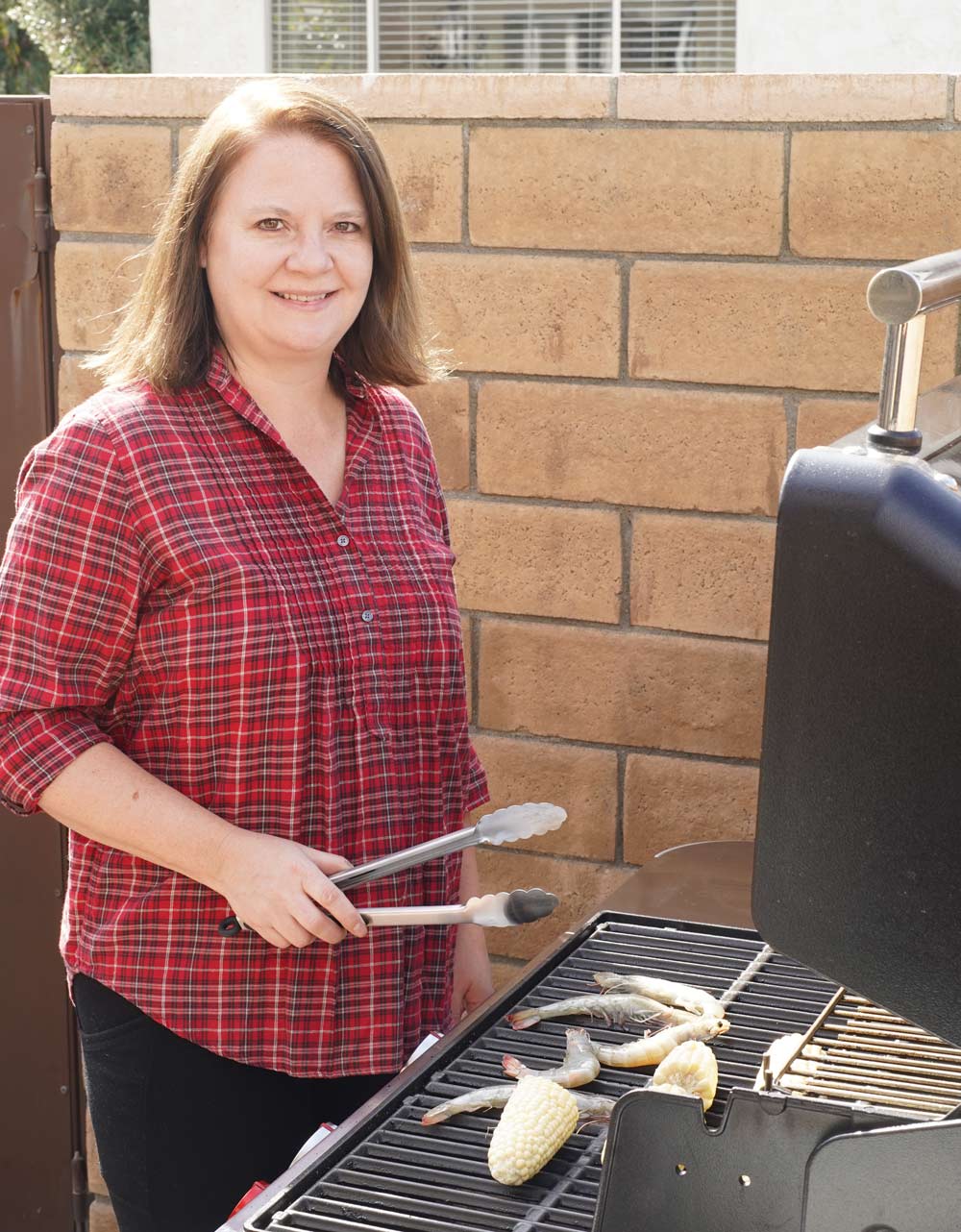 Laura is a passionate home cook and grill enthusiast who has spent years perfecting her culinary skills, with a particular focus on grilling techniques and flavor combinations. Her fascination with the grill, smoke, and the mouthwatering results they produce has led her on an exciting journey to discover the best methods for grilling delicious and unforgettable meals.