Hosting a BBQ is the perfect way to gather your friends and family for a fun and casual outdoor gathering. But, it can be overwhelming if you don't plan and prepare properly.
If you're wanting to host the ultimate backyard BBQ this summer, there are a few things you need to consider to make sure your event is a success.
25 Awesome Grilling Recipes For SummerFrom deciding on the perfect menu to creating the right ambiance, there are many things to consider. To make sure your BBQ is the talk of the town, you need to consider the food, drinks, decorations, and entertainment.
In this post, we have put together some tips to help you host the ultimate backyard BBQ that your guests will love.
🥧 If you're interested in more great recipes, I share all my favorite recipes at A Food Lover's Kitchen, Instant Pot recipes over at A Pressure Cooker Kitchen, air fryer recipes at Air Fry Anytime, and cocktails and drinks at Savored Sips. Check it out today!
Planning & Setting Up
When it comes to hosting the ultimate backyard BBQ, planning is key. Here are some important factors to consider when planning your perfect BBQ.
Estimating the Guest Count
The first step in preparing for your backyard BBQ is to estimate the guest count. This will help you determine how much food and seating you will need.
First, consider how much room you have for hosting. You don't want to feel cramped and uncomfortable in the space, so don't over-invite. Once you've decided on a guest list, you'll want to send out invitations. I usually do that via text these days. You can't expect everyone to attend, so plan for about 3/4 of the guests to RSVP yes.
A good rule of thumb is to plan food for about 1.2 times the number of guests you expect to attend. If you expect 10 people, you should plan to feed 12 people. It's always better to have too much food than too little.
Location
Choosing the right location for your backyard BBQ is important. You want to make sure you have enough space for all of your guests to move around comfortably. Consider the layout of your backyard, and think about where you want to set up your food and seating areas.
If you've decided to invite more people than your backyard can comfortably fit, do you have another space nearby where you can overflow? For instance, can you open up your living room doors onto the backyard? Then you might want to also set up chairs in that space.
Seating
It's important to have enough seating for all of your guests. Consider using a mix of chairs, benches, and even blankets or pillows on the lawn. If you don't have enough seating, consider renting chairs or asking guests to bring some extras for you.
Do you want to have a seated dinner or will you have guests wander around while eating? For a seated dinner, you might also plan to dish up at the table. For a more casual dinner, you can serve food buffet style.
Lighting
Lighting can help create the perfect ambiance for your backyard BBQ. Consider using string lights or tiki torches to add some warmth and charm to your space. You can also use lanterns or candles for a more intimate feel.
If you have an outdoor firepit, this is a great time to utilize that feature of your backyard. Set up tables and chairs around the firepit so guests can comfortably enjoy the space while eating.
Decor
Decor can help set the tone for your backyard BBQ. Consider using balloons, streamers, and other decorations to add some color and flair to your space. You can also use tablecloths, placemats, and centerpieces to create a more formal feel.
Your choice of plates and utensils can also act as decor. You can buy paper plates, cups, and napkins in just about any theme you like these days.
Music
Music can help create the perfect atmosphere for your backyard BBQ. Consider creating a playlist of your favorite songs, or ask guests to bring their own music to share. You can also hire a DJ or live band for a more professional feel.
By taking the time to set up your backyard properly, you can create the perfect atmosphere for your ultimate backyard BBQ. Consider these factors when planning your next event, and you're sure to impress your guests.
Grilling Essentials
When it comes to hosting the ultimate backyard BBQ, having the right grilling essentials is key. Here are some important items to consider:
The Grill
The centerpiece of your BBQ is, of course, the grill. If you already have a grill, you'll want to open it up a few days before the party to make sure you have everything you need and are all set to fire it up. Give the grill a good cleaning, inside and out.
If you don't already have a grill, there are several types of grills to choose from, including charcoal, gas, pellet smokers, and electric smokers. Each has its pros and cons, so it's important to consider what will work best for your needs. Maybe a portable tabletop grill is all you need.
Charcoal Grill – If you're using a charcoal grill, you'll need to have plenty of charcoal on hand. Lump charcoal is a popular choice as it burns hotter and cleaner than briquettes. Make sure to light your charcoal properly, and give it time to heat up before placing your food on the grill.
Gas Grill – For those who prefer the convenience of a gas grill, make sure to have a full propane tank on hand. Before you start grilling, give your grill a good cleaning to remove any leftover debris from previous BBQs.
Pellet Grill – For an added smoky flavor, consider using a pellet grill. Hickory, mesquite, and applewood are all popular choices. Remember that it takes quite a bit longer to smoke your meat rather than grill, so you'll have to build that time into your planning.
Our Top Grill Recommendation
I chose this grill based on quality, performance, and features. It's pretty much got it all (large cooking area, plenty of BTU, high-quality cooking grates, and it's priced well. If you're feeling fancy, you can upgrade it to add more burners, smart grilling technology and grill lighting.
Tools
To make sure you're grilling like a pro, you'll need the right tools. A good set of grilling tools should include a spatula, tongs, and a meat thermometer. These will help you flip your food, move it around, and make sure it's cooked to perfection.
Other tools that are essential are trays to carry the food, a basting brush, a good sturdy flipper, and some grilling gloves that will protect your hands from the heat.
Menu Planning
When it comes to hosting the ultimate backyard BBQ, menu planning is crucial. You want to make sure that you have enough food and drinks to satisfy all of your guests. Here are some sub-sections to help you with your menu planning:
How Much to Serve
Knowing how much food and drinks to serve can be tricky. You don't want to run out of food, but you also don't want to have too much leftover. As a general rule, plan on 1 pound of meat per person and 1.5 drinks per hour per person.
Food
When it comes to food, you want to have a good mix of options. A good mix of things is burgers, hot dogs, sausages, chicken, and ribs. However, you might want to get a bit more fancy and serve smoked tri-tip and brisket.
If you have vegetarian guests, make sure to have some vegetable skewers or veggie burgers available. I also like to ask my guests ahead of time if anyone has dietary restrictions that I should try to accommodate. If you choose a good range of food, everyone will be able to find something they can eat.
Drinks
Make sure to have a variety of drinks available. Beer and wine are always popular choices but don't forget about non-alcoholic options like lemonade, iced tea, and club soda. Consider having a signature cocktail available as well.
I prefer to allow guests to be their own bartenders, so I set up a table with all of the drinks. You'll need ice to make cocktails, along with a cocktail shaker. You'll also need ice and a bucket to keep white wines cool. You'll need a corkscrew for opening wines, and a bottle opener for beers.
Appetizers
Appetizers are a great way to keep your guests satisfied while you prepare the main course. Consider having some chips and dip, vegetable platters, charcuterie, or bruschetta available.
Here are a few of our favorite appetizers to serve at a barbecue:
Main Course
The main course is the star of the show. Make sure to have plenty of meat options available, as well as some vegetarian options. Consider having a smoker or grill available to cook your meat to perfection.
Salads
Salads are a great way to balance out the heavier meat options. Consider having a potato salad or pasta salad available, as well as a traditional barbecue side like coleslaw.
Desserts
No backyard BBQ is complete without some sweet treats. Consider having some cake or pie available, as well as some lighter options like fruit skewers or sorbet.
When planning your menu, make sure to consider any dietary restrictions or allergies your guests may have. And don't forget to have plenty of plates, dishes, and garnishes available to make your dishes look as good as they taste. With a little preparation, your backyard BBQ will be a hit.
What Smokers We Use
We use the 7002C2E, which has dual temperature probes, a huge pellet hopper and pellet viewing window, with a large grill space and streamlined design. See this grill and more on the Z Grills site.
Did you know that Traeger created the original wood-pellet grill? The Pro Series 22 is the one most people choose because it's compact, yet has plenty of space for cooking. You can use any type of wood pellets you like. See the Traeger Series 22 Grill on Amazon.
Entertainment and Activities
No backyard BBQ is complete without some fun entertainment and activities to keep your guests engaged and entertained. Here are some ideas to help you plan the perfect backyard BBQ party.
Games
Games are a great way to get everyone involved and have fun. Consider setting up a game area with some of these classic outdoor games:
You can also create your own games, like a water balloon toss or a scavenger hunt. Make sure to have plenty of prizes on hand for the winners.
Kids
If you're expecting kids at your backyard BBQ, make sure to have some activities planned for them as well. Here are some ideas:
Set up a kids' table with coloring books and crayons
Have a bubble station with bubble wands and a solution
Set up a piñata or a treasure hunt
Have a water balloon toss or a slip and slide
Make sure to have adult supervision for all kids' activities to ensure their safety.
Conversation
While games and activities are great, it's also important to create an atmosphere that encourages conversation and socializing. Here are some tips:
Set up seating areas throughout your backyard to encourage mingling
Have a variety of music playing in the background to set the mood
Create a DIY cocktail or mocktail station for guests to create their own drinks
Have a variety of food options to cater to different tastes and dietary restrictions
By creating a welcoming and inclusive atmosphere, you'll encourage your guests to relax and enjoy themselves.
Don't forget to have fun! Hosting a backyard BBQ is a great opportunity to spend time with friends and family, and enjoy some delicious food in the great outdoors. With these tips and tricks, you'll be well on your way to hosting the ultimate backyard BBQ.
Before You Go
Don't leave without checking out our other guides to hosting the perfect BBQ, with some of the best food your guests have ever eaten.
Like this recipe? We'd love for you to share it on your Pinterest board! Click to follow our Pinterest boards so you can find all our recipes! 
Instagram it! If you try this recipe please tag #legendsofthegrill on Instagram or Twitter. We love to see your photos of our recipes! Also follow us on Facebook to keep up on what we're cooking up.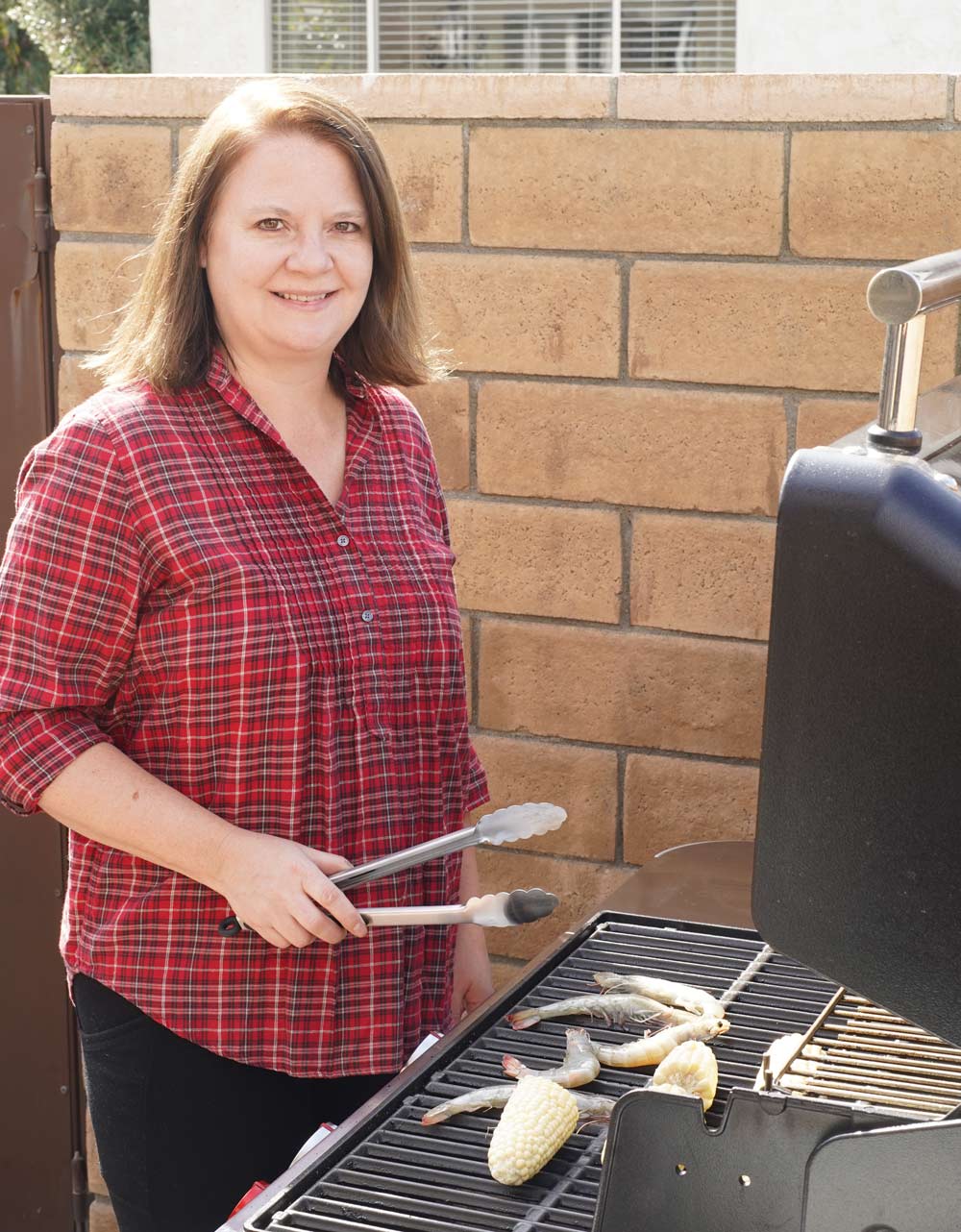 Laura is a passionate home cook and grill enthusiast who has spent years perfecting her culinary skills, with a particular focus on grilling techniques and flavor combinations. Her fascination with the grill, smoke, and the mouthwatering results they produce has led her on an exciting journey to discover the best methods for grilling delicious and unforgettable meals.