Smoking food has really caught on as a hobby and as a culinary technique these days. Using low and slow heat with the addition of wood smoke to tenderize and enhance the taste of meats and other dishes is not only fun, it's rewarding in a very delicious way.
If you're new to smoking, choosing the right smoker will undoubtedly feel daunting. I remember, not so fondly, trying to pick out my first smoker. It was difficult, to say the least. There are so many styles and functionality that it seems almost impossible to sort through them. Now that I own three smokers and have tried out countless others, I know what to look for in a good smoker, and one that will be appropriate for beginners.
The right smoker can greatly impact your smoking experience, ensuring you learn the basics of smoking and enjoy delicious results without feeling overwhelmed by all the technology. Electric smokers are relatively easy to use and allow for precise temperature control, making them an excellent choice for first-timers, so that's usually where I lean. Plus they only require an electrical outlet and pellets for fuel.
When it comes to selecting the perfect smoker to start your journey, you'll want to pay close attention to the size, build quality, and ease of use.
A suitable smoker should accommodate the amount of food you plan on smoking, be constructed with durable materials to withstand long cooking sessions as well as being stored for long periods of time outdoors, and include simple control mechanisms for effortless temperature management.
With these factors in mind, we have researched and tested a variety of options to help you find the best smokers for a beginner. You'll be mastering the art of smoking in no time.
INTERESTED IN PELLET GRILLS? Check out these other articles:
Best Smokers for a Beginner
The Ninja Woodfire Outdoor Grill is an excellent choice for beginners seeking a versatile and user-friendly outdoor cooking experience without all the hassle of a large smoker. When I got mine, I promptly neglected all my other smokers in favor of this one. Read my full review here. It's a little complicated in that it has a ton of functionality (smoking, grilling, roasting, baking, air fryer), but it comes with a very easy to read manual that leads you step-by-step through every process.
The best part is that it truly delivers on smokiness, flavor, visual appeal, and time efficiency. Those die hard smokers out there will scoff at this, but you really can smoke foods to absolute perfection in half the time on this grill. What takes 2 hours to smoke in my Z Grills (like a whole chicken), takes just 1 hour in the Woodfire Grill – at the same temperature. I almost always smoke at 225 degrees F.
You can use this smoker to prepare anything from smoky ribs to crispy wings, or even a whole roast chicken. You can even put your meat on one side and veggies on the other and get it all done at once.
The amount of smoke flavor and aroma this produces in that short time is second to none. I haven't tried any other smoker that delivers this well. Only thing is that this is a small, portable smoker with less cook space than a typical grill. It has a grill plate rather than grates, and it isn't really built to smoke things like a huge slab of brisket for 12-16 hours.
Pros
Easy to use for beginners
Versatile cooking options
Uses a very small amount of pellets
Extremely easy clean up
Cons
Limited space so you can't cook multiple things at once
Not suitable for advanced BBQ enthusiasts
When buying on the Ninja website:
Use LOTG30 to get $30 off the PRO version of the grill
Use LOTG40 to get $40 off the base model of the grill
---
The Masterbuilt Digital Electric Smoker is an ideal choice for beginners because it's very easy to manage the temperature and cooking times and it has a ton of space to cook all kinds of things on four adjustable chrome-coated racks. I particularly like this model of the Masterbuilt because it has a glass window so you can see your food as it's cooking.
One of the standout features of this smoker is the patented side wood chip loading system, which lets you experiment with wood chips flavors without having to open the door and lose precious heat and smoke.
This feature ensures your meats will have consistent and even smoke exposure throughout the process but it can also be a drawback in that it's a small wood chip box, so you won't get as much wood smoke as with other options and you do have to refill it more often.
The smoker also doesn't have handles, which I find a little bit inconvenient. Makes it less portable than other smokers, though you probably won't need to move it around much once you've found a good spot for it.
Its user-friendly controls, ample cooking space, and well-designed wood chip loading system make it a solid choice despite some minor drawbacks. With this smoker, you'll be serving up delicious smoked dishes and impressing your friends and family in no time!
Pros
Easy-to-use digital controls
Ample cooking space with four chrome-coated racks
Patented side wood chip loading system
Cons
Not as consistent with temperatures as I would like
Limited portability due to lack of handles
Smaller wood chip box leading to less smoke output
---
The Traeger Grills Pro Series 22 is an excellent choice for beginners. Like the Z Grills, it has a lot of versatility – you can grill, smoke, bake, roast, braise, and BBQ to your heart's content. The Digital Pro Controller, equipped with Advanced Grilling Logic, ensures good temperature control so you don't have to worry about temperature fluctuations.
You might have noticed there are a lot of different Traeger models on the market. Even if you've narrowed it down to a Traeger, you're going to have a hard time deciding which one. I chose this model because it has pretty much everything you will need for smoking, whether you're a beginner or a pro. Who wants to buy another more-robust smoker a few years down the road? Just get the best one now and you'll be all set.
The things that I particularly like about this model are the built-in dual meat probes – because we're often cooking more than one thing at a time – the easy to clean porcelain grill grates, and the grill capacity (not too large or too small).
The sturdy and powerful steel construction, combined with the durable powder coat finish leaves no doubts about this grill's longevity. We've had our Traeger for at least 10 years now and after I cleaned it up the other day it looked almost like new again.
In opposition to the Masterbuilt, this smoker has all-terrain wheels so it's very easy to move around. Being electrically powered, you'll need to ensure a power source is readily available before firing up the grill.
As a beginner, you might face a learning curve when first getting acquainted with the Traeger Pro Series 22, but once you understand its features, you'll appreciate its user-friendly design.
Pros
6-in-1 versatility for diverse cooking styles
Digital Pro Controller for precise temperature control
Durable construction and easy-to-clean grates
Cons
It's rather heavy
It doesn't come with a useful guide (watch YouTube videos to help learn it)
---
The Weber Smokey Mountain Cooker is an excellent choice for beginners who prefer charcoal cooking, rather than an electric smoker. It offers ample space with two cooking grates, allowing you to smoke two large items or several ribs simultaneously.
One feature you'll appreciate as a newbie is the silicone temperature grommet that helps you monitor the internal temperature of your smoker, ensuring your meat cooks evenly. If you need to adjust the temperature, you just use the dampers on the side.
The unit has a removable fuel door so you can conveniently add charcoal and wood while you're smoking. The Weber Smokey Mountain Cooker is designed to last, with porcelain enameled lid, bowl, and center section that retain heat and won't rust or peel.
Its user-friendly features, ample cooking space, and durability make it a smart investment for beginners.
Pros
Porcelain enameled parts to retain heat and resist rust
Two cooking grates for smoking multiple items at once
Adjustable dampers provide good temperature control
Cons
Heavy (68 pounds) so it's not very portable
Limited to charcoal fuel source
---
As a beginner searching for the perfect smoker, the Masterbuilt MB20070210 Analog Electric Smoker offers impressive results without the hassle of using charcoal or propane. Simply plug in the smoker, set the analog controls, and let it do the work for you. Its three chrome-coated racks provide ample space, allowing you to smoke up to 3 chickens, 2 turkeys, 3 racks of ribs, or 3 pork butts at once.
The built-in temperature gauge and easy-to-use analog dial make temperature control a breeze, ensuring consistent and even smoking. Additionally, the wood chip tray can be easily slid out for quick ash removal, making your overall smoking experience more enjoyable.
However, the smoker doesn't feature a vent for smoke regulation, which some users might find limiting. Temperature adjustments are also manual, so you'll have to keep an eye on the dial to maintain the desired temperature consistently. Cleaning can be a bit tedious, but this is a minor inconvenience given the smoker's overall performance and quality.
Pros
Easy-to-use analog temperature controls
Spacious with three chrome-coated smoking racks
Convenient wood chip tray for simple ash removal
Cons
Lacks a vent for smoke regulation
Manual temperature adjustments needed
Cleaning can be slightly tedious
---
The Weber 14.5-inch Smokey Mountain Cooker stands out for its ease of use and user-friendly design, making it a great option for beginners in the world of smoking. This smoker's compact size makes it both portable and suitable for those with limited outdoor space. Simultaneous smoking is possible with the dual cooking grates, letting you maximize your efforts and cook multiple items at once.
Though this smoker is easy to set up and start using, you may find that you need to monitor the temperature more closely than with other types of smokers. However, the adjustable dampers help you maintain control of the heat throughout the cooking process. The total cooking area of 286 square inches might be perfect for smaller families or gatherings, but may be limiting for larger events.
When using the Weber 14.5-inch Smokey Mountain Cooker, you will appreciate the authentic smoky flavor that comes from using charcoal as a fuel source. Keep in mind that cooking with charcoal can be a bit less convenient than gas or electric, as you'll need to arrange and maintain the charcoal throughout the cooking process.
Pros
Easy assembly and user-friendly design
Compact size for portability and smaller spaces
Dual cooking grates for simultaneous smoking
Cons
Limited cooking space for larger gatherings
May require additional temperature monitoring
Charcoal usage can be less convenient than gas or electric
---
Pros
Ultimate 8-in-1 functionality for grilling, smoking, baking, roasting, braising, searing, char-grilling, and barbecuing
PID technology ensures consistent temperature throughout cooking for reliable results every time
Large-capacity pellet hopper holds up to 15 lbs of pellets for longer cooking times
Cons
Some users have reported difficulty achieving high temperatures for grilling
Assembly can be time-consuming and requires some technical knowledge
Not suitable for larger families or large gatherings due to its smaller cooking space
If you want an affordable grill and smoker combo that offers consistent results and easy temperature control, the Z GRILLS 700 Series is a great choice.
The Z GRILLS 700 Series is a versatile grill and smoker combo that offers great value for its price. With its 8-in-1 functionality and consistent temperature control, it's perfect for smaller households looking to infuse big flavors into their food. However, it may not be the best choice for larger families or those who need a larger cooking space. Assembly can also be a bit of a challenge, so make sure you have some technical know-how before attempting to put it together.
That being said, the Z GRILLS ZPG-450A is a reliable and affordable option for those who want to enjoy wood-fired flavors without breaking the bank.
---
Although this power horse is a bit on the expensive side, it's probably the most versatile smoker grill combo you can get, so it still packs really good value for the money. You won't need to buy another grill to use alongside this one.
It's multi-level, half-moon design allows you to cook different foods at different temperatures, at the same time. It has an air-tight seal, a latch that locks in heat and smoke, and a temperature control top vent to keep the temp precise at all times.
What it can do:
Grilling
Low and slow smoking
Pizza oven
Baking & roasting
Top Features:
The Kamado Joe ceramic charcoal smoker grill combo has an 18″ cooking area, split between two staggered grill grates.
Using a built-in temperature gauge, you can monitor the temperature of the ceramic smoker grill while it is grilling or smoking. Durable case constructed of powder-coated cast aluminium.
It can be moved around if necessary by unlocking the four wheels on the bottom of the stand.
The grill lid is super light. The patented Air Lift Hinge means you can open the grill dome with a single finger.
---
Buying Guide
When looking for the best smoker for a beginner, there are a few key factors to consider. Understanding these features will help you make an informed decision and get the most out of your purchase.
Size
Consider your available space when choosing a smoker. Smaller smokers are easier to transport and store, while larger ones offer more cooking capacity. Think about how much you'll be using the smoker and the types of food you'll be preparing.
Fuel Type
There are several fuel options for smokers, including charcoal, propane, and electric. Each has its advantages and disadvantages. Charcoal gives a more authentic smoky flavor, while propane heats up quicker and is easier to control. Electric smokers are the most beginner-friendly and require minimal effort to maintain a consistent temperature.
Temperature Control
For beginners, having precise temperature control can make a world of difference. Look for smokers that have adjustable vents, built-in thermometers, or digital temperature controls to help maintain consistent cooking temperatures.
Build Quality and Material
The construction of a smoker plays a role in both the durability and heat retention. Materials like double-walled steel or cast iron can hold heat better and ensure a more even cooking experience.
Ease of Cleaning
When it comes to cleaning up after a smoke session, some smokers are easier to clean than others. Consider models with removable ash pans, grease trays, or other features that can help simplify the cleaning process.
After considering these factors and evaluating your personal preferences, you'll be able to confidently choose the best smoker for your needs. Remember that practice makes perfect, so don't be afraid to get started and experiment with different recipes and techniques. Good luck on your smoking journey, and enjoy the delicious results!
Ninja Woodfire Outdoor Grill
For this recipe, I used my Ninja Woodfire Outdoor Grill, which is a new offering from the kitchen appliance brand that makes our beloved favorites, the Ninja MaxXL Air Fryer and the Ninja Creami. The Woodfire Grill is a portable outdoor grill with 7 functions: grill, smoke, air fry, bake, roast, broil, and dehydrate.
Why I Like It
It imparts an amazing amount of woodfire flavor into the food with just 1/2 cup of pellets.
It's incredibly fast and efficient.
It cooks faster and with more smoker flavor than my full-size smoker – by far.
There's no guessing, especially with the built-in temperature probe available on the Pro version.
The food comes out with a perfect crispy or seared exterior that's both gorgeous and super tasty.
It's very portable and can be set up anywhere on a sturdy surface with a power outlet nearby.
Guess what? We've brokered a deal for you, our lovely readers.
Use our coupon code to get a discount on the grill!
Use LOTG30 to get $30 off the PRO version of the grill ($459.60 before the discount)
Use LOTG40 to get $40 off the base model of the grill ($369.60 before the discount)
---
Frequently Asked Questions
What is the most user-friendly smoker for novices?
The most user-friendly smoker for novices is often an electric smoker, as it allows for precise temperature control and easy set-up. Common beginner-friendly electric smokers include the Masterbuilt 30-inch Digital Electric Smoker and the Char-Broil Digital Electric Smoker. These smokers make it simpler for you to maintain consistent smoking temperatures, allowing you to focus on developing your skills and perfecting your recipes.
Which type of smoker offers the best value for money?
The best value for money often depends on your budget, needs, and preferences. For beginners, a vertical water smoker, like the Weber Smokey Mountain, is an affordable and efficient option. It is compact, easy to use, and capable of producing excellent results. Additionally, pellet smokers, such as the Green Mountain Grills Davy Crockett, offer excellent value, as they combine the ease of use of electric smokers with the wood-fired flavor of traditional smokers.
Are electric or wood smokers more suitable for beginners?
Electric smokers are generally more suitable for beginners due to their user-friendly features, such as precise temperature control and set-and-forget operation. However, if you prefer the taste of smoked food cooked over wood or charcoal, you may need to practice your skills with a wood smoker – just keep in mind that it might require more attention and skill to maintain consistent temperatures.
Which small-sized smoker is most efficient for new users?
If you're looking for a small, efficient smoker suitable for beginners, consider the Weber Smokey Mountain 14-inch or the Pit Barrel Cooker. Both are compact, easy to use, and highly efficient – they let you create delicious smoked dishes without taking up a lot of space.
What are the top smoker brands for novice users?
Some of the top smoker brands for novice users include Weber, Masterbuilt, Char-Broil, and Green Mountain Grills. These brands offer a range of beginner-friendly smokers that are reliable, easy to use, and capable of producing great results as you learn the art of smoking.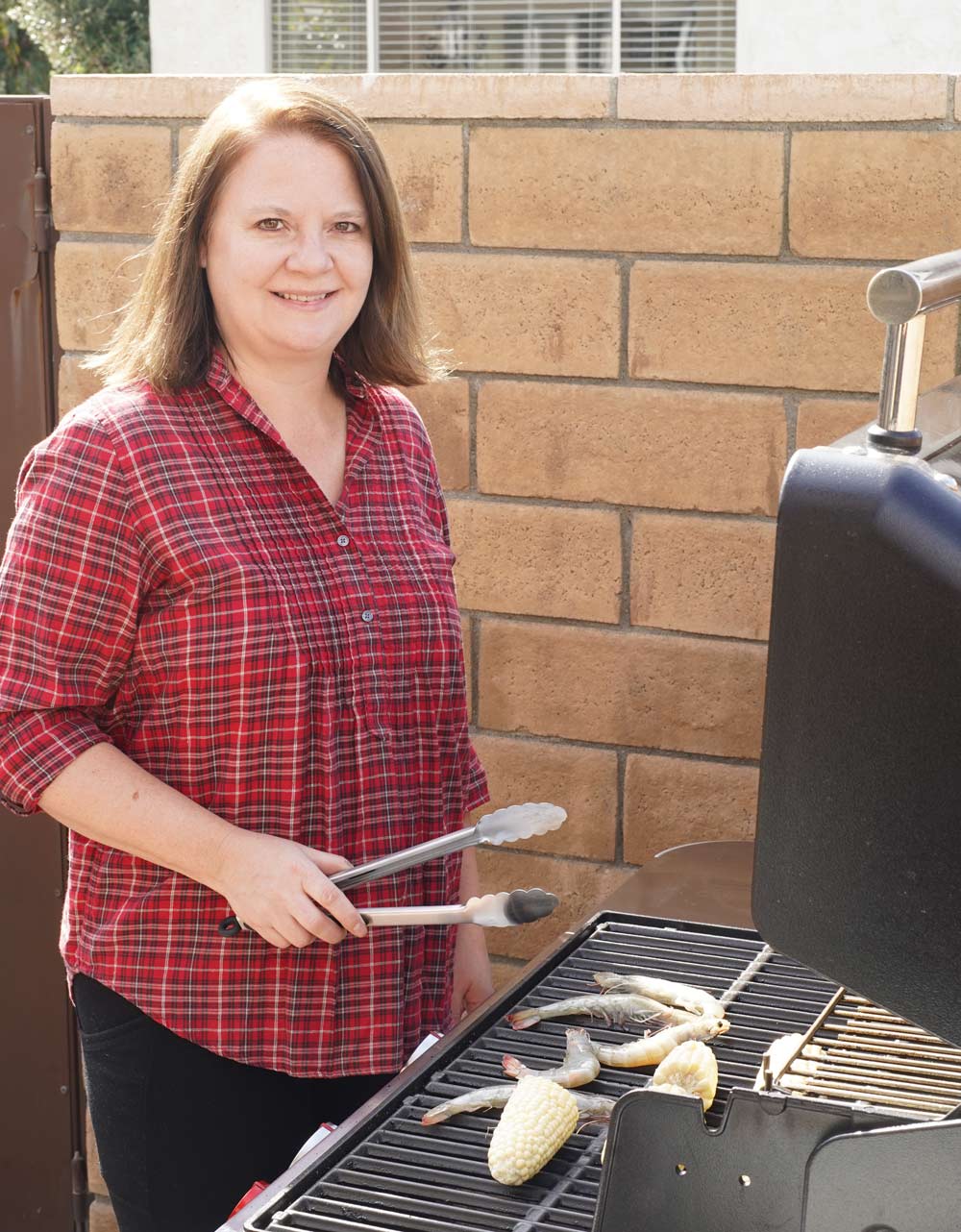 Laura is a passionate home cook and grill enthusiast who has spent years perfecting her culinary skills, with a particular focus on grilling techniques and flavor combinations. Her fascination with the grill, smoke, and the mouthwatering results they produce has led her on an exciting journey to discover the best methods for grilling delicious and unforgettable meals.